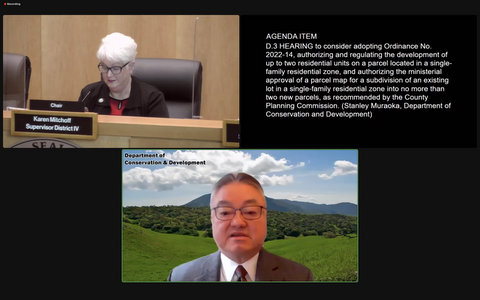 31 Mar

COVID Treatments Available as BA.2 Variant Looms, Housing Regulations Eased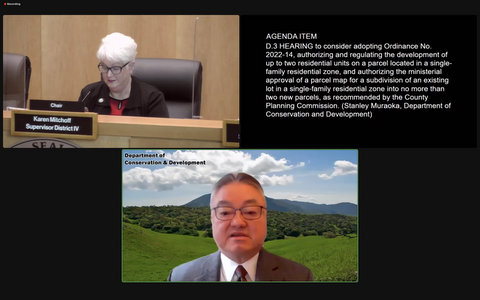 By Richard Tzul
Contra Costa County continues to navigate the pandemic against a backdrop of major COVID-19 developments, while formally adopting state housing regulations to address the housing crisis affecting both the county and California.
COVID-19 Report
Several pandemic updates were provided to the Board of Supervisors on Tuesday, including vaccine and treatment news as a contagious variant looms over the ongoing health crisis.
The county saw an average of 68 new daily COVID-19 cases in the past week, about an 8% drop compared with the week prior, marking a "low point in recent months," said Anna Roth, the county's health director. There was an average of 36 hospitalizations, one more than the previous week.
Roth said the omicron subvariant, BA.2, accounts for over half of coronavirus infections in the country. The so-called stealth variant is concentrated in the northeastern region of the U.S., with no surge currently occurring in Contra Costa County.
A plan is being formed to protect individuals in congregate facilities such as nursing homes, shelters and detention centers. The plan, said Roth, will be presented at the end of April.
The county's COVID-19 report came hours after the Food and Drug Administration authorized a second booster of the Pfizer and Moderna vaccines for people 50 and older or who are immunocompromised. Those who are eligible can get their second booster dose four months after their previous one.
Dr. Ori Tzvieli, the county health officer, said that while the FDA provided authorization of who's able to get vaccinated, the Centers for Disease Control and Prevention will later recommend who should get the booster. Based on the available data, he said, the immunocompromised or those over 60 should get the second booster.
Tzvieli did not know when other groups may become eligible to get a second dose. The county is also awaiting news about vaccine authorizations for children younger than 5. Such news may come as late as summer.
Eighty-one percent of county residents who are 12 and older have gotten two doses of Pfizer or Moderna's vaccines or one dose of the Johnson and Johnson vaccine. About half have received one booster.
Tzvieli recommended that those who have been vaccinated with Johnson & Johnson get a Moderna or Pfizer booster but said, ultimately, "the best booster is the one that you can get into your body."
The county encourages residents to get treated soon after testing positive for COVID. An informational webpage about treatments has been added to the county's health site. COVID-19 treatments are abundantly available at pharmacies throughout the county, said Tzvieli. Those seeking them will need to consult their healthcare provider for a prescription, he said, since a treatment can interact with other medications.
"Right now, it's available to everyone; it's not being reserved for any specific groups," Tzvieli said. "If you're older or immunocompromised, you may well benefit from that. So it's better the sooner you take it after you get your positive diagnosis."
Treatment, he said, reduces the chances of being hospitalized by up to 90%.
Treatment works best when taken early, he said, hence why folks should have antigen tests ready at home for rapid results. A second batch of COVID tests are being offered by the federal government, which can be ordered online. Tests are also available at pharmacies and reimbursements are offered by health insurance providers, according to Tzvieli.
Housing Reform
The county formally adopted state housing regulations into its own codes that allow duplexes to be built into single-family zones or a single-family lot split into two. It also permits for duplexes to be built on each lot after being separated into two — effectively building four homes into one single-family zone.
The California law, which passed in 2021 and took effect this year, is meant to address the housing crisis plaguing the state. A map was provided to the board on county spaces that could potentially be affected by the new ordinance.
Applications for such changes would be submitted to the Department of Conservation and Development and the Public Works Department. The law allows some flexibility with applications being exempt from certain reviews.
After seeking clarification, District 1 Supervisor John Gioia received confirmation that certain places such as high-risk fire areas are not covered by the law. Upon being told this, Gioia encouraged public communication so applicants could be aware of such caveats.
"I just think preparation of an easy chart and pamphlet would be very helpful," he said.
A staff member from the Department of Conservation and Development told him that information and application materials, including a checklist and screening forms, are available online.
The next Board of Supervisors meeting is April 5.