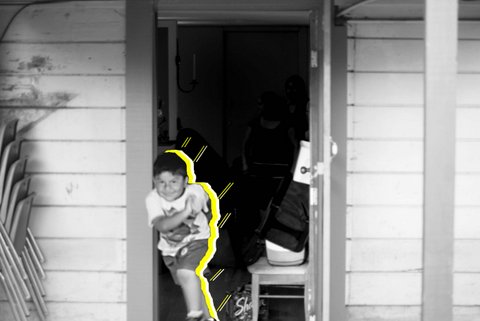 11 Apr

Housing, Love and Guilt: An Immigrant's Reflection on Moving Out of His Undocumented Parents' Home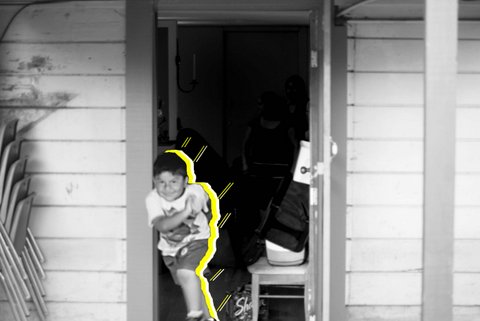 Here, my cousin is running out of his house a couple years ago. His living situation is like mine when I was young. (Photo and illustration by Denis Perez-Bravo / Richmond Pulse)
Commentary, Denis Perez-Bravo
As I approach half a year since I left my family's household, I reflect on a feeling I have constantly — guilt.
I lived with my parents for 25 years. We endured many financial lows that resulted in moving from a house to an apartment and back to a house a couple of times as rent and inflation rose.
As a new Guatemalan immigrant family of five coming to West Oakland in 2001, we first lived in a single bedroom of a three-bedroom duplex apartment. The rest of the rooms were occupied by other immigrant families. We had the smallest room, and most of it was taken up by the bed that all five of us slept on. We were like a pack of pups cuddling together for warmth.
>>>Read: Why I Am Letting Go of 'Latino' as Part of My Self-Identification
Since then, we've lived comfortably in three-bedroom homes or cozy in two-bedroom apartments and, most recently, cramped in a one-bedroom apartment with a renovated garage converted into two separate rooms.
As I reached 25 years of age, sleeping in a small room in a garage, I felt ashamed of my living situation. I always reminded myself I had to be thankful for all my blessings, but with a full-time job and a community college education, I knew I could do better. I blamed the economy, housing prices, and the unfair hurdles of being undocumented for my circumstances. Ultimately, though, I knew my next step was all up to me.
As much as I wanted my own apartment, I had a lot of reasons not to leave. With more and more young adults returning to or staying in their parent's home, I knew I wasn't the only one in this situation. A recently released report from the Pew Research Center shows that nearly 4 out of 10 men ages 25 to 29 live with older family members. The same study showed that Asian, Hispanic, and Black people (especially if they are immigrants) are more likely to live with older family members than white Americans.
For years, my siblings and I have had a shared dream. We wanted to earn enough money to buy a big home with more than enough space for all of us to share, including future spouses and children. We dreamt of giving our parents a home they could retire in, becoming homeowners, and staying together as a family.
Sadly, that dream is far off from our current reality. My older brother now lives in Florida, I am out of the house, and my younger sister might soon be next in line to move out. My parents are living paycheck to paycheck with no retirement in sight as their bodies ache due to a life's worth of long work hours and stressful rent cycles. Letting go of the dream that my siblings and I would buy a big house together is why I often feel guilty when I am enjoying my life away from my family.
>>>Read: 'My Life Feels Like a Subscription': An Immigrant's Story
I live with my partner, who also moved out of her parents' home for the first time, and we are making it on our own. We have our own cars, bills, a 7-week-old puppy, a one-bedroom home with backyard and a garage, WIFI, a stocked fridge and pantry, and all the freedom in the world.
It's not like my parents are in shambles or starving, but I feel guilty that I am no longer part of my parent's financial struggle. I feel guilty that I am mostly looking out for me and my household. The reality is that supporting them financially would set me back, and that is not what they want or what I want. They want me to go out on my own and be successful. And everything is good. I am doing it, living out here in The Bay.
One day, I know my siblings and I, no matter where we are, will be able to fund my parents' retirement. Until then, I'll find ways to channel this guilt into determination to ease my parents' lives just as they made my life easier by bringing me to the U.S. from Guatemala.