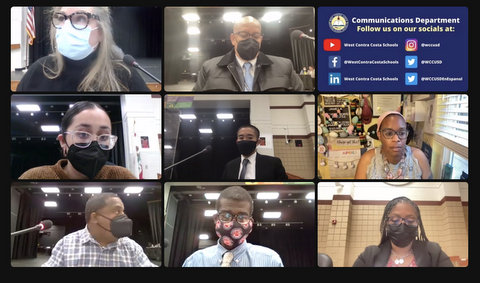 14 Apr

School Board Gives District and Teachers' Union Green Light to Begin Negotiations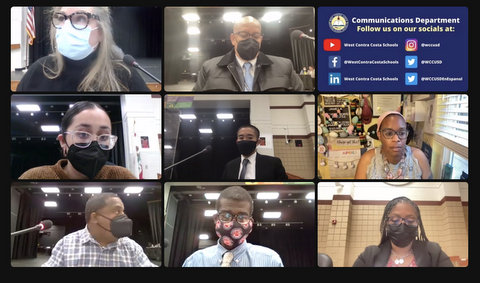 The West Contra Costa school board voted Wednesday to allow the school district and United Teachers of Richmond to begin negotiations on a new collective bargaining agreement. Their current contract expires June 30. (Screenshot captured by Julia Métraux / Richmond Pulse)
By Julia Métraux
The West Contra Costa Board of Education adopted a motion Wednesday that would allow the district and United Teachers of Richmond, the district's union, to begin negotiations. The one-year collective bargaining agreement between the union and the district ends June 30.
Conrad Tanasychuk, the director of labor relations and district negotiator for WCCUSD, said the two sides have only met to discuss the negotiation process, but actual negotiations have not begun.
"Once we have completed negotiations, we will be filling out an AB1200 that will be brought to the Contra Costa County Office of Education for approval, as well as the school board," Tanasychuk said. (Assembly Bill 1200, which is meant to ensure that state educational agencies can meet their financial obligations, requires disclosure of proposed contracts, among other things.)
Areas that UTR wants to negotiate include special education, union rights, class size, parent complaint procedure, salary and safety. While a public hearing was introduced to discuss the areas of negotiations and its process, no union members or other members of the public called in to give their input.
>>>Read: Teachers Demand Increased COVID Safety Measures, Threaten Strike
The Board of Education voted unanimously to approve the motion that would allow negotiations to officially begin, as well as adopting the WCCUSD's proposals to UTR as its own. Trustee Demetrio Gonzalez-Hoy was absent from the meeting due to being sick with COVID-19.
Honoring Activists César Chávez and Dolores Huerta
The West Contra Costa Board of Education also adopted motions to honor the work of César Chávez and Dolores Huerta. Chávez and Huerta co-founded the National Farm Workers Association, which later became the United Farm Workers labor union after merging with Agricultural Workers Organizing Committee.
The district will honor César Chávez Day on March 31 in following years. According to the motion, California's State Board of Education "provides an internet-based model Cesar Chavez curriculum guide available for use by all public schools." Chávez died at the age of 66 in 1993.
Dolores Huerta Day will be recognized by the WCCUSD on April 10 in following years. According to the motion, Huerta's activism was "crucial in securing Aid for Families with Dependent Children and disability insurance for farmworkers in the State of California in 1963." Huerta is now 92 years old.
These motions also passed unanimously, and trustee Jamela Smith-Folds also encouraged the district to make sure that lessons about Chávez and Huerta's work are actually being taught.
"When we can see that we have teachers in the district and sites in the district that are really holding on to these lessons," Smith-Folds said, "then we can actually grow our diversity and our equity and grow the lessons in the curriculum that represents the children that sit in front of our classes."
Adopting a New Spanish Curriculum 
WCCUSD high schools and middle schools have not had new Spanish instructional materials in a few decades. Eleven Spanish teachers across the district evaluated whether materials from Wayside or Vista Higher Learning would be more effective at helping students become more proficient in Spanish.
"Over the summer, we had trainings from the publishers for those who would be field-testing, and then the school year, from August through December, the materials were tested in the classrooms," Emily Hill, WCCUSD literacy and humanities coordinator, said.
Teachers found that Vista Higher Learning helped their students better learn Spanish vocabulary, media, culture, structure and skill synthesis.
"If you go on, and you look at how all the digital components and the videos and the vocabulary building and the authentic cultural aspects that it brings, it was just it was pretty clear that this was the right choice," Hill said.
The board passed the recommendation to work with Vista Higher Learning, with Smiths-Fold abstaining due to wanting more student input in the final decision.
The next regular board meeting is scheduled for April 27.