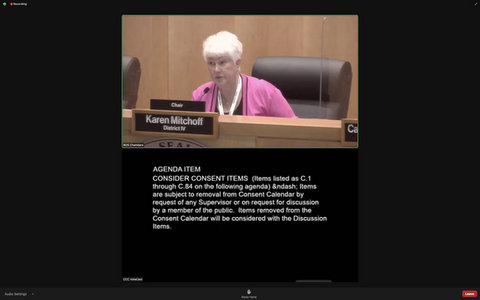 28 Apr

Contra Costa County Widens COVID Treatment Availability, Prepares Elections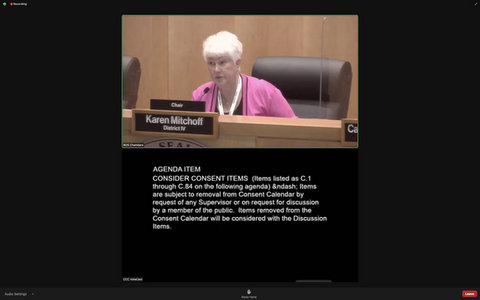 Tuesday's Board of Supervisors meeting covered election security and outreach and a plan to end coronavirus-related deaths in Contra Costa County. Pictured: District 4 Supervisor Karen Mitchoff. (Screenshot captured by Richard Tzul / Richmond Pulse)
By Richard Tzul
In addition to preparing for elections, Contra Costa County is launching a new phase of its response to COVID-19, for which it has one of the lowest death rates in the country.
Elections
Debi Cooper, the county clerk-recorder-registrar, gave a presentation on how the county is preparing for the upcoming primary and general gubernatorial elections. She also reported on election security measures and planned community outreach.
There will be 37 dropboxes placed throughout the district, which will operate 24/7 during election season and be attended to daily by election staff members. There will be six early voting locations, which will be open on the Friday, Saturday and Monday leading up to Election Day. Eligible residents can register to vote at these locations. Language and accessibility services will be offered. Such services will also be at the 153 polling places on Election Day.

Voting by mail is encouraged because of the COVID-19 pandemic. Those returning ballots can put them in a dropbox or in the mail; postage is prepaid. Residents are also recommended to submit their ballots early, so they can be included in the election night count.
Cooper said the county is working with federal and state agencies to ensure the security of elections. The county meets with the FBI and Homeland Security and collaborates with the U.S. Cybersecurity and Infrastructure Security Agency.The county has hired a staff member in the Department of Information Technology to supervise cybersecurity.
Also for security, the county's voting systems are not connected to the internet. Staff members are trained in network and data security. The network has several firewalls, said Cooper, and the system is always monitoring for hacks. The county election website has recently been designated with the ".gov" domain to ensure that residents know the website is safe and legit. This change is still in progress.
There isn't just cybersecurity but physical security as well. Staff members entering voting facilities will use a key card that tracks people entering buildings. Video surveillance is being upgraded and law enforcement will be present at ballot transfer sites. Election security and integrity was emphasized at the presentation, including by John Gioia, the District 1 Supervisor.
"If you hear from election officials across the country, in urban, suburban and rural areas," he said, "election officials who are Democrats, who are Republicans, they will all say they take pride in ensuring their elections are fair and accurate."
The county is increasing its outreach, especially to marginalized communities, said Cooper. Its efforts will include educational YouTube videos. Workshops will also be offered for those interested in running for office. 
Contra Costa County is collaborating with the League of Women Voters to host candidate forums in June and November. Schools and universities will function as sites for voter registration and where voters can drop off their ballot.
Election officials from 11 Bay Area counties, including Contra Costa, are forming a coalition to debunk election misinformation, made rampant by former President Trump's unfounded claims that he won the 2020 election.
The counties will broadcast public service announcements across each others' media markets to educate residents about election processes and integrity. The informational campaign will try to preemptively debunk false information before it becomes viral. More information can be found at BayAreaVotes,org.
COVID Report
As of April 20, about 1,300 people have died of COVID-19 in Contra Costa County, said Anna Roth, director of health services. That gives the county the second-lowest death rate of counties with more than a million residents in the U.S. Neighboring Alameda County has the lowest rate. Santa Clara County ranks third.
Contra Costa County has had 112 COVID-19 deaths per 100,000 residents while the U.S. rate has been 300 deaths per 100,000 residents. 
Inequities were more responsible for COVID-19 deaths than the age of those infected, said Dr. Sefanit Mekuria, the deputy health officer. The determination was made after cross-referencing COVID-19 deaths with a healthy communities index.
"You are more likely to die of COVID-19, no matter your age, in those less healthy communities, than if you're older than 65 in the healthier communities. There are many factors that contribute to this," said Mekuria. "We call them social determinants of health. We've seen the impact that limited access to things like housing, fresh and nutritious food, clean air and health care have on a community."
The health officials also unveiled the Contra Costa Path to Zero plan, designed to end all preventable COVID-19 deaths. The measures include assessing every coronavirus-related death to see if it could have been avoided. Other initiatives include wastewater surveillance, increasing accessibility to treatments and helping provide affordable housing.
Until the end of June, 56 equity vaccination clinics will be held around the county, including in Richmond, said Mekuria. The clinics also provide at-home tests with instructions on how to obtain treatment if one has tested positive.
Roth said treatment is readily available and encouraged folks to get it, if needed.
"Our [Contra Costa County Health Plan] advice line is open to anyone regardless of what your insurance is," she said. "You may call our advice nurse and you will have access to a telephone consultation with a physician who will be able to get a prescription for you, if appropriate."
The advice line can be reached at (877) 661-6230.