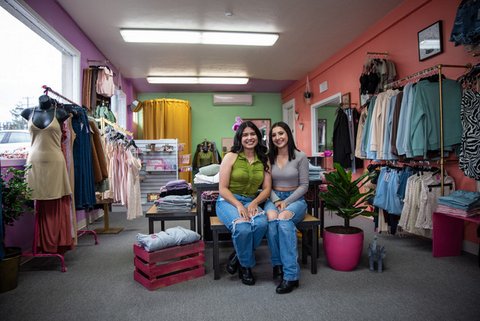 01 May

Naza's Boutique Brings Trendy Fashion to Richmond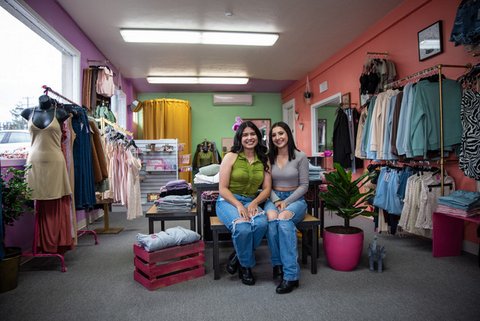 Astrid "Naza" Ordoñez and Maria Contreras in their Richmond clothing store Naza's Boutique.
Story by Maria Fernanda Bernal | Photos by David Meza
Two young Latina entrepreneurs have brought a pop of color to San Pablo and Clinton avenues in Richmond, opening a new women's clothing boutique named Naza's.
Sixteen-year-old Maria Contreras and Astrid Ordoñez, 22, started their clothing business in 2019, first selling clothes from their homes, then through an online business. Though their new physical store just opened March 12, they already have a strong customer base, they say.
"We started off with just Instagram, and, like, selling outside of our house. Then from there we just randomly found this place and we were like, oh, just curious," said Maria. "We were just curious. 'Let's go look at it,' and then next thing you know, two weeks later, we're signing the lease."
The boutique's name was inspired by the National Aeronautics and Space Administration because Maria and Astrid are interested in the cosmos. It's also derived from and Astrid's middle name, Nazareth. (Her family calls her Naza.)
In February, Astrid wrote in her calendar that she wanted to start a business. She says they received support from family members who also sell clothes.
For Maria, having a store is a dream come true. She has also been trying to maintain a healthy work-life balance.
"I want to make the clothes myself. So that's definitely something I want to do after high school," she said. "There was a point where I was trying to balance everything: school and then the store, and then, I had the SATs."
The business partners say they found an untapped market in Richmond and wanted to create a space for women to shop.
"We wanted to stay in our community, because, honestly, there's nothing here like this," said Astrid. "You usually go to Berkeley, and there's so many shops and all of that and I'm like, 'Girl, we can have that here, like something for women.' "
>>>Read: Pandemic Inspires Richmond Residents to Dress Their Way
Astrid says their shop is supportive of mothers and wants them to feel comfortable bringing their children to shop. The clothes they sell are chosen to bring out the confidence in women.
A neon pink sign in the window says "Nazas BTQ." Mannequins wear green tops and purple body-hugging dresses that let women show off their curves. The interior of the store has a feminine design with walls lined with trendy clothes. Some of the outfits look like something out of the HBO teen drama "Euphoria."
The merchandise reflects efforts to reach women with different kinds of interests. There are workout sets with supportive tops. The bodycon dresses are great for date nights. The monochromatic coats are well-suited for being prepared and feeling cozy in the ever-changing Bay Area weather.
Apart from trendy clothes, Naza's also sells makeup, skincare and accessories. The store adds new merchandise every month and will sell products from other local vendors.
Astrid says they will begin to sell summer clothes soon. Sometime in the future, they plan to add shoes to their lines of merchandise. That start date has not been decided yet.
The pair also wants to support other local businesses with a pop-up shop on Mother's Day — Sunday May 8 — from 11 a.m. to 3 p.m. Participating vendors and other details can be found on the boutique's Instagram page.
Naza's Boutique is located at 12492 San Pablo Ave. It is open 10 a.m. to 7 p.m. Monday through Thursday and 9 a.m. to 5 p.m. Friday through Sunday.