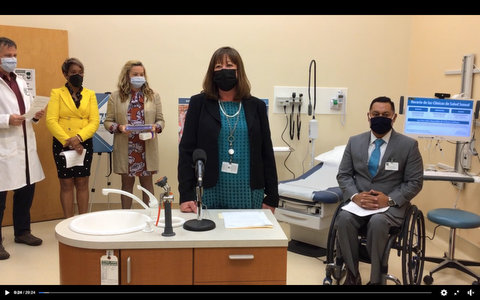 03 May

Contra Costa Launches 'Path to Zero' COVID-19 Strategy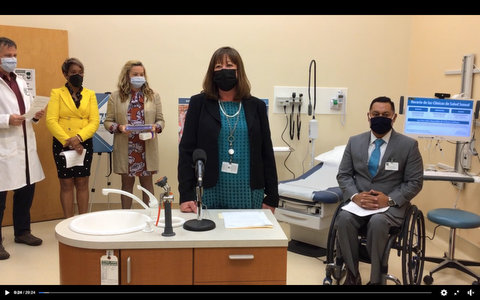 Contra Costa health director Anna Roth, center, led a press conference Monday to announce the Path to Zero plan to end preventable COVID-19 deaths in the county. (Screenshot captured by Danielle Parenteau-Decker / Richmond Pulse)
By Michael J. Fitzgerald
Contra Costa County is ramping up its fight against COVID-19.
Health officials on Monday announced a new initiative called "Path to Zero" to eliminate preventable deaths from the coronavirus.
"No one should die from COVID-19 when free testing, vaccines and effective medication are all readily available in our community," Anna Roth, health director of the county, said.
Roth, along with other county officials, outlined a sweeping new program at a press conference streamed live on the CCH Facebook page.
She stressed that the health department still supports wearing masks and common-sense measures like staying home if you are ill.
But the biggest news for patients is that the Contra Costa Health Plan advice nurse telephone line is now available for any county resident who has tested positive for COVID-19. That includes anyone who has taken an at-home or PCR/lab test.
The advice nurses will schedule free telehealth appointments and can arrange for prescriptions when appropriate, she said.
Those prescriptions can include antiviral drugs. These medications can reduce the risk of serious illness, Dr. Ori Tzvieli, Contra Costa's health officer, said. People calling the advice nurse line can get a list of area pharmacies that have the antiviral drugs, he added.
The antiviral drugs are most effective if taken within 48 hours of testing positive, he noted. The prescriptions are available to people 12 or older.
Tzvieli told the conference that when patients call the advice nurse help line, they wouldn't need to worry about whether they took an at-home test or a PCR/lab evaluation.
"A home test is fine. We will believe you," he said.
Anyone testing positive for COVID-19 can call 1-877-661-6230 to make an appointment for a free same-day consultation.
Roth and the other CCH staff emphasized the advice nurse line is open to anyone with a positive COVID-19 test, regardless of their health plan or insurance.
"The time has come for us to think differently about this virus," Roth said. "When a member of our community dies from COVID today, we should understand why and then work to remove any barriers to treatment that may have contributed to that death."
CCH's Chief Equity Officer Gilbert Salinas outlined the CCH's efforts to rectify the inequitable distribution of vaccines, which he believes accounts for the difference in mortality rates.
"There are stark differences in COVID mortality rates between our wealthiest, healthiest neighborhoods and those with significant challenges to community health," Salinas said. "Path to Zero helps us to sharpen our focus on our most vulnerable communities."
As of Tuesday, the county has seen just over 1,300 COVID-associated deaths, according to CCH. (That means the person had a positive PCR test and that the disease was listed on their death certificate as cause of death or a significant factor.) Among counties with 1 million or more residents, Contra Costa has one of the lowest per-capita COVID mortality rates in the nation, at 112 recorded deaths due to the virus per 100,000 population.
CCH is expected to announce additional efforts to reduce preventable COVID-19 deaths in the next few weeks. Those efforts include more early testing and treatment and addressing social inequities that put some residents at higher risk.
For more information about Path to Zero and other county health issues, visit Contra Costa Health online at https://cchealth.org.