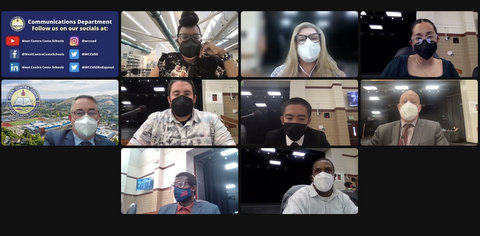 05 May

District Considers Selling Bonds to Decrease Debt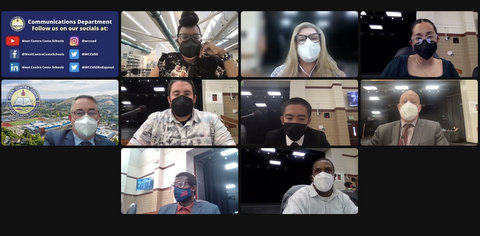 The West Contra Costa school board addressed district debt at its meeting Wednesday. (Screenshot captured by Julia Métraux / Richmond Pulse)
By Julia Métraux
The West Contra Costa Board of Education is exploring different ways that the district can deal with debt that is affecting the district. One of these ways is to sell bonds.
"In the district, we have a policy that says we will every year examine the opportunity and take advantage of the opportunity that falls within our refunding or refinancing criteria that was set forth when we put our debt policy in place," WCCUSD Interim Associate Superintendent of Business Services Robert McEntire said at the school board meeting Wednesday.
The board approved a motion at last week's meeting that authorized the insurance and sale of the district's General Obligation Refunding Bonds. McEntire and advisor Blake Boehm recommended Wednesday that the district consider selling its bonds directly to a private investment bank, as the public marketplace is more volatile right now.
"Rather than selling West Contra Costa Unified bonds out to the public marketplace to institutional investors," Boehm said, "we would, in this case, be working directly with a single bank or lender that would purchase these securities at a negotiated rate."
Approving this action item would lead district staff and associated advisors and volunteers to look at different candidates for WCCUSD to sell its bonds.
Trustee Mister Phillips raised concerns about selling private bonds, in part because the district's decision received national negative attention when it landed in the Wall Street Journal. 
"Even though it's one bank with one underwriter, even though it's one bank, and they have the ability to resell everything, how is this different?" Phillips said.
After explanations from McEntire and Boehm, Phillips said he was still concerned. The motion approving this action item passed 4-1, with Phillips voting against it.
Students Raise Sexual Harassment Concerns
In their presentations, student trustees Angelica Flores and Martin Leung raised concerns that at both the middle school and high school levels, sexual harassment accusations were not being adequately addressed.
Leung said that students have told him that office of educational equity/Title IX coordinator Rhonda Haney has brushed off sexual harassment complaints.
"They're saying that a lot of the claims have been just written off as bullying rather than taken seriously as a sexual harassment claim," Leung said.
Both Leung and Flores asked for action to be taken to address concerns about the handling of sexual harassment, including more education about consent.
"A lot of our students are asking for…more assemblies, consistent presentations, activities on healthy relationship, consent and so on," Flores said.
No actions were taken after the student trustees' presentation at the meeting itself.
Honoring School Nurses and Teachers
The school board voted unanimously to approve resolutions to recognize May 11 as National School Nurse Day and as the Day of the Teacher.
Members of the school board thanked the nurses for their work, especially during the COVID-19 pandemic, while also recognizing the district does not have enough school nurses.
"We have like less than 20 for our entire district," trustee Leslie Reckler said. "There are no words to express my gratitude, and if there was ever a year to understand what they do and how important they are, this is it."
Echoing Reckler's gratitude, clerk Demetrio Gonzalez-Hoy thanked school nurses for calling him and his wife when they had tested positive for COVID several weeks back.
Trustee Jameela Smith-Folds also spoke about the important relationship that teachers have with their students.
"We need to value them not only with our words but with our actions and with our deeds," Smith-Folds said. "I want to thank all the teachers that have worked this year and every year in the district for all they do for our students."
The next board meeting is scheduled for May 18.