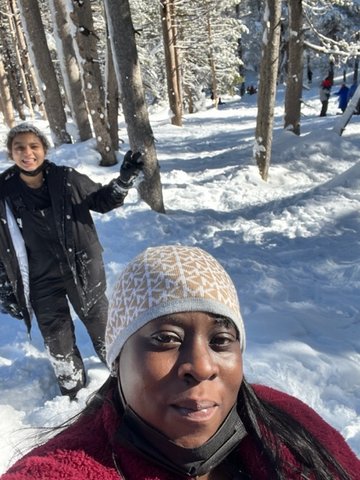 08 May

My Mom Made Me Feel Safe and Happy in the Worst of Times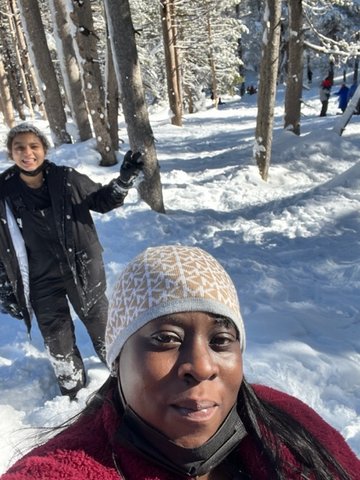 (Photo courtesy of the author)
Commentary, Aaliyah Hanvey
Mother's Day is a very special day to me. It is a day where I celebrate the person who means the most to me and the person I look up to. I have a great relationship with my mother; I can tell her anything and everything. She is the person I confide in when I have a problem or even if I just want to talk.
My mother is my biggest support, and because of that, I have grown to be the person I am today, getting great opportunities and learning things greater than myself. My mom gave me the push I needed to put myself out in the open. Growing up with my mom, I've always known you should work hard for your family. My mother was the sole moneymaker in my family. She had to work 10- to 12-hour shifts the majority of the time.
I was not always a mommy's girl. In fact, I was a huge daddy's girl because he was the person I was with most of the time, and when you spend so much time with someone, you tend to grow a deeper bond than usual. When my father died, I know my mom had a hard time, though she didn't want to admit it. She had to get back on her feet and continue working to support her children who no longer had a father figure. Watching my mom cry was a huge eye-opener for me. I learned that adults cry. I learned to appreciate my mom more in the times where she was the only one I could rely on.
>>>Read: Chanel and Fresh Herbs: The Scent of My Mother's Love
My favorite memory with my mom was the morning my father died, ironically. I was 11, about to turn 12, and we had just come from the hospital at 4 in the morning. My mom was hysterical. She had just been crying over the news, but when we got in the car, she sucked it up, put on a front, and became strong for her kids. We went to the store, got some snacks, went home and cuddled up together as we watched cartoons. I had never felt more safe in my life, and I could honestly say she made me happy even in the worst of times.
Ever since that day, I looked at my mom differently. She was a strong person who worked hard and was so selfless. It let me know she was a good person with a good heart because she was willing to help anybody, and that's what I love about my mom.
To celebrate Mother's Day, typically, my siblings and I would go out with our father and get something we thought our mom would like. I have four siblings, me being the youngest, so I always got off quite easily. I would make her a card with a drawing or a cutout. It was the usual stuff a 10-year-old would get their mother on Mother's Day. We never knew if she actually liked what we got her. My mom is a very hard book to read, so you never know what to get her on any holiday. I always have to make an educated guess because she never tells us anything she wants. At least, she didn't before.
Living in a pandemic, Mother's Day has actually been easier to celebrate. I don't know if she opened up more or anything, but she has actually been giving us suggestions. I like to go for the casual, sweet Mother's Day gift such as a bouquet of flowers. My mom also likes scented candles and lotions, and she loves to read. I want to get her something I know she would really like and need and find useful.
But Mother's Day is not only about my mom. I never forget to get my grandmother something as well. She raised my mother well, and because of that, I think she raised me pretty well. I want to say thank you and happy Mother's Day to not only my mom but to all the mothers in the world.