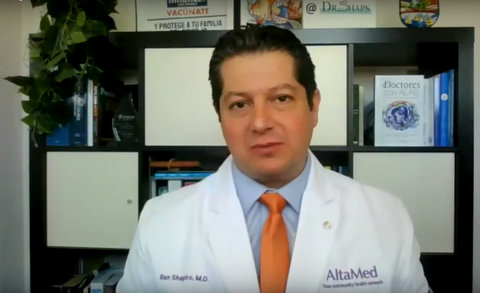 13 May

Kids Continue to Suffer in Mental Health 'Shadow Pandemic'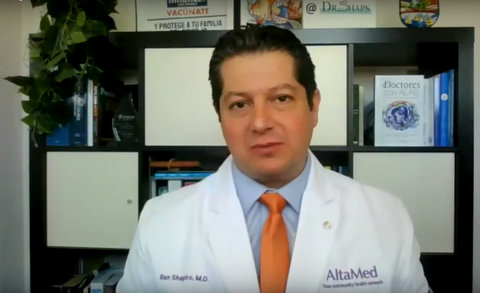 "I felt so powerless," said Dr. Ilan Shapiro, a Los Angeles pediatrician, of trying to help his patients through the pandemic. (Screenshot captured by Danielle Parenteau-Decker / Richmond Pulse)
By Danielle Parenteau-Decker
The pandemic has isolated and alienated children, taken away important sources of support and increased feelings of anxiety and depression that existed before the coronavirus arrived.
A panel of experts shared their perspectives on what Ethnic Media Services director Sandy Close called a "shadow pandemic" in a press briefing April 15.
Dr. Ilan Shapiro, a pediatrician and chief medical affairs officer at AltaMed in Los Angeles, said he is seeing "a huge, huge amount of kids that have lost a part of their lives."
Kids have been kept from seeing their friends and family because of the pandemic, which has also prevented them from going to school and diminished their ability to socialize. And that's just scratching the surface, panelists said.
"The impacts of COVID-19 have been multi-layered and across a variety of issues," said Angela Meriquez Vázquez, policy director for mental health at the Children's Partnership.
Kids have also watched as adults in their lives struggled with mental health issues, lose jobs, become ill — and even die.
"The kids are crying for help. Parents are also," Shapiro said.
Dr. Sydney McKinney, who holds a doctorate in sociology, said the strain on educators affects children too. "It is really devastating what is happening to teachers."
>>>Read: Teaching During COVID Has Me More 'Stressed, Exhausted and Drained' Than Ever
Kids are affected by the stress their teachers are under. That stress can also affect how teachers treat students and how they respond to problems.
In addition to the direct consequences of the pandemic, the past two years have also been marked by other issues that weigh on mental health.
Vázquez pointed out how policing and immigration policy can harm physical and mental health.
Legislation highlighted in news reports such as the so-called Don't Say Gay bill in Florida increases the stress and alienation many LGBTQ youth feel.
>>>Read: Richmond's LGBTQ Community Wants More Safe Spaces
"It has been really heartbreaking to see because … [LGBTQ youth are] at higher risk of dying by suicide," said panelist Dr. Myo Thwin Myint, an associate professor of psychiatry and behavioral sciences and pediatrics at Tulane University.
"When they see there are policymakers also not accepting of their identity and their sexuality, it feels very isolating," he said. "And that, we know, can actually lead to depression, which can lead to suicide."
While current events have made things worse, for many children, mental health issues already existed.
"What's really important to understand is that what we're seeing now for young people … is not an anomaly," Vázquez said. "It's actually a crisis that has been building since before the pandemic."
>>>Read: Pandemic Further Worsens Ongoing Youth Mental Health Crisis
While the pandemic has affected almost everyone, people feel the effects in different ways. The same is true for mental illness, rife with race, gender and sexuality disparities.
"These experiences are not borne equally across all of our children," Vázquez said.
Nor are the effects confined to mental health.
"Mental health does not develop in a vacuum," she said.
McKinney said trauma and mental illness make Black women and girls more likely to end up in the criminal justice system.
>>>Read: We Need to Talk About Black Mental Health. We Shouldn't Have to Die For People to Listen.
Poor mental health can hurt kids academically and physically, AltaMed's Shapiro said, perhaps leading to other health problems such as obesity and addiction.
He described the situation of one of his patients that troubled him the most. Shapiro had gotten to know this boy and his family over five years. One day they brought him in because he was having headaches and stomachaches. Soon, he started losing weight, Shapiro said.
It turned out three of close relatives had died during the pandemic.
"He was in a horrible depression."
Shapiro said the pandemic has hurt his mental health. "But I had enough tools in my bag to actually stay afloat and continue. Our kids do not have that."
Lack of access to mental health treatment is not a new problem. But the pandemic has made care even harder to get.
>>>Read: For the Latinx, Mental Health Care in Spanish Is Hard to Find
There aren't enough mental health workers. And the ones there are were burning out even before the pandemic, according to Myint.
He said there are very few places we might consider "even barely adequate" in the number of mental health professionals.
But even if there are enough mental health workers, that may not be enough to help.
McKinney said that mental health treatment should be available outside of typical clinics because many people, particularly people of color, are reluctant to seek care in these settings "for very well-founded reasons."
McKinney leads the National Black Women's Justice Institute, which is working with schools to help with "trauma-informed, gender-responsive and culturally affirming responses to gender-based violence," she said. That violence has increased since kids have returned to classrooms.
"That time that young people were at home, not with each other in school settings, they kind of forgot how do you interact with folks in a safe and caring way," McKinney said. "And so we're seeing a lot of behaviors among young people because of the kind of alienation and kind of loss of socialization that has happened to them during the pandemic."
>>>Read: As Pandemic Worsens Students' Mental Health, WCCUSD Tries to Keep Up
The panelists all offered advice on approaches to treatment, beginning with adults recognizing what's going on with children.
"Sometimes, we do not talk about kids," Shapiro said. "We want to help them. … But sometimes we just don't have time or willingness, or we are just afraid of finding out what's happening."
He also said primary care physicians need to be given the tools to get the process started beyond just giving patients a referral to someone who will likely not be available for a long time.
"I felt so powerless," he said, speaking about helping patients during the pandemic.
Vázquez suggested it is important to pay attention to the good amid all the bad.
"While we need to focus on reducing and mitigating those negative experiences, we also need to focus on positive experiences and promoting positive mental health in our young people," she said.
In addition, Vázquez noted something does not have to be a literal therapy to be therapeutic.
"Youth advocacy is an essential strategy to supporting Black and Brown youth," she said. "Civic engagement, in particular, can actually be a mental health intervention."
After young people took part in the Standing Rock protests their communities experienced a marked reduction in youth suicide," she said. That's particularly notable because, "suicide is the second-leading cause of death for Native youth," she said.
Myint said progress is being made on raising awareness and reducing stigma around mental health issues.
"However, I think we have yet to solve how do we actually take care of all the needs, and the pandemic just did not help," he said.
Additionally, he said mental health providers need to acknowledge the systemic and individual challenges that can make it harder for someone to get help.
We need to "go out to the youth where the challenges are happening rather than waiting in our clinic and ivory towers," Myint said.
But whatever approach to mental health is taken, "we absolutely have a long way to go," Vázquez said.