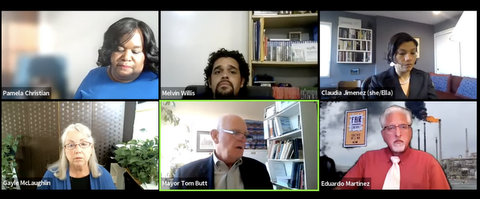 18 May

Divisive Point Molate Project Appears Likely to Falter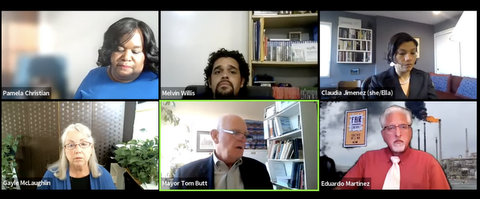 The current proposal to develop Point Molate may have come to end of the road as the developer failed to meet certain conditions. (Screenshot captured by Julia Métraux / Richmond Pulse)
By Julia Métraux
Richmond's Point Molate development, which would create 1,450 homes and 400,000 square feet of commercial space, is likely to fall through unless there is an emergency special City Council meeting before the Saturday deadline to close the deal.
The deal was first approved in 2020 — though the council makeup looked different at the time — adding another wrinkle to the years of contention surrounding Point Molate. Some residents were concerned this proposed development would block the community's access to Point Molate. Interim City Attorney Dave Aleshire said the developer, Winehaven Legacy, failed to provide financing plans and other requirements before Tuesday's regular City Council meeting.
"We cannot recommend that you go forward and close on the 18th or any other date because of the missing information," Aleshire said.
It is unclear whether the investment company Winehaven Legacy plans to get bonds from has the funding needed for this project.
"We still don't know anything about them other than they purport to have a lot of money, but I understand that they are an investment company controlling other people's funds," said Anne Lanphar, a real estate attorney helping the city of Richmond, in regard to this development.
If Winehaven Legacy does not actually have adequate funding for this project, financing could potentially fall on the city of Richmond.
At a March 18 special meeting, the Richmond City Council required Winehaven Legacy to file a parcel map, have a guarantor that the city council approves of, file conceptual plans for phase one, have city approval of the master financing plan and have evidence of availability of funds, among other requirements before Tuesday's meeting.
Aleshire expressed his disappointment that Winehaven Legacy did not provide adequate information.
"Despite all the history here, everybody doubts each other," he said. "Your staff worked hard to try and put things together, so that you would have a reasonable opportunity to make this decision."
Members of the City Council accused each other of acting in bad faith about the Point Molate development project.
"I think it's irresponsible for the City Council to prove something without having any guarantee that these projects will be [financed]," council member Claudia Jimenez said.
Mayor Tom Butt said the city would find itself in litigation if the development falls through.
"I think what we've heard tonight is a remarkably creative narrative blaming the victim," Butt said, saying that the requirements from the March 18 meeting were too difficult to meet.
When public comment was called for the Point Molate development project, numerous residents expressed concern about Butt's viewpoint.
"The majority of the public does not want this project," Jeanie Cortes said, "and please, Mr. Butt, stop blaming the City Council members for being fiscally responsible."
Others blamed Butt for the city of Richmond's current difficult situation with Winehaven Legacy.
"Through this process, it's been very hard to see the city of Richmond and Point Molate mistreated and taken for granted," Richmond resident Sally Tobin said. "The mayor has set up this situation."
A handful of residents called into the meeting in support of trying to give an extension for the project.
"No matter how you feel about developing Point Molate, the majority of council has just pushed Richmond even closer to the bankruptcy cliff," Richmond resident Lisa Johnson said.
At the end of the contentious conversation about Point Molate, council member Gayle McLaughlin introduced a motion to create a resolution at the May 24 meeting confirming that the conditions of closing the deal have not been met.
Council members McLaughlin, Jimenez, Melvin Willis and vice mayor Eduardo Martinez voted in favor of the resolution. Mayor Butt and council member Nathaniel Bates voted against it. Council member Demnlus Johnson was absent.