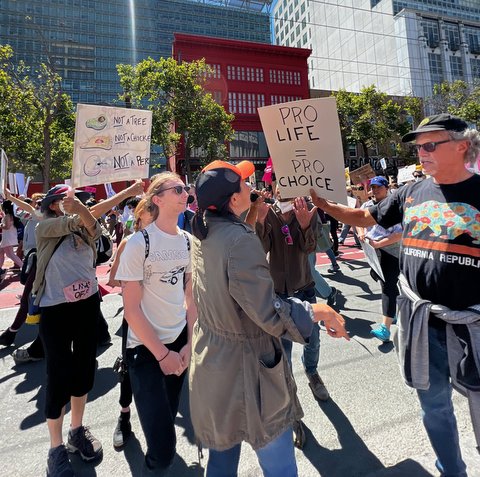 20 May

As Roe v. Wade Hangs in the Balance, People March for Reproductive Justice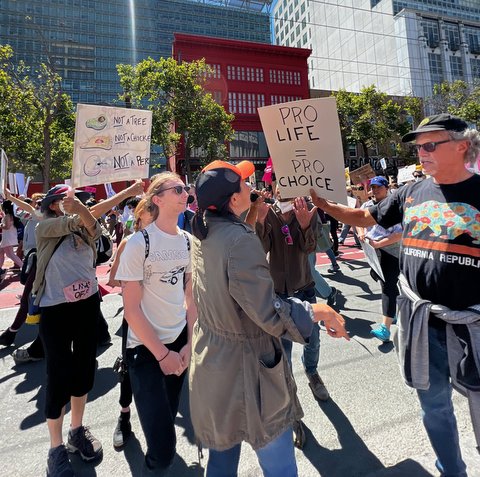 People marched in downtown San Francisco and across the U.S.  to protest the potential reversal of Roe v. Wade.
Story and photos by Maria Fernanda Bernal
Thousands of people took to the streets Saturday in San Francisco and walked to the Embarcadero from the Civic Center for the Women's March for Reproductive Rights.
Major cities across the U.S. saw women with pink hats and posters take to the streets in response to Politico's report that the Supreme Court plans to vote to overturn Roe v. Wade. The ruling of Roe v. Wade in 1973 legalized abortion as the court decided it would go against a person's right to privacy to make abortions illegal.
As many as 26 states are certain or likely to ban abortion, according to the Guttmatcher Institute, if Roe is no longer the law of the land.
These states all have some kind of restriction of abortion in place. Some are already in effect — barring abortion after as little as six weeks of pregnancy, for example. Other state anti-abortion laws and constitutional amendments would presumably be enforced if they are no longer blocked by Roe.
The states in purple are considered likely or certain to ban abortion if Roe v. Wade is overturned. (Map created by Maria Fernanda Bernal with data from Guttmacher Institute)
The following states have announced so-called trigger bans, which would make performing an abortion a felony: Arkansas, Idaho, Kentucky, Louisiana, Mississippi, Missouri, North Dakota, Oklahoma, South Dakota, Tennessee, Texas, Utah and Wyoming. Among other consequences, those convicted could be at risk of prison time, heavy fines and losing their right to vote.
The march in San Francisco was predominantly made up of women, but there were men and children holding signs against the possible overturn of Roe v. Wade.
Linda Bodian, a retired reproductive health care worker, walked with friends and chanted with the pro-choice crowd.
"Birth control didn't work. I had two abortions, both with birth control failures," Bodian said. "I had an IUD put in, hoping, praying that I wouldn't get pregnant. I was too young. I couldn't raise a baby, you know?"
She held a wire hanger as she marched past the Westfield Centre shopping mall. She said the hanger was meant to remind others of the extremes people had to go through to get abortions.
A leaked draft opinion indicated that the Supreme Court, which has a conservative majority, intends to overturn Roe v. Wade, which has protected the right to abortion since 1973.
People have used hangers to perform abortions on themselves when the procedure is illegal or difficult to access, and it is extremely dangerous. A common symbol of the pro-choice movement is an image of a hanger with the words "never again." But reports show that people are still using this method in states that have stricter abortion laws.
A study by the UCSF found that women who were denied abortions were not likely to have money to cover basic living expenses and likely to have increased debt and to stay in contact with a violent partner.
Children born to a parent who sought but could not get an abortion are more likely to live below the federal poverty level and to experience poor maternal bonding than children born to a parent who previously had an abortion, the study said.
Bodian said it was a "heartbreaking" decision to get an abortion but ultimately had to make that decision for herself.
"I did it for my future children because, at the time, I could not give my children the kind of life that they deserved," Bodian said. "When I was young, I didn't have money. I wasn't married. It wasn't — it was just not the right time."
The San Francisco protest was peaceful; however, some opponents of abortion rights stood on street corners with a microphone and harassed the crowd.
One anti-abortion individual held a wooden cross and yelled Bible verses to the passing crowd. Several marchers approached him, and they yelled at one another. Some protestors attempted to break up the conflict by guiding the pro-choice individuals back the stream of marchers.
An anti-abortion counter-protester yelled Bible verses at the passing marchers, leading to verbal conflict.
Google search trends for "vasectomy" spiked two days after the Supreme Court draft leaked in Montana, Oklahoma, West Virginia, Missouri and Utah.
Similarly, searches for "birth control" spiked in North Dakota, Wyoming, Oklahoma, Rhode Island and Idaho the day after the draft release.
The city of San Mateo introduced an ordinance last week that would create a buffer for its Planned Parenthood clinic. The ordinance would prohibit the harassment of the clinic's patients within 100 feet from the entrance and would prohibit approaching a patient within eight feet with the intent to harass.
>>>Read: Advocates in California Fight for Reproductive Freedom
This ordinance was drafted in response to California expecting a high volume of out-of-state patients seeking an abortion. So this clinic is not the only one preparing for the influx of people seeking medical help from states that prohibit abortion.
Gov. Gavin Newsom proposed a package May 11 that would expand reproductive health services throughout the state.
"California will not stand idly by as extremists roll back our basic constitutional rights," Newsom said. "We're going to fight like hell, making sure that all women – not just those in California – know that this state continues to recognize and protect their fundamental rights."