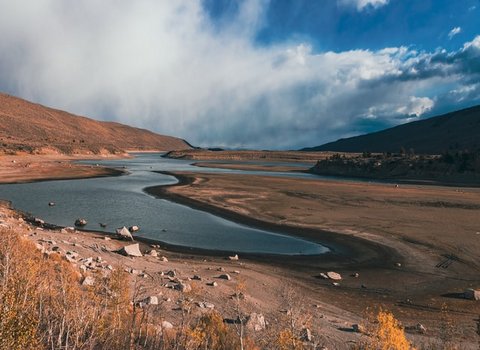 21 May

We're in a Drought, and Everyone Needs to Save Water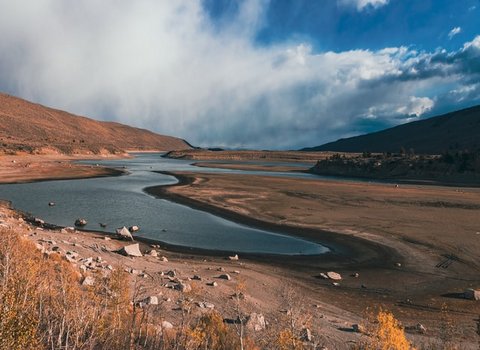 Water levels are low at Grant Lake, seen last year, and elsewhere in California. (Photo by Ross Stone on Unsplash)
By Danielle Parenteau-Decker
California is in the midst of what has been called its worst drought in 1,200 years. As dire as that sounds, the problems is even bigger.
Drought was the focus of an April 22 Ethnic Media Services press briefing and panel discussion with experts with the ominous title "Not a Drop to Drink."
Billions of people and regions around the world are suffering because of not having enough water.
"We are in a very gloomy scenario," said panelist Dr. Rajendra Shende.
He joined the briefing from his home in India at 11:30 p.m., "mainly because I'm scared," he said.
Shende was one of several scientists with the Intergovernmental Panel on Climate Change who shared the Nobel Peace Prize with former Vice President Al Gore in 2007.
"Four billion people — almost 65 to 70% of the world population — are experiencing severe water scarcity," he said in an overview of the global impact of drought.
"The Middle East and North Africa are the most water-stressed regions on the Earth. It is not difficult to guess why."
But the issue is not confined to typically arid places.
Shende pointed out that parts of China, India, South Africa and Europe have significant water problems as well.
But some countries are taking steps to save water.
Some Middle East countries are recycling water more and more, he said. Oman is "recycling about 78% of its water. Can you imagine that?"
He said California needs to practice "water-smart culture" and could learn from other nations' example.
Shende suggested the state could use smart technology to track individual water usage and then tie income taxes to the amount of water a person conserves or recycles.
Currently, the state only recycles about 25% of the wastewater it generates, according to Heather Cooley, director of research at the Pacific Institute.
She said there has been "a threefold increase since about 1970 … but we still have a ways to go."
To increase water supply, there are also "significant opportunities to be capturing more stormwater," Cooley said. "Even in dry years, stormwater could augment — tremendously augment — our water supplies."
Meeting moderator Sunita Sohrabji questioned whether desalination was another viable option. But desalination as a cure was shot down by Cooley and Dr. Josué Medellin-Azuara, an associate professor of civil and environmental engineering at UC Merced.
"It is expensive, and it is energy-intensive, and it harms the marine environment," Cooley said. "There are other options we should be pursuing first."
Among those options are capturing more stormwater and recycling more wastewater, though the panelists said the best and most important thing anyone can do is to simply use less water.
The bulk of California's water usage comes from the state's massive agriculture industry, not personal or home use.
"About 80% of our water use is for agriculture in California," Cooley said. But agricultural industries have found ways to adapt.
"Agriculture is very creative … and resilient and innovative and always finds some ways to overcome some of these … challenges," Medellin-Azuara said.
Sometimes that has spelled trouble for some communities.
"Where we have seen the biggest issues are in our rural areas and in our small communities," Cooley said, which don't have as many water sources or other resources as larger cities.
Smaller, rural areas often have to rely on groundwater, more of which has been going to farming, contributing to household shortages.
"One of the reasons that agriculture has limited the impacts, in terms of the economic impacts, is because they are relying more heavily on groundwater," Cooley said.
Agriculture may run the tap the most, but that doesn't mean everyone else is off the hook.
Karina Herrera, an environmental scientist with the State Water Resources Control Board, said everyone should consciously save water even when there isn't a shortage.
"Water conservation and water efficiency matters at all times, not just when we're in a drought," she said. "It really matters household to household."
Herrera also suggested the state may need to rethink its approach to water conservation.
"Past critiques on conservation efforts in California have been that they are a one-size-fits-all, that they don't consider unique local conditions," she said.
Overall, the panelists emphasized that people need to use less water and not take it for granted.
Medellin-Azuara said, "Believe me, opening the faucet in your households and getting clean water is a miracle."