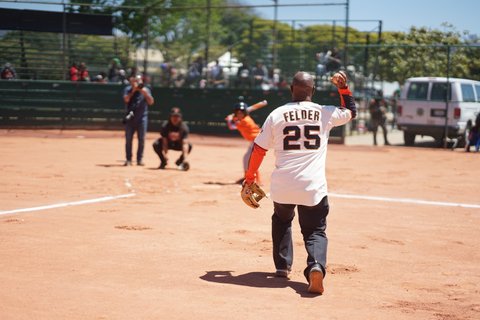 27 May

Richmond Honors Willie Mays for Contributions to the City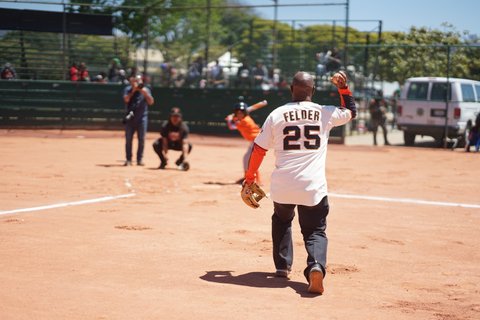 Retired San Francisco Giant Mike Felder, who was born in Vallejo and grew up in Richmond, threw a pitch Saturday on the refurbished and renamed Willie Mays Junior Giants Field at Nicholl Park.
Story by Efrain Valdez | Photos by Denis Perez-Bravo
Baseball great Willie Mays helped Richmond youth in need during his playing days in the 1960s and '70s, taking part in March of Dimes events and helping Little League teams at Nicholl Park. Saturday, the baseball diamonds there were renamed in his honor, part of the city of Richmond's efforts to officially recognize the Hall of Famer for his charitable contributions.
A parade ran from Richmond Civic Center to Nicholl Park, where a ceremony was held at the refurbished baseball diamonds, renamed "Willie Mays Junior Giants Field."
The Richmond High School marching band was part of the parade down Macdonald Avenue to honor Willie Mays.
"This makes us feel very special," Richmond Junior Giants league commissioner Brandon Davis said. "It makes us feel like Richmond is definitely on the same level as Willie Mays — you know, legendary, not just any other place that's an afterthought."
Mays is considered by many to be the greatest baseball player of all time. He played Major League Baseball from 1951-73, though he missed most of the 1952 and all of the 1953 seasons after the U.S. Army drafted him during the Korean War. In his major league career, Mays hit 660 home runs, won 12 Gold Gloves and was named Rookie of the Year, Most Valuable Player twice and an All-Star 24 times. He was voted into the Baseball Hall of Fame in 1979, his first year of eligibility, with about 95% of the vote.
The former New York and San Francisco Giant was unable to attend the festivities Saturday, which followed Willie Mays Day. The City Council voted in March to recognize Mays on May 6, his 91st birthday.
Junior Giants player Abraham Cambreros Jr. said it felt good to be there and that it was cool to see how many people came out.
"I think all of this is cool, how they're all out here showing love and support," he said. "I didn't think that I would be here right now doing all of this."
Giants Community Fund Board of Directors Co-Chair Brian Murphy said the foundation's job is to spread the message of baseball to as many communities as it can.
"We go all the way to Medford, Oregon, and we go down to San Luis Obispo. We go up to Lake Tahoe, but sometimes we have to remember our backyard," he said, referring to Richmond, which sometimes lives in the shadow of the larger city of Oakland.
"Oakland gets lots of charitable attention. But guess what? Richmond has a very proud baseball history."
Giants President and CEO Larry Baer said the organization wants to make sure that Richmond is not forgotten.
"You have a community here where there is so much opportunity for sports teams, and this kind of publicity can get attention to the right places in this community," Baer said.
Davis said he hopes the field renovations bring a lot more positive attention.
"The beautification of this space removes some of our problems with homelessness and crime in the area," Davis said. "So, hopefully, just highlighting this area as a space for the community will have everyone come out and be more involved with our free program,  the Junior Giants."
Baer said that over 300 kids play Junior Giants baseball for free in Richmond every year.
"They obtain learning skills in addition to just playing sports — such as learning cleanliness, getting health tips and anti-bullying, so it's a really beautiful thing," he said.
Murphy said that as the co-chair of the community fund he is asked to do a lot of events and that sometimes he can't, but for this one, he had to come out.
"I coach Little League, and my son is on the team, and we have a very important game today," he said. "But when they asked me to emcee the Richmond Junior Giants event, I told [the assistant coaches] that they would have the game."
He explained why this event was a priority.
"Because if we're going to put our money where our mouth is, we go out and cut the ribbons," he said. "We show our face and tell everybody how proud we are to help any kid who wants to play baseball."
The parade moved down Macdonald Avenue with a caravan of classic cars and the Richmond High School marching band.
The Richmond High marching band reached Willie Mays Junior Giants Field at the end of the parade to honor the Hall of Fame baseball player.
Free food was available and public agencies like East Bay Municipal Utility District, Richmond Police Activities League and AC Transit had booths at the event.
Richmond Mayor Tom Butt, Contra Costa County Supervisor John Gioia and former San Francisco Mayor Willie Brown spoke at the ceremony.
Richmond Mayor Tom Butt, left, presented Michael Mays, son of Willie Mays, with the key to the city Saturday.
Mays' son, Michael Mays, said that his father said he really wanted to come back to Richmond but couldn't due to health concerns.
"He really wanted to be out here, but he did leave me some instructions," Mays told the crowd. "He said to thank everybody a lot who helped make this happen."
A monument commemorating Willie Mays was installed outside the northernmost field, parallel to the first base line.
It features a plaque to educate many young baseball players on Mays' impact on the sport and the community.
San Francisco Giants President and CEO Larry Baer and Michael Mays look at the monument honoring Willie Mays that was installed along the first-base line at the Nicholl Park baseball field now named for Willie Mays.
"It's important to have an event that can change a community or even one kid's life, but I hope that we're going to change a lot of kids' lives," Murphy said. "That, to me, is why we do this."