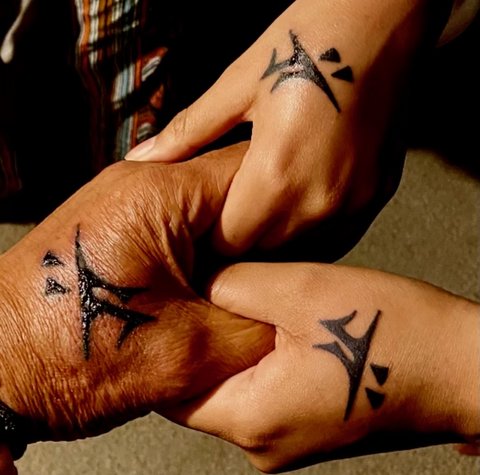 17 Jun

My Father's Life Is the Greatest Lesson I Have Learned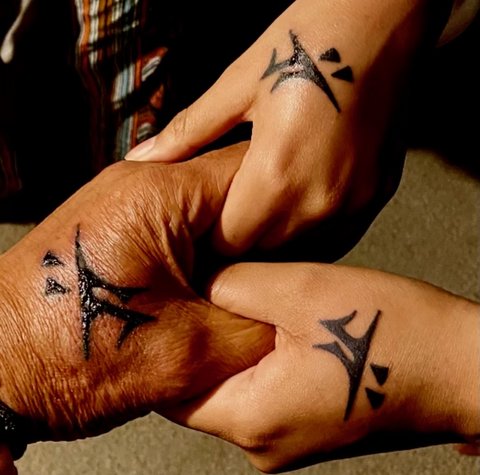 The author, her little sister and their father have matching tattoos that symbolize their last name. (Photo courtesy of Naja Ji Jaga)
By Naja Ji Jaga
When I sit and reflect on the most important lessons my dad taught me, the best one was not verbal. Words can mean a lot, but my father's daily actions stood with me the most. My father has always been determined to be a good role model. So it was never just one instance where he taught me a valuable lesson because his existence was the greatest lesson I have learned.
Being a permanently disabled veteran never hindered his ability to be the sculptor that molded me as I aged. I grew up seeing my dad volunteer his time and effort to assist other veterans because of their similar battles. My father fought for over 30 years to receive healthcare benefits and struggled with unemployment, chronic ailments, homelessness and PTSD before the Department of Veterans Affairs legitimized his claims.
This was his main inspiration for volunteering with veterans, especially Black veterans, disproportionately affected in communities like Richmond. The impact of his prioritization of community was just one of the lessons I learned due to him being in my life. This led me to understanding the importance of community service and has been my continual motivation to strive to be like him.
My dad's impact on the lives of his peers not only shows how generous he is as an individual but also how giving he is as a parent. Every decision he made in his life and for his children was made to establish his children's success. That included signing me up for track & field when I was 4 years old, encouraging me to apply to the East Bay Center for the Performing Arts, and approving my decision to attend a university on the other side of the country.
Seeing how far I have come due to his presence in my life is awe-inspiring. He has been an irrefutable aid in my success, and now that I am gradually shifting into adulthood, I have moments where I like to sit back and reflect on his decisions that have made me who I am. He has provided the tools for me to flourish in life even while dealing with adversity, and my success is an ultimate testament to his sacrifices.
The result of my father simply showing up and being involved in my life taught me more than any verbal advice could. I always learned the most from his actions and the impacts he ensured he left everywhere he went, which is the root of multiple aspects of my identity. I am a more community-oriented individual because of my dad. I am a student because of my dad. And I have the motivation to continue being a prosperous person because of my dad.
So while I'm on a continuous journey of figuring out my identity on my own, it is evident that my dad has been a significant factor in who I have become. I am privileged and thankful that he has been present in my life because not everyone has this lucky chance. So I take moments like these, and days like Father's Day, to thank my dad. And to all the parents that stepped up, thank you too, because being there for your kids will be the greatest lesson you ever teach them.