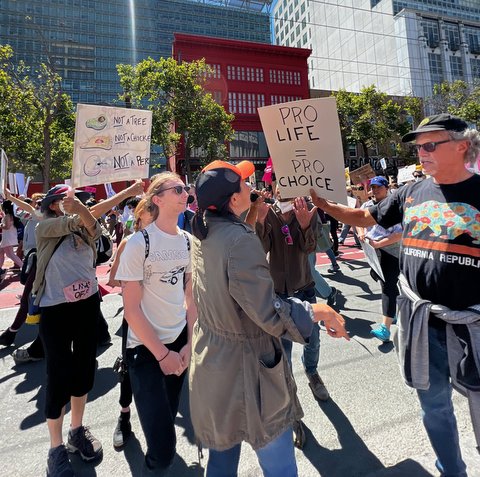 24 Jun

Bay Area Reacts to Supreme Court Decision to Overturn Roe v. Wade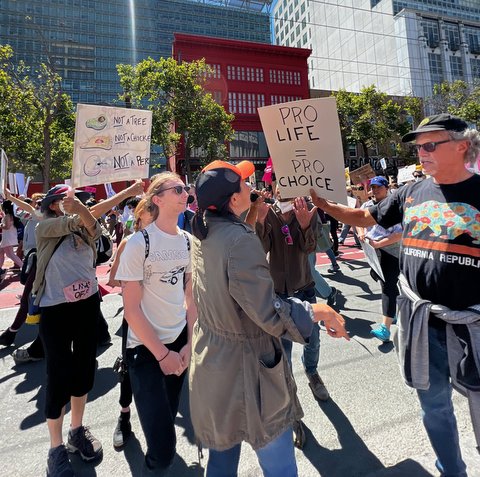 The Women's March for Reproductive Justice was held in May in response to the news that the Supreme Court planned to overturn Roe v. Wade. Here, a scene from the march in San Francisco. (Maria Fernanda Bernal / Richmond Pulse file)
This story has been updated.
By Bay City News Service
Bay Area leaders reacted with outrage and vows to assist out-of-state women seeking abortions on Friday morning, after the U.S. Supreme Court released a much-anticipated decision that ends constitutional protections for abortion.
"Overturning Roe v. Wade is nothing short of white supremacist patriarchy," said Oakland Mayor Libby Schaaf. "Congress must act to enshrine reproductive rights as the law of the land. Until then, Oakland will always defend and protect women's health and our human rights."
In San Francisco, Mayor London Breed said the decision was devastating for women across the country.
"The ramifications from this Supreme Court ruling on public health, poverty and so many downstream consequences have yet to be seen, but right now, women are scared about what this means for them, for their daughters, for all of us," Breed said.
The U.S. Supreme Court's 1973 decision in Roe v. Wade ruled that the U.S. Constitution generally protects a pregnant woman's liberty to choose to have an abortion. Friday's decision in Dobbs v. Jackson Women's Health Organization overturns the 50-year ruling on Roe and is expected to result in abortion bans in several states.
Breed said her city was taking steps to prepare for impacts from the ruling. San Francisco's Department of the Status of Women will be ready for an influx of people traveling from out-of-state, she said.
Kimberly Ellis, director of the department, said, "It took 40 years for conservatives to plot and scheme the rollback of women's bodily autonomy and we must have the same unbending and resolute commitment to undoing this new world of forced birth, even if it takes us another 40 years to get there. We will never give up."
>>>Read: Advocates in California Fight for Reproductive Freedom
House Speaker Nancy Pelosi said that Democrats would keep fighting "ferociously to enshrine Roe v. Wade into law," in a statement on Friday morning.
"Today, the Republican-controlled Supreme Court has achieved the GOP's dark and extreme goal of ripping away women's right to make their own reproductive health decisions," said Pelosi, D-Calif.
Congresswoman Jackie Speier, D-Hillsborough, referring to Chief Justice Clarence Thomas' opinion in the case, said the court's ruling was evidence of a war by conservatives on civil rights of women and many others. The opinion amounts to "government-mandated pregnancy," she said.
"Today's Supreme Court decision is about ensuring women will never be equal," Speier said. "The Supreme Court has become an extreme weapon of the far right. This is also just the beginning of a long-plotted war by the far right on civil rights for women, people of color, and LGTBQI+ people, as indicated by Chief Justice Thomas' opinion.
Justice Thomas wrote in a concurring opinion in the decision released Friday that the court should reconsider rulings on same-sex relationships, same-sex marriage and contraception.
North Bay Congressman Mike Thompson said the court's decision was "an assault on women, plain and simple," in a statement on Friday morning.
"Roe was the law of the land for nearly 50 years, and the right to an abortion was settled law," Thompson said. "This decision threatens the health of women and will lead to the criminalization and banning of reproductive care."
A rush-hour rally and march was planned for 5 p.m. at the Phillip Burton Federal Building in San Francisco, according to a release from the National Mobilization for Reproductive Justice-SF, a group of several organizations including Glide Memorial Church, and Raging Grannies Action League.
>>>Read: As Roe v. Wade Hangs in the Balance, People March for Reproductive Justice
In the South Bay, several elected leaders and community officials planned to gather at 11 a.m. in front of the Robert Peckham Federal Building to announce plans on how to move forward after the court's decision.
The Santa Clara supervisors recently approved allocating $3 million to Planned Parenthood Mar Monte, anticipating an increase in women both in the county and from other states seeking abortions.
The court's decision "strips Americans of their basic freedom and endangers the health and safety of millions," Congressman Ro Khanna said Friday.
"It hits low-income women, women of color, and women living in rural areas particularly hard," Khanna said. "It defies not only 50 years of legal precedent, but also the will of the American people.
Khanna, a Democrat from San Jose, called for ending lifetime appointments to the Supreme Court, ending the filibuster and passing legislation in the U.S. Senate to codify Roe v. Wade.
In the East Bay, State Sen. Nancy Skinner said the court's decision was an "outrage" that has made the nation unsafe for millions.
"The far-right majority's decision set us back 50 years — to a time of back-alley abortions and deaths, a time when women lacked the legal and fundamental right to self-determination," said Skinner, D-Berkeley. "California will not be passive. We will be a national beacon for reproductive justice and guaranteed access to abortion, not just for Californians, but for those who seek services and care here."
>>>Read: City Works to Expand Electric Vehicle Use, Reacts to Roe v. Wade News
State Sen. Scott Wiener, D-San Francisco, said Friday was "a dark day in our nation's history" and the court's ruling will have impacts beyond abortion rights.
"This horrific decision — effectively removing people's agency over whether and when to start or grow a family — is a disaster for millions across the country," Wiener said. "The ruling is also a major step back to an era when government and religion controlled the most intimate aspects of people's lives. The Court's action will have serious ramifications beyond abortion, particularly for LGBTQ people."
Copyright © 2022 Bay City News, Inc. All rights reserved. Republication, rebroadcast or redistribution without the express written consent of Bay City News, Inc. is prohibited. Bay City News is a 24/7 news service covering the greater Bay Area.