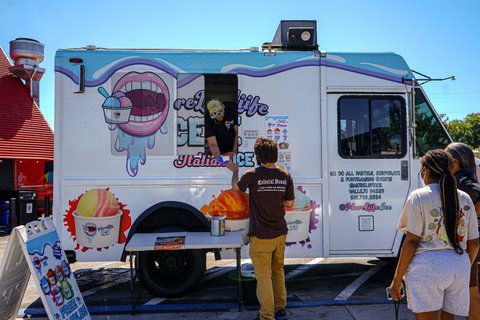 18 Jul

Pandemic Helped Launch the Business More Liife Ice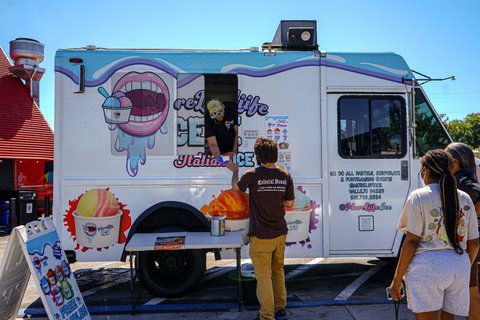 Luis Cardona hands a customer an Italian ice from the More Liife Ice truck July 10 in the Tacos El Tucan parking lot. (Denis Perez-Bravo / Richmond Pulse)
By Malcolm Marshall
The pandemic has been a blessing in disguise for Mark Clifton.
It forced the 35-year-old owner and operator of More Liife Ice to become an entrepreneur. 
The Oakland native was driving for Uber when COVID hit. He had to figure out how to make extra money to support his family.
"It made you understand you can't depend on anybody else; you got to get out there and get it," Clifton said of the pandemic. "Find a way to make money and support your family in a positive way."
Two years later, Clifton is the brains behind More Liife Ice. He's bringing Italian ice, a dairy- and gluten-free fruity frozen treat, to the East Bay with two trucks and servicing special events like weddings and parties with two cart setups.
For many people, it's one of the best things about summer.
"My favorite flavor has to be the cherry pineapple, but I love them all, honestly," said Richmond resident Nalia Wise. "I've always enjoyed Italian ice, so when I found out they were Black-owned, I had to try it," she said.
For Clifton, the business is proving to be lucrative.
 "The pandemic definitely helped me bring out my creative side and get my hustle on. There's so much money out here you can get," he said.
Clifton runs the small business with the help of brother-in-law Luis Cardona. The menu features a minimum of eight different Italian ice flavors and a flavor of the day that switches periodically.
"I like the amount of flavors they have to offer, and the fact that it is vegan is a huge bonus," said DaRon Garcia-Watts, who is from Fairfield but first tried More Liife Ice at a graduation party in Vallejo. "My favorite flavor is lemon with chamoy and Tajin sprinkled on top. I would describe it as sort of like a sorbet but better and more tasty."
Clifton says the consistency and way it's made sets Italian ice apart.
"It's similar to ice cream, but it's a little bit healthier," he said. "I always say it's an upgrade to shaved ice."
Andrea Martinez first tasted More Liife Ice at an event in Vallejo."
"It melts in your mouth. It's smooth, not overly sweet," she said. "They have great flavors like mango, and the sour apple is fire. Then, they have a childhood favorite like cherry bomb."
Clifton says the idea of Italian ice was born out of family trips to the East Coast where the cold dessert is more well-known.
"We always enjoyed Italian ice when we went out there," he said. "It just came together one day, like, how can I figure out a way to introduce this to the Bay Area?"
Before Italian ice, he started off selling juices in 2020.
"My family is big on fruits and vegetables, and so I said, why not start selling juices?" he said.
Clifton has always been into sports and played basketball most of his life. When he started More Liife Ice, he was frequently playing pick-up basketball at the Hilltop 24 Hour Fitness. He brought juices to friends who were athletes and trainers there. People liked them and encouraged him to start selling the juices. Very soon, Clifton began making, bottling and delivering juice to customers in Vallejo, Richmond and Oakland.
Even though he had a popular product, the juice business turned out to be harder than he had anticipated. That's when he came up with plan B: Go from selling healthy juices to selling the non-dairy, vegan-friendly dessert he enjoyed on trips back East.
So last March, he started selling the ice from a cart on a corner in Vallejo. Business took off quickly.
"Originally, it was a side hustle, but we were getting a lot of good feedback from people," he said. "It's been going crazy."
As the business grew, he eventually brought More Liife Ice to Richmond where he found community support.
"We did a couple pop-ups in Richmond with Loaded Chickn food truck, and they were like, 'Come back. They asking for you,' so I was like, 'All right,' " he said. "Richmond started taking the truck away from Vallejo."
Clifton has brought his Italian ice truck to DeAnza, El Cerrito, Salesian and Richmond high schools where it has been a hit with students. He set up shop at Richmond's recent Juneteenth celebration at Nicholl Park as well as at other community events. Lately, the truck has been spotted in the Plug Tattoo parking lot and next to El Tucan, both on San Pablo Avenue.
Along with offering a healthier dessert option that people might not be as familiar with, Clifton said he believes the keys to the business's success have been great customer service, promotion via Instagram, and word of mouth from happy customers.
"A lot of people don't do well with dairy products. It's just an alternative to ice cream, what people are mostly used to," Clifton said. "It's something different that a lot of people aren't familiar with. When they taste it, it's kind of surprising. And it's very refreshing."
So far Clifton said his biggest challenge as a business owner has been keeping up with the demand for his Italian ice.
"Just trying to figure out how to meet the demand. Being able to be at multiple places at the same time and satisfy everybody," he said.
After a successful first year of More Liife Ice, the business continues to grow, and Clifton feels like the sky is the limit.
"I want to keep going hard," he said. "I have so many ideas for this business."
He believes his business can spread out and become big in the Bay Area. His dreams include serving More Liife Ice at both professional and school sporting events and at amusement parks like Six Flags and Great America. While the mobile business is working well, for now, he'd love to be permanently in one area where customers can find him whenever they want to satisfy their cravings.
"I think it can thrive like that and I wouldn't have to set up on the street daily," he said. "People can just find us at an arena or something."
For now, if you are looking to find out where they will be next, follow More Liife Ice on Instagram.