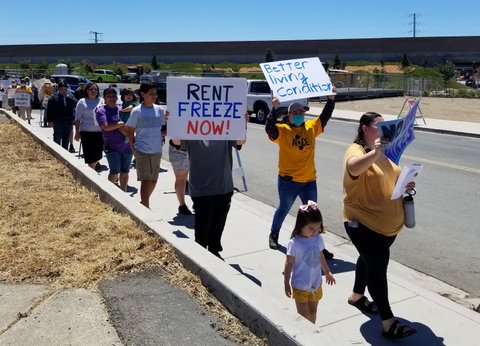 26 Jul

Antioch Tenants Rally for Protections Amid Looming Rent Increases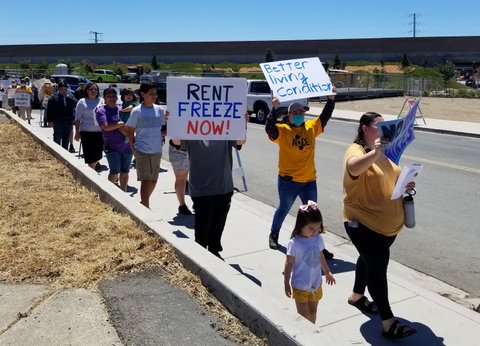 Antioch residents and housing rights activists on July 21 protest rent hikes at two low-income apartment complexes. (Kiley Russell / Bay City News)
By Kiley Russell
Bay City News Foundation
A low-income Antioch apartment complex was once again the scene of a tenants' rights rally held to decry looming rent increases and to urge city leaders to act quickly on protections for the city's most vulnerable residents.
More than 70 tenants and community activists gathered July 21 at the Casa Blanca Apartments on Claudia Court to voice frustration with what they say are rent hikes as high as 30 percent at the complex and its sister property, Delta Pines.
They also called on the City Council to pass emergency protections for renters, such as an immediate rent freeze and an eviction moratorium.
"I have never seen an increase in rent by so much," said Lawrence Elliott, a seven-year Casa Blanca resident.
Tenant activists believe that roughly 150 people were served with rent increase notices at both Casa Blanca and Delta Pines and that many of them could end up homeless or on the brink of homelessness as a result.
"If we don't stick together and fight this, this whole Casa Blanca is going to be deserted," Lawrence said.
Lawrence, 68, also said garbage builds up at the dumpsters, which non-residents are able to use because the property's security is too lax.
Nine-year-old Delta Pines resident Treveyon Carlson, who has spoken publicly about these issues at City Council meetings, said living with the constant worry of rent increases is extremely difficult.
"I have seen how hard it is for my family to stay housed because rents are pretty darn high," Carlson told the crowd. "Mr. Mayor, I've asked you this before, would you want your children to live like this?"
Joshua Gonzalez, 13, lives at Casa Blanca and said he too worries about his family.
"It's really stressful to see my parents struggle with rent," Gonzalez said. "I pray every night that God will do something to help us out."
Antioch City Council member Tamisha Torres Walker, along with council member Monica Wilson, has been trying to get the council to take up tenant protections since August 2021.
In January, the council voted to direct city staff to draft language for tenant anti-harassment, rent control and just-cause eviction ordinances, but the items have yet to make it onto an agenda.
There is some indication that the council might look into discussing or studying renter protections at its Tuesday meeting, but that won't help people who are facing imminent displacement, Torres-Walker said.
"What we need right now is a moratorium on rent [increases] and evictions in Antioch, an emergency ordinance to keep children and families off the streets," Torres-Walker told the gathering July 21.
It's never been more important to help renters in the city, according to rally organizers, a coalition that includes First 5 Contra Costa, the East County Regional Group, the Alliance for Californians for Community Empowerment and Urban Habitat.
According to a 2021 survey of roughly 1,000 Antioch residents compiled by the coalition, 98% of participants reported being "rent burdened," meaning they spent 30 percent or more of their income on rent, and 71 percent were "severely rent burdened," meaning they spent 50 percent or more of their income on rent.
Also, between 2000 and 2019, the percentage of residents who owned their own homes declined from 71 percent to 60 percent, according to data from the Bay Area Equity Atlas.
Last week's rally was the third such event since March, when tenants and organizers gathered at the Twin Creeks Apartments on James Donlon Boulevard.
In June, the groups delivered similar messages at the Delta Pines property.
"Each one [of the rallies] is getting bigger," said Chris Schildt of Urban Habitat. "It means this issue is not going away. I believe people are fed up and they're not going to take silence for an answer."
Antioch Mayor Lamar Thorpe and a spokesperson for the apartment complex's property management company didn't immediately respond to requests for comment.
Copyright © 2022 Bay City News, Inc. All rights reserved. Republication, rebroadcast or redistribution without the express written consent of Bay City News, Inc. is prohibited. Bay City News is a 24/7 news service covering the greater Bay Area.