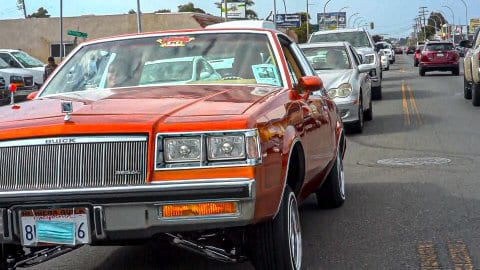 11 Aug

Lowriders Cruise 23rd Street to Keep Tradition Alive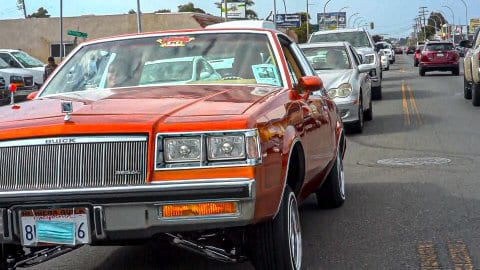 Car enthusiasts rolled through Richmond traffic on 23rd Street as part of a lowrider cruise.
Story and photos by Denis Perez-Bravo
Classic cars rolled down 23rd Street, continuing a longtime but dwindling Richmond tradition: the lowrider cruise.
Hundreds of people from around the Bay Area with modified cars gathered at the Target parking lot on Macdonald Avenue on July 31 before making their way to 23rd Street as part of an effort to keep Sunday cruise nights happening in Richmond.
One cruise organizer said there aren't as many lowrider enthusiasts in Richmond as there used to be, so lowrider cruises don't happen as often.
Nevertheless, the July 31 event brought drivers and other people from different cities to Richmond.
Earlier the same day, another car show was held in Newark. Richmond residents attended that show and then attendees came to the Richmond cruise.
For some drivers, it was the first time they cruised on 23rd Street or in Richmond itself.
San Francisco resident Carlos, who didn't give his last name, brought his 1980 Chevy Impala and his family out to the Target parking lot. There, owners of classic and modified cars and their families gathered around, mingling as music played from cars.
Interested passersby walked around as photographers snapped photos of the different makes and models. Kids watched, and some sat inside lowriders as the cars' hydraulics raised and lowered the vehicles.
Two girls sit in a lowrider car as its hydraulics elevate the car up and down at the Target parking lot in Richmond before a Sunday night cruise.
As 4 p.m. came and went, Carlos and the other drivers began exiting the parking lot and drove down Macdonald Avenue together. At Nicholl Park, a large group of young bicyclists joined the drivers.
As the group of vehicles and bicyclists turned onto 23rd Street, they entered a traffic mix of commuters and cruise drivers already there between Grant and Rheem avenues.
Drivers cruised 23rd until dark, showing off their cars.
"We are out here to support the cause and the lowrider community," Carlos said.