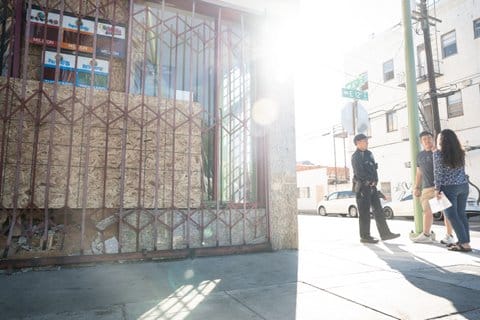 25 Aug

Oakland Police To Step Up Surveillance In Little Saigon After Killing Of Beloved Dentist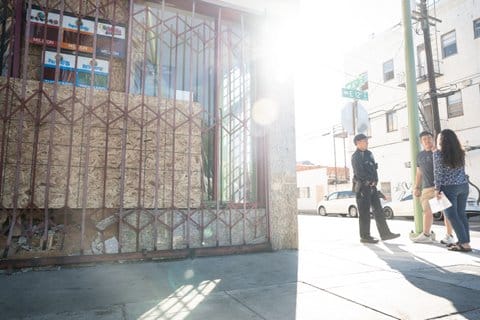 Community members and police discuss the recent violence against Asians on the corner of 6th Avenue and E. 12th Street in Oakland. (Jonathan Hale / Richmond Pulse)
By Jonathan Hale
OAKLAND — The mood was tense at a meeting at an Aug. 24 afternoon meeting between community members, business owners and police to address crime and violence here, following the fatal robbery attempt of local dentist Lili Xu.
Xu was killed Aug. 21 afternoon in a section of the city known as Little Saigon, known for its diverse culture and large number of Vietnamese and East Asian immigrants. Friends described the 60-year-old victim as a beloved member of the community.
A surveillance video depicts a suspect emerging from a white Lexus and confronting the victim in her parked car. Cries of resistance can be heard, followed by three gunshots. Xu was taken to a hospital, where she succumbed to her wounds.
Xu's killing was only the latest in a wave of anti-Asian sentiment that has surged since the onset of the COVID-19 pandemic. Stop AAPI Hate, a nonprofit that tracks hate crimes and violence directed towards Asian Americans and Pacific Islanders, has documented almost 11,500 incidents in the two years spanning March 19, 2020, and March 31, 2022.
Oakland dentist Lili Xu was killed Aug. 21 during what police are calling an attempted robbery. (Facebook photo)
An outsized percentage of these incidents have taken place in the Bay Area. Late last year, six men were apprehended for a string of over 170 hate crimes and robberies throughout the Bay Area. One of the criminals acknowledged in court that the group specifically sought out Asian victims.
In response to the wave of crime, the Oakland Police Department announced that it will deploy additional resources to the neighborhood.
Oakland Deputy Police Chief James Beere told Ethnic Media Services after the meeting that the Police Department would increase police presence in the neighborhood. The agency plans to deploy additional resources across multiple departments, including the Violent Crimes unit.
Beere said he could not comment on the active investigation, and had no additional details to release. He declined to answer a question on the Oakland Police Department's response to the wave of violent crimes against the AAPI community, especially older women.
In interviews with the Richmond Pulse, community members said they were fed up.
Thinh Le, a resident of the community since arriving as a refugee from Vietnam, says that his neighborhood feels unsafe.
 "At the end of day, you're the one who can defend yourself, not the police," Le said. "The police won't be there in time to help you."
He urged business owners to consider obtaining concealed carry weapons permits.
 "If you own a business here, arm yourself. Use your 2nd Amendment rights."
Vinny MaNguyen owns a building at a well-traveled intersection in Little Saigon. He says that many of his tenants are refugees or immigrants, and many are vulnerable elders.
He was personally affected by crime in the neighborhood when a getaway car fleeing the scene of a recent robbery collided with another vehicle and crashed into his building.
The brazen violence, much of it occurring in broad daylight, has forced residents to make changes to their behavior.
For instance, traditional markets serve as a locus point for the Asian community. But MaNguyen says that his tenants are afraid to walk just a block away to the nearest market for fear of being attacked or robbed.
Nolan Wong was the victim of a burglary at his laundromat. He describes many criminals as opportunists who take advantage of vulnerable elders and lax police response times. Asian American elders often struggle to report crimes due to language barriers and lack of resources.
Wong says that in the long term, more resources are needed to address the root causes that drive young people to commit crimes in the first place. But in the short term, he says that criminals must be held accountable.
 "To deter people, you have to make them responsible for their crimes," said Wong. "And what's happening now is they're allowing these criminals to just have a free for all, and there's no repercussions."
 While the most recent attacks have taken place in Oakland, the violence — including an attack Tuesday on an 80-year-old in San Francisco — has sent shockwaves through the AAPI community in the Bay Area and beyond. Asian Americans make up 15% of Richmond's population, according to the U.S. Census Bureau.
Lynn Truong, a Vietnamese refugee who has lived in Oakland for 32 years, says that Asian Americans travel to Oakland from cities including Richmond to shop and participate in the community. But Truong says this may change, at least until Asian Americans can feel safe in the Bay Area.
"Everyone has a story," says MaNguyen, who also owns an auto body shop that was burglarized. "We want change."
 Additional reporting by Sunita Sohrabji, Ethnic Media Services associate editor