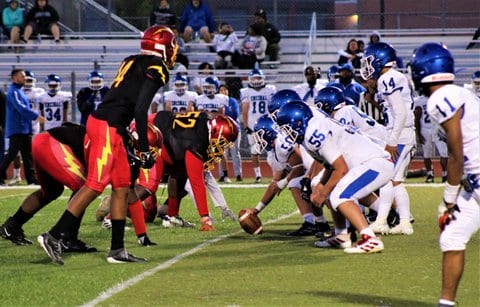 30 Aug

De Anza Begins HS Football Season With Statement Win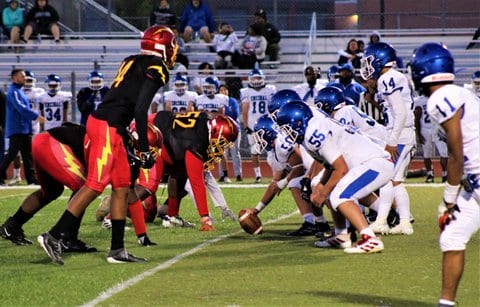 The Dons' defensive line squares up against the Jets offense in Richmond on Friday.
Story and photos by Joseph Porello
The De Anza Dons high school football team defeated the Encinal High School Jets 32-0 in their season-opener Friday night in Richmond.
With six different players amassing a combined total of 28 rushes for 268 yards, De Anza possessed the ball for the majority of the game, allowing them to control the tempo.
All five times the Dons reached the end zone was via the run. Four players scored touchdowns.
Leading the way on the ground with nine carries for 130 yards and two touchdowns was senior running back Zayden Crockett.
Dons' senior running back Dekari Sparks carries a defender with him while looking to gain extra yardage.
Chipping in on the run game for De Anza, senior Dekari Sparks tallied a time-high ten rushes for 60 yards, while Armani Isom took three hand-offs for 47 yards.
Dons' seniors Julien Oupaxy and Jaheem Brooks needed only three combined totes out of the backfield to each reach paydirt. 
Gaining 60 yards through the air while completing six of his twelve pass attempts, De Anza senior quarterback Gino Casias also scored a touchdown of his own by way of the ground. 
Dons' senior quarterback Gino Casias sports the teams' celebratory chain with a teammate late in the fourth quarter.
Hauling in Casias' passes were junior Davion Dunkley, who grabbed two catches for 35 yards, and sophomore Desmond Sparks, who made three catches for 30 yards. 
The Dons' lack of pass attempts could be attributed to the game's climate featuring relatively low temperatures and strong winds, which makes it more difficult for quarterbacks to accurately throw the ball.
Scoring only six points in the first half, De Anza weathered its offensive woes with its play on the opposite side of the ball, as its defense repeatedly forced punts and got off the field quickly.
Joe Bing led the way for De Anza in tackles with eight, en route to an impressive shutout for the Dons against a Encinal team that has had lots of recent success.
Last season, the Jets were undefeated in league play (6-0) while going 9-2 overall.
After having some extra time to enjoy their victory over their only bye week of the season, the Dons will have an even tougher test come Sept. 9 when the McClymonds High Warriors visit Richmond. 
The Warriors have lost only two games in their last three seasons while racking up 29 victories. They have been ranked No. 1 in their section for all three of those seasons and have been undefeated in league play for over a decade. 
The Dons had some trouble with non-league opponents last year, winning only one of five games, and look to eclipse that win total when they take on the Warriors. 
Following the matchup with the McClymonds squad, the Dons will play three more non-league games before starting their league schedule and second half of their season at Hercules High School on Oct 7. 
In league play, De Anza's squad has had a winning record for three straight seasons, going 19-5 during that span. 
Finishing second in the Tri-Rock-County League Division with a 4-1 record in 2021, the Dons enter this year at fifth place in the North Coast Division 5 Section pre-season rankings. 
Since head coach Tyrese Reed's arrival in 2017, the Dons improved their overall record four seasons consecutively before taking a slight dip in winning percentage last season with a record of 5-5. 
Reed's team will not play an away game for over a month to start the season before traveling to Piedmont High School to face the Highlanders on Sept. 30.