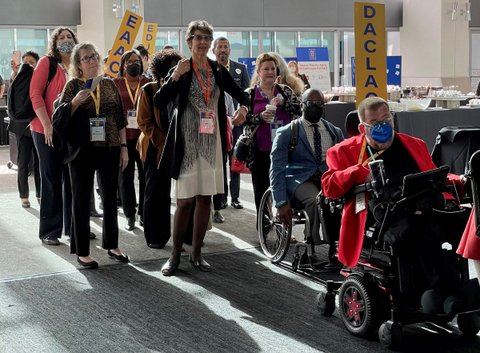 27 Sep

What Inclusion for All Means: California Embraces Master Plan for Older Adults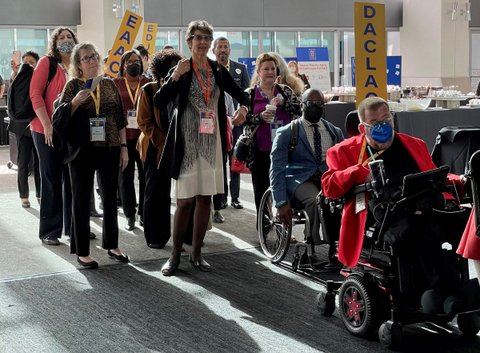 Disability advocates kicked off a daylong conference about California's Master Plan for Aging, singing and clapping to Pharrell Williams' song "Happy" as they entered the auditorium. (California Department of Aging photo)
By Sunita Sohrabji, Ethnic Media Services
SACRAMENTO — A daylong conference highlighting California's 10-year Master Plan for Aging kicked off with a group of disability and aging advocates singing and clapping to the Pharrell Williams song "Happy" as they marched and wheeled around the auditorium.
"Today is a milestone in our movement for healthy aging," said Susan DeMarois, director of the California Department of Aging, which hosted the Sept. 20 event, named "CA For ALL Ages & Abilities Day of Action."
The auditorium was packed with representatives of several state agencies as well as disability and aging advocates championing California's move towards becoming the most-inclusive state in the nation by 2030.
People over 65 are one of the fastest-growing populations in California. In 2030, the elder population of the state is expected to jump to 8.6 million. In the next decade, seniors will comprise more than 19% of California's population.
Last but not least @AARPCA's @MMurray1118 his committee on the opening march for CA for ALL Ages & Abilities Day of Action #CA4All #AgeFriendlyCA pic.twitter.com/l7wUINMcyK

— Luis Campillo (@LuisAdvocates) September 20, 2022
"We must continue to build statewide capacity and infrastructure so that all Californians have access to the care and services and economic independence they demand and deserve," said DeMarois.
California's Master Plan for Aging launched Jan. 6, 2021, via an executive order from Gov. Gavin Newsom. It is a 10-year blueprint addressing current inequities for older adults and disabled people.
Over 132 initiatives have been launched over the past 18 months to support the plan, which focuses on five primary goals: affordable housing for elders; overall affordability in cost of living for people on fixed incomes; a new vision for health care; support for caregivers; and inclusion for all seniors.
The state Legislature has passed several "age and disability-friendly" bills to increase affordable housing, improve access to health care, expand long-term care and support services, and strengthen the direct care workforce.
The state Legislature has also allocated several billion dollars to support affordable housing programs for seniors, along with expanding home-based care services, meal programs, fall prevention and other support programs.
From left: Kim Johnson, director of the California Department of Social Services; Kim McCoy Wade, governor's senior advisor for aging, disability and Alzheimer's; and Susan DeMarois, director of the California Department of Aging. (Photo courtesy of the California Department of Aging)
Keynote speaker Ashton Applewhite, author of "This Chair Rocks," discussed rampant discrimination targeting older adults and disabled people, who she said are often rendered invisible, particularly in the work force and in health care.
"Age and disability are not the problem. Discrimination is the problem," said Applewhite.
People ages 65 and older made up 80% of deaths from COVID, yet the U.S. health care system was ageist in its response, noted the writer.
>>>Read: Older Adults Still At High Risk for COVID-19 — Beware Complacency
"The lethal, measurable global impact of ageism and ableism is that we see older and disabled people as less valuable members of society," said Applewhite.
During the morning portion of the conference, several aging and disability advocates presented their recommendations for expanding the master plan.
Affordable housing is especially critical, several speakers pointed out. Across the U.S., more than 50% of homeless people are over the age of 50 and became homeless after reaching that age.
The most-burdened are renters: Housing costs have jumped by 15%, but fixed income cost-of-living adjustments have not kept pace. Older Black renters are most likely to struggle with rent unaffordability and are overrepresented in California's homeless population, according to the organization Justice in Aging.
"Older adults have been squeezed out of the rental market. We need to keep people in housing they already have. Without a home, there can be no home-based services," said Patti Prunhuber, senior housing attorney at Justice in Aging.
Debbie Toth, president and CEO of Choice in Aging, advocated for better public transportation systems to serve the elderly and disabled. "If you have a roof over your head but can't get to the grocery store, you cannot live and thrive in your community."
Dr. Mark Ghaly, secretary for the California Health and Human Services Agency, moderated a panel of speakers on implementing the master plan. Speakers included: state Sen. Richard Pan, a physician who represents portions of Sacramento and Yolo County in the California state Senate; Assembly member Joaquin Arambula, a physician who represents Fresno; and Melinda Grant, undersecretary at the California Business, Consumer Services and Housing Agency.
"There are so many people in the shadows unable to access the healthcare they need. I'm so grateful to Gov. Newsom for expanding Medi-Cal regardless of immigration status."
In an interview with EMS after the panel discussion, Ghaly said, "COVID has been the great unmasker of health care disparities in our state, particularly for our elderly and disabled residents."
"I lament every day the 96,000 people who lost their lives to the pandemic," said Ghaly. He noted, however, that the "jolt" of the pandemic presented opportunities to retool the health care system, including expanding access to telehealth.
Department of Rehabilitation Director Joe Xavier moderated an afternoon panel offering personal perspectives from people who are disabled, and caregivers.
"Growing up, I would often hear people say: 'I would rather be dead than disabled,' " said Xavier, who is blind. "I look forward to the day when conversations normalize disability so that it is woven into the fabric of society just like all of the other characteristics which make us who we are as human beings."
>>>Read: Caregivers Need Support — and for People to Get Vaccinated
Simone Nazzal, who cares for her mother who struggles with dementia, spoke of the need to support caregivers, a key piece of the Master Plan. "We expect that all caregivers are able to smile and do their work in supporting another person without taking a toll on themselves. That is not fair," she said.
"Get help as soon as you can. You cannot afford not to. You need self-care," said Nazzal.
There are more than 5 million family caregivers in California, according to the Alzheimer's Association.
This story is also available on EthnicMediaServices.org in Chinese, Korean and Spanish.