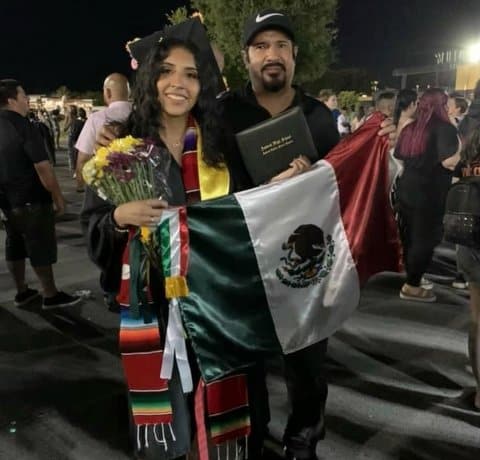 28 Sep

Billions of Dollars Couldn't Repay My Parents' Love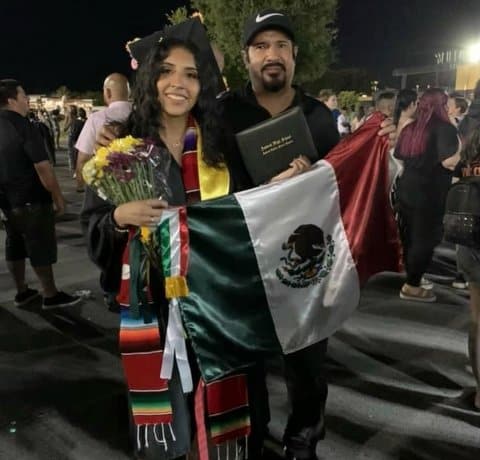 The author and her father, Francisco Valdez Garcia, at her high school graduation. Her parents emigrated from Guadalajara, Mexico, and the family now lives in Antioch. (Photo courtesy of Jocelyn Valdez)
Commentary, Jocelyn Valdez 
My parents, Yesica y Francisco Valdez Garcia, were born and raised in Guadalajara, Jalisco, Mexico. My father, who is 42, is a loving man who loves to help everyone even if it means not getting anything in return. My mom, who is 40, is an independent woman who never let the world eat her up.
When I was growing up, my father set an example for his children. He taught us to be strong, hardworking people and to give back to those who may not even give to us. Something he always said will forever stick with me: "uno nunca sabe y ay un solo dios que lo ve todo." In English, it means, "You never know. There is a God who sees it all."  By that, I know he means maybe one day we will be rewarded for our kindness.
>>>Read: My Father's Life Is the Greatest Lesson I Have Learned
Despite all those hardships and battles my mom has gone through, she is strong, fighting through lupus. Lupus is a chronic disease that can cause inflammation and pain in any part of your body. Although there is no cure for that, my mom never ever lets that get in the way of her moving forward.  She always found a way to take us to school, even if it meant taking the bus on a rainy, stormy day.  She always made sure we never went hungry, even if it meant spending her last five dollars to fill our stomachs with food. 
>>>Read: My Mom's Actions and Sacrifices Make Us Better People
My parents are hardworking people, the rocks of our family, and without them, we wouldn't be in this country striving for success.
Sometimes, I wish I could repay them with billions of dollars, but not even that would not be enough to reward their love, especially when we are labeled aliens in this unfortunate country.  They crossed rivers and mountains to give my siblings and I a better life, to give us an education and a life without struggle. 
Hearing my father's stories of how hard it was to leave his family behind to achieve a better life here aches my heart — having to cross rivers, mountains and be in rose bushes. I can almost feel the thorns in my skin when he tells me the stories of how he made it. Of how he made it to the country of "success." Of how he made it to this country full of labels, this country full of better things along with a little disappointment and no acceptance.
>>>Read: When the Fires Came, No One Could Save Us Like Mom Could
I also heard the stories of how he struggled to find a "good-paying" job of just $8 to 9 an hour, the stories of how my grandpa was like a warrior and how he would have loved to see us, his grandkids, but my father made it to this country to do what was best for us. My mother came with my older brother. He is my inspiration, as well; they all are. It aches my heart knowing that besides my parents there are many people crossing these rivers and mountains known as the border just to escape the poverty they grew up in. 
>>>Read: My Dad Works Hard to Make Us Smile
But my parents, they keep my family together. I can only repay them by being successful myself. I am a 19-year-old Mexican American Latina who lives in Antioch. I am also a college student trying to walk the stage to heal what my parents weren't able to do. I know when I see the smile on my parents' face, I can say WE did it.
The author, third from left, celebrates her high school graduation and heritage with her brothers, Francisco Arturo and Christian, and their mother, Yesica Valdez Garcia.
My parents have taught me so much. They have taught me to never give up. "Nunca rajarme," as they would say. Maybe one day I can do everything they didn't do or become everything they couldn't become, like getting and finishing an education. Knowing that they sacrifice their backs for me and my two siblings every day is amazing. It truly shows how strong a parent's love is and how much it does for you. 
Because no, WE are not aliens; WE are humans when we want that job; WE are humans when we want success too, and I know that's why my family and others stick together.
And although because of my roots and my pigment, it is hard to overcome the stereotypes people have labeled us as — job stealers and border hoppers — my parents have always taught us to just keep going. And without them, we wouldn't have the support we have now, nor the motivation to keep going. I am happy to call my family, especially my parents, mis padres, my biggest inspiration, mi mayor inspiración.