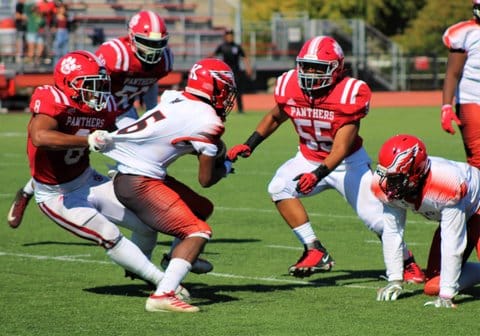 12 Oct

Kennedy High Football Has Winning Streak Snapped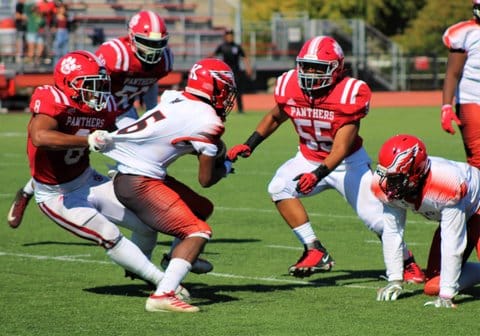 Kyle Goree wreaked havoc for the Eagles on both sides of the ball; here, he rips down Kennedy running back Deondre Prim on Oct. 8 in Albany.
Story and Photos by Joseph Porrello
The Kennedy High Eagles were handed their first defeat in 327 days by the St. Mary's College High School Panthers, losing 37-0 Saturday in Albany. 
"We came out flat and it showed. That's a good team over there, though; hats off to St. Mary's," said Eagles head coach Greg Marshall.
In a highly anticipated matchup between two undefeated teams, St. Mary's High School handily beat an Eagles squad that entered Saturday ranked as the No. 1 team in the North Coast Division Six. 
For both teams' first respective Tri-County-Stone League game of the season, the Eagles remained stagnant on offense while the Panthers managed to rack up almost twice as many points as the combined 20 Kennedy had yielded in their previous five games.
"Defensively, we just missed some assignments and we have to tackle better," said Marshall.
The Eagles boasted the No. 2 ranked defense in the state leading up to Saturday's game, allowing their opponents just four points per game on average, a far cry from the 37 put up by the Panthers. 
St. Mary's High School running backs continuously gouged the previously impenetrable Kennedy High School defense.
"We weren't ourselves today," said junior Eagles' running back and safety Jerry Graham. "We just need to get back to being ourselves."
Flipping the script on the Eagles defensively, the Panthers were able to finish off a shutout using a late interception returned for a touchdown by junior middle linebacker and running back Samadi Scott. Scott tallied seven tackles and also chipped in with a fumble recovery. 
Panthers' senior middle linebacker and running back Kyle Goree, as well as senior strong safety Alejandro Tejada-Gonzalez led the way for St. Mary's with eight tackles apiece, two of Goree's netting a loss for the Eagles.
The Eagles immediately dug themselves a hole when they fumbled the first offensive snap of the game and were flagged by the referees for unsportsmanlike conduct after continuing to jaw with Panthers players after being warned.
"Ultimately, if [the referees] throw a flag, it's on us," said Marshall. "We don't look to make excuses. We're accountable for our mistakes."
Kennedy High Eagles' senior running back Khayri Parker loses the handle on the opening play against St. Mary's College.
"I feel we weren't really focused. We were just all over the place," added Graham.
The Eagles were able to temporarily snatch the momentum back after halting St. Mary's on their ensuing first drive with a fourth down goal line stand. But the elation on the Kennedy sideline was quickly dissipated by a toss play gone wrong for the Eagles, resulting in a safety and two points for the Panthers to begin the afternoon's scoring.
Eagles defenders celebrate after making a defensive stop against the Panthers on Saturday in Albany.
"I just feel like we beat ourselves," said Eagles senior middle linebacker and fullback Alvanti Gallon. "We live to fight another day, though."
Going into the locker room at halftime, the Eagles were in unfamiliar territory as they faced a 24-0 deficit. 
Throughout the contest, players and coaches on the Eagles' sideline could be seen and heard voicing their frustrations with each other in a heated manner about their respective shortcomings. 
"We need to work on our effort; that's something you can't coach," said Marshall. 
During the second half, Eagles' starting quarterback Emiliano Rodriguez was removed from the game by his coaches after taking a heavy hit from a Panthers' defender. 
"I think I'll be good to go next week," said Rodriguez. "I had a concussion last year, so they're just trying to be cautious."
St. Mary's proved too much to handle for the Panthers, but the team from Richmond isn't backing down from anyone and knows things aren't getting any easier for them schedule-wise.
"I'm proud of my boys no matter what," said Marshall. "They face adversity every day coming from where we come from."
"The road only gets tougher from here," he added. 
The Panthers look like they'll be a force to be reckoned with moving forward this season, as their roster possesses players that star on both offense and defense.
The Kennedy High School team will try to use Saturday's loss as a learning point to build character after coasting through their first five games without much difficulty. 
"We just need to get back to practice, stick together and stay focused," said Eagles' junior running back and defensive end Rob Williams.
To put things in perspective, losses are not completely foreign to the Eagles. In 2021, Kennedy lost all 10 games on its schedule. 
"It's still an honor to be 5-1," said Marshall. "This doesn't change the trajectory of the season."
Williams gave his outlook on the team's current situation as well. 
"We were coming off a bad season and we started off well this year; I think we let that get to our heads," said Williams. "This humbled us."
For their next game, the Eagles are back on their home turf as they await the arrival of the undefeated St. Patrick-St. Vincent High School Bruins of Vallejo. Kickoff is set for 2 p.m. on Saturday.
The Bruins' season is highlighted by their clobbering of Richmond High School 56-0 this past Friday. Currently St. Patrick-St. Vincent's sits in second place of the North Coast Division Seven rankings.
The Eagles will look to protect their unbeaten home record and avenge their 26-point loss to the Bruins last October in Richmond.