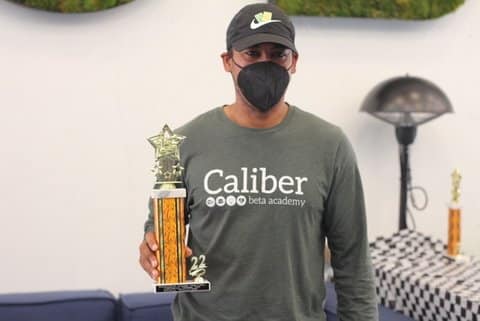 13 Oct

More Than 100 Players Participate in Richmond Chess Festival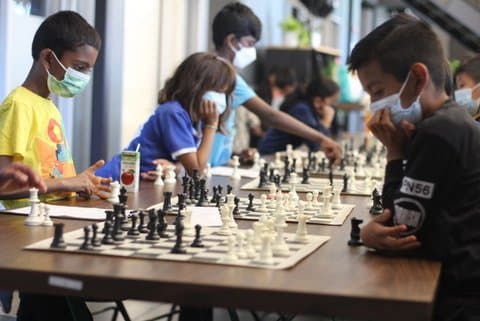 Children were among the more than 100 people who played in a chess tournament Oct. 8 in Richmond for National Chess Day.
Story and photos by Malcolm Marshall
People came to Richmond from all around the Bay Area on Oct. 8 to celebrate National Chess Day.
More than 100 players of all ages and skill levels participated in the third Richmond Community Chess Festival. It was held at CoBiz in downtown Richmond and organized by the West Coast Chess Alliance in collaboration with the Berkeley Chess School.
"The youngest was probably 6 or 7 and the oldest probably toward 80," said TC Ball, executive director of West Coast Chess Alliance.
Designated by former President Gerald Ford in 1976, National Chess Day falls on the second Saturday of October every year.
Players came to test their skills from as far away as Palo Alto, San Jose, Fairfield and Sunnyvale, with the majority being Richmond residents.
"We try to keep it very positive and professional but we want people to have fun," Ball said. "When everybody leaves they say, that was a wonderful tournament in Richmond. That is one of the goals of our organization."
TC Ball, executive director of the West Coast Chess Alliance, said Saturday's chess tournament in Richmond "was like the rainbow coalition."
Ball says chess is a game that teaches critical thinking, focus and concentration — and one that promotes diversity.
"In the tournament today, it was like the rainbow coalition," he said. "That's the hidden gem in chess is that it brings people together of all different groups and nationalities. It doesn't matter because it's all about the game."
The tournament featured both an adult and youth bracket. Ball said the format for the tournament was called a quad, where participants play a round-robin format and whoever has the most points, wins.
Ball said he likes this format for community chess because it produces more winners.
"If it were a regular Swiss tournament, we'd have first, second and third prize," Ball said. "Today, we had 20-plus winners. It produces more winners, particularly with the youth. You know, they all want to want to be winners.
A firm believer in the power of chess, Ball said that sometimes being successful in this game of strategy could really turn a young person's life around by giving them a feeling of accomplishment.
"Success comes in small bits. It's not big," he said. "Chess offers an opportunity for the kids to see some success, either win or lose. I saw one young man — I think he's 7 years old now — and he said, 'I won two games today,' so he's getting better."
For 14-year-old Daynara Gomez, playing chess is a way to refresh her mind and get away from everything. She met Ball through an after-school program where she learned the game from him.
"If I made a mistake, he helped me improve it," Daynara said. "And then he gave me advice."
Now, she works with Ball, helping other kids learn chess. She says if people her age are curious about chess, they should try it, especially girls.
"You don't see that many girls playing chess. It's a good way to get your mind off what's stressing you out. And just take it slow," she said.
Fernando Ramos, 33, was one of the winners at Saturday's chess tournament. Six students at Caliber Beta Academy, where he works, also competed.
Fernando Ramos of El Sobrante, who was a winner Oct. 8, said working with Ball inspired him to be a chess instructor.
"He helped me back in 2017," said Ramos. "He gave me 10 boards, and I took them at a school where I was working at."
Ramos, 33, currently works at Caliber Beta Academy in San Pablo, which has six students who competed in the tournament.
"Two of them actually won their quads," he said. "It's really exciting because what that's going to do is just get everybody from our school more excited to join our chess club and to play more chess."