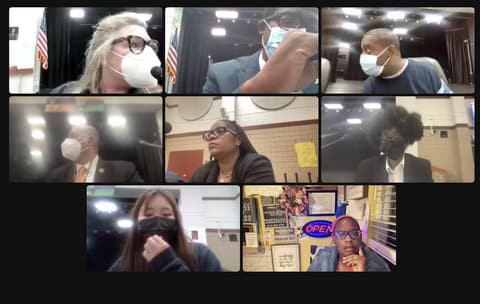 20 Oct

School Board Denies Expansion of Controversial Mindful Life Project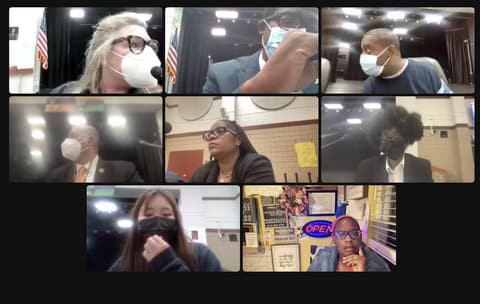 The WCCUSD board voted against letting a mindfulness organization expand in the district amid allegations of racism and questions of how district vendors are approved. (Screenshot captured by Julia Métraux / Richmond Pulse)
By Julia Métraux
As a local mindfulness organization looked to expand its work in the West Contra Costa Unified School District, concerns including allegations of racism led the board of education to vote against letting it partner with a second Richmond elementary school.
In August, Richmond-based Mindful Life Project, which provides mindfulness-based instruction and support at partnering school sites, started work at Chavez Elementary School in Richmond. Since that contract was for $20,000, it did not need the approval of the school board.
WCCUSD Associate Superintendent and Chief Academic Officer LaResha Huffman and Associate Superintendent of Business Services Robert McEntire presented the option for Mindful Life Project's work to also be expanded to another Richmond school, Grant Elementary, at Wednesday's school board meeting.
Due to the contract being for $29,000, it had to be approved by the West Contra Costa Board of Education.
"Mindfulness is scientifically proven to literally rewire the brain and counter stress and trauma," Huffman said during her presentation.
While all who spoke at the meeting supported mindfulness-based training at schools, issues with allegations of anti-Black racism, as well as the absence of more formal implantation of mindfulness across the district soured conversations.
"They were accused of mistreating, discriminating against Black employees," trustee Mister Phillips said, citing issues raised at prior open and closed meetings about Mindful Life Project.
After Phillips raised these concerns, trustee Jamela Smith-Folds asked Superintendent Kenneth "Chris" Hurst if they had been looked into.
"The allegations that were shared were unfounded," Hurst said. "They've been through the strategic vetting process. They passed that process."
Smith-Folds said that before the district approved potential vendors, the vendors should be asked questions to ensure that they align with WCCUSD's values.
"One of the things that I would like to add to the vetting process is asking vendor-specific questions about anti-bias, anti-racism, equity," Smith-Folds said.
McEntire also said that each school site was responsible for evaluating whether vendor contracts served their purpose.
"Every contract initiated by their school site or department, or services…each person responsible for initiating the contract is responsible for evaluating the efficacy of the services and whether or not they've met their objectives," he said.
Phillips also asked what the status of implementing mindfulness at all schools was. "One of the things that the prior board directed staff to do was to set a standard for teaching mindfulness in this district, before any contracts," he said.
Responding to Phillips' statement, Huffman said she was not aware of any such guidance given to WCCUSD.
"There has not been any expectations or criteria set for teaching mindfulness in West Contra Costa that I am aware of," she said.
Replying to Huffman's response, Phillips said, "A standard for the teaching of mindfulness in our district has not been done. We don't actually have any expectation of what folks who teach mindfulness to our children are supposed to be doing."
Complaints including allegations of discrimination and inadequate employee training also came up in 2019 when the board voted against reinstating Mindful Life in the district.
Before Wednesday's vote, Hurst said Mindful Life Project has been under "scrutiny," but he does support their services.
"I do support this vendor," Hurst said. "I've talked to some board members offline about it, and I do want that to be on the record."
The motion to approve Mindful Life Project failed, with trustees Smith-Folds and Leslie Reckler voting to approve, trustee Phillips voting to reject, and President Otheree Christian abstaining. Clerk Demetrio Gonzalez-Hoy was absent during this portion of the meeting.
Recognizing Filipino American History Month
The school board, including the two student trustees, unanimously passed a resolution to recognize October as Filipino American History Month.
The resolution passed without comments or questions. As noted in the resolution, around 5% of WCCUSD students are Filipino. October was first recognized as Filipino American History Month in 1992.
The next regular school board meeting is scheduled to take place Nov. 2.