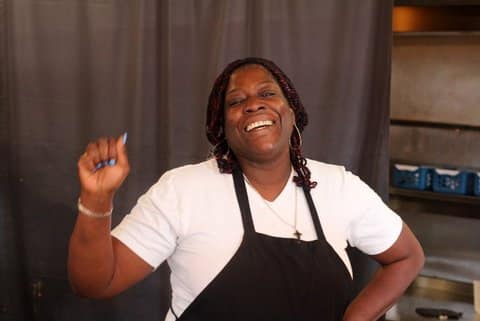 24 Oct

Owner Wants Lady J's Soul Food to Be 'a Family Reunion'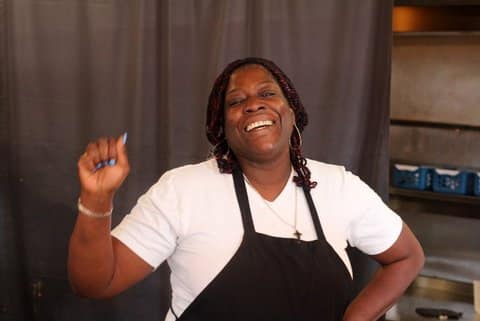 Jacqueline Williams opened Lady J's Soul Food in Pittsburg after running a southern food restaurant in Antioch.
Commentary, Arionna White | Photos by Malcolm Marshall
In a society where instant gratification is desired over longevity, how can you build a successful business? What do you do when you're not born with a golden ticket? All you can do is work hard and hope you find a gift to share with the world that will ensure a legacy for your family.
Jacqueline Williams and Charlene Moore are two sisters born and raised in Oakland who decided they were going to do just that — by creating Lady J's Soul Food on Railroad Avenue in Pittsburg. Lady J's has been feeding the community for a year, and it shows no signs of stopping anytime soon.
Williams, the main face of the restaurant, has a strong desire to not only deepen the roots she has with the community but also create an environment that brings the community together with love. 
"I want to create a family environment, a staple in the community, to be known by everyone who comes to eat like my mom and grandma [were]," she said. "I want it to be a family reunion with everyone who walks through those doors."
She prefers to employ youth, so she can educate and nurture them, allowing them to see that the sky's the limit as long as you reach.
Williams went from delivering food with DoorDash and taking a second job at Southern Express to being part-owner of her own business. Southern Express, a soul food spot in Antioch, didn't provide much financial gain, but what Williams lacked in pay, she gained in knowledge and skill.
After one year of working there, she spent a year running the business with the owner completely hands off. With the success Williams had, she was given an offer to stay in charge or branch out. She was hungry for more and took on the next challenge opening her own restaurant, leading to the birth of Lady J's.
"If I could run a business for someone else, why not run one for myself?" Williams said.
She knew she wanted her new restaurant to have the same kind of enjoyable atmosphere as Southern Express, with its bright beautiful display of food and the mellow sounds of Motown being played.
At Lady J's, Williams is the brawn, pouring love into each dish she prepares, and Moore is the brains of the operation. The detail-oriented Moore may not be seen, but she is a force felt within the company, thanks to her math and budgeting skills. Moore is also in charge of scheduling and some aspects of human resources. Together, they found nothing could stop them from achieving their dreams.
Now that we know a little about Lady J's and the women behind the company, let's get into the best part: the food. Good soul food is hard to come by the farther you get from urban areas, and Pittsburg is not an urban area. Dishes at Lady J's include oxtails, smothered pork chops that melt on your tongue, greens that remind you of grandma's house, and fried fish that is perfection.
Lady J's opens at 8:15 a.m., so you can swing by for breakfast and grab the best chicken and waffles in the city. You can also try the shrimp and grits for a Southern experience you won't forget. Lady J's stays open until 8 p.m., so dinner can be a real family meal — not just grabbing something in a drive-thru but love at a table for an entire family to enjoy.
For the past year, my family has ordered from Lady J's. This year was my first time inside the building, and I was shocked. It was one of the first restaurants that gave me a genuine loving environment. Each person that came in was treated with love and kindness, even when they may have looked unpleasant. Not one person turned their smile down. In many establishments, if you even look homeless, you may be ignored by the workers or forced out. Yet when I went in for a visit those who did look unkept were given the same care and met with a smile. At Lady J's, your situation does not dictate how you are treated. Everyone has to eat right, so why not be fed by people who feel like family?
If you go: Lady J's Soul Food is located at 2227 Railroad Ave., Pittsburg. Hours vary, so call to confirm: (925)267-2177. Online ordering is available at: https://ladyjssoulfood.net/.