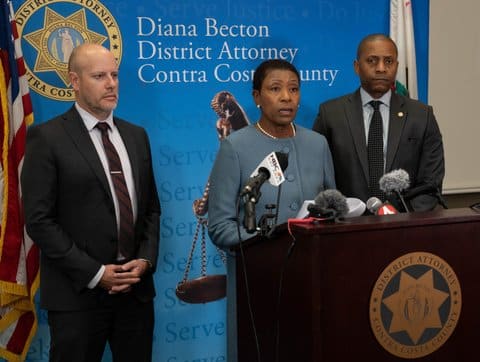 29 Oct

District Attorney Won't File Charges Over Tyrell Wilson Shooting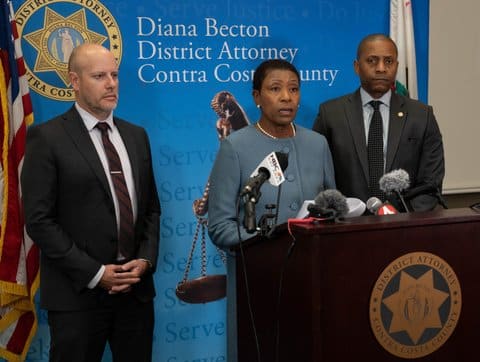 Chief Assistant District Attorney Simon O'Connell, from left, District Attorney Diana Becton and Chief of Inspectors Arnold Threets at a press conference Friday on the decision not to charge former Danville Deputy Andrew Hall for crimes related to the shooting death of Tyrell Wilson. (Ray St. Germain / Bay City News)
By Tony Hicks
Bay City News Foundation
Contra Costa County District Attorney Diana Becton said Friday said her office will not charge former Danville Police Officer Andrew Hall with any crimes relating to the shooting and killing of a man last year.
Becton said of the three independent use of force experts with whom her office consulted on the case, two said Hall was justified in defending himself against Tyrell Wilson, a 33-year-old transient with mental health issues, in the encounter on March 13, 2021.
"To say this was a difficult case to review would be an understatement," Becton said, later adding, "There's insufficient evidence for a jury to conclude beyond a reasonable doubt that Officer Hall acted unlawfully."
Hall is currently in state prison for six years for shooting and killing motorist Laudemer Arboleda in 2018 in downtown Danville as Arboleda tried driving away from a traffic stop. Hall was convicted this March of assault with a firearm.
In the Hall case, Becton said charges can't be brought unless her office believes it can prove them beyond a reasonable doubt, and their investigation and analysis did not show Hall didn't believe he was in danger when Wilson produced a knife.
"Under the law, if two reasonable conclusions can be drawn from circumstantial evidence, and one of those reasonable conclusions points to innocence, jurors are instructed that they must accept the one that points to innocence and reject the one that points to guilt," Becton said.
Becton said one of the analysts criticized Hall for approaching Wilson without backup, but also said he didn't violate department policy or his training.
Hall was allegedly throwing rocks from the Sycamore Valley Road overpass in Danville onto Interstate Highway 680 around 11:45 a.m. on March 13, 2021.
Hall confronted Wilson at the intersection just east of the overpass. As the two approached each other in the middle of the intersection, Wilson held a 4-inch pocket knife, which Hall told him to drop. Bodycam footage showed Wilson take two steps toward Hall, and Hall taking two steps back and firing his gun.
In the video, Wilson clearly said "kill me" twice, either while, or just before, he stepped toward Hall, who shot Wilson in the face.
Wilson's family has said he was bipolar and suffered from schizophrenia.
Contra Costa County has paid a total of $9.4 million in settlement money to Wilson's and Arboleda's families, even while Wilson's killing was still being investigated. The county Sheriff's Office contracts with Danville to provide police services there.
Copyright © 2022 Bay City News, Inc. All rights reserved. Republication, rebroadcast or redistribution without the express written consent of Bay City News, Inc. is prohibited. Bay City News is a 24/7 news service covering the greater Bay Area.