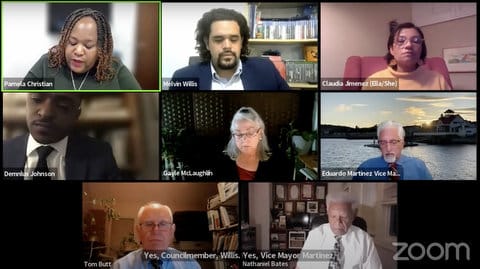 02 Nov

Richmond Police Lags Far Behind Fire Department in Recruitment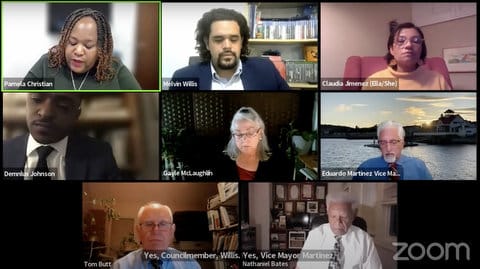 According to hiring updates at the City Council meeting Tuesday, the Richmond Fire Department has 700 applicants for current openings, while the Police Department has just 18. (Screenshot captured by Julia Métraux / Richmond Pulse)
By Julia Métraux
Despite a social media campaign to attract police officer candidates, the Richmond Police Department has received far fewer applicants — by a ratio of roughly 35 to 1 — than the Richmond Fire Department despite having several more openings.
"We want to attract people from all walks of life," Sharrone Taylor, the city of Richmond's interim human resources director, said during Tuesday's City Council meeting. "Women, people of color, just every, anyone in the community are invited to apply."
At the final regular Richmond City Council meeting before midterm elections, council members heard updates on recruitment for staff of the Richmond Police Department and Richmond Fire Department. The number of applications for the two different departments provided a stark contrast. While there were 700 applications for around eight firefighter positions, there were only 18 applications for 37 police department positions.
While the Police Department is looking for both entry-level hires and lateral transfers, the Fire Department is only hiring for entry-level positions at this time. When council member Claudia Jimenez asked the reason for this discrepancy, Taylor said those hiring decisions were made before she had come into her role, but she would come back to City Council with answers.
"HR has never engaged in this sort of cross-sectional campaign before where we're trying to fill 37 police positions, eight firefighter positions, and implement class and comp," City Manager Shasa Curl said too after Jimenez's question. "And we're doing negotiations co-currently."
Taylor said people currently working in the Richmond Fire Department would be able to take tests for promotions. The exam for battalion chief will take place Nov. 11; for fire engineer, January 2023; and for fire captain, February 2023.
"We hope to place these promotional exams on a cycle so as not to have a long break in between those promotional opportunities," Taylor said.
In discussions about the differences in the number of applications, council member Melvin Willis asked how requirements for the Police Department and Fire Department differ. Taylor said applicants need to submit the National Police Officer Selection Test, but these tests may take place at the Richmond Police Department to streamline the process in the future. People applying for firefighter positions also need to have completed emergency medical technician training.
"All of our trainees do have their EMT [certification], and then they need to go through the academy as the police officers do as well," Taylor said.
Willis asked that human resources take into consideration if applicants come from Richmond, as they may understand the community better.
"I just want to make sure that we're not giving somebody who comes from a disadvantaged community like Richmond, that we're not putting in more barriers in front of them, instead of creating more opportunities for them to do better and grow," he said.
>>>Read: Police Adapting to Changing Expectations, Says Acting Richmond Chief
Taylor also said that issues in hiring police officers in Richmond are not unique to the city. After a question from Mayor Tom Butt about whether exit interviews were being done with people leaving Richmond Police Department, Taylor said this is in process with the Police Department.
"A lot of our police officers are transitioning into non-police officer type careers," she said.
Despite challenges in hiring for the police officer positions, hiring is underway for both Richmond Police Department and Richmond Fire Department. Four police officer applicants are currently receiving background checks, and 20 firefighter applicants moved on to the next round of consideration after interviews.
The next regular City Council meeting is scheduled for Nov. 15.