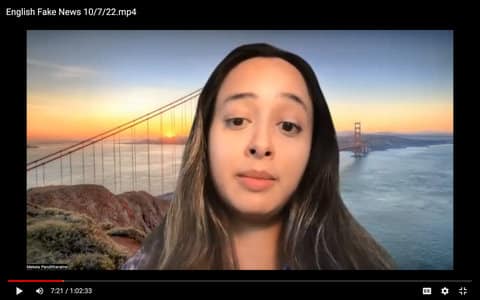 04 Nov

Social Media Spreads Fake News, but Ethnic Media Can Fight It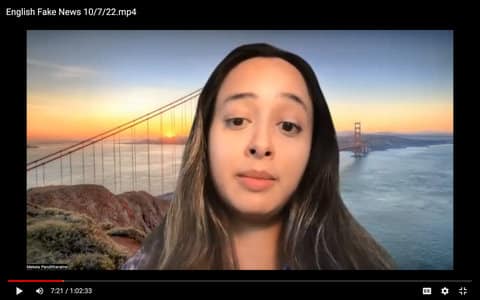 If you see something misleading on social media, don't share it, just report it, said Mekela Panditharatne of the Brennan Center during an Oct. 7 Ethnic Media Services briefing. (Screenshot captured by Danielle Parenteau-Decker / Richmond Pulse)
By Danielle Parenteau-Decker
As social media often helps spread misinformation, ethnic media play an important role in amplifying the truth, experts say.
That was the main takeaway from an Ethnic Media Services news briefing Oct. 7 on the proliferation of so-called fake news and its potential effects on the Nov. 8 election.
Information that is inaccurate or misleading has always existed, said political strategist Vanessa Cárdenas. But she added that social media "created this monster" by changing how information is consumed, and platforms "need to be held accountable for the harms they are causing."
Misinformation has long been an issue, but it now spreads much faster and easier because of social media, EMS' Pilar Marrero said.
Ethnic media, on the other hand, can counter it by interrupting the flow of disinformation, Cárdenas said.
That, however, is easier said than done.
"When demand for accurate information is greater than the supply, bad sources fill in the gaps," said Mekela Panditharatne of the Brennan Center. In turn, good sources are left "struggling to fill in the gaps in the public's knowledge."
>>>Read: Mistrust and Misinformation Hold Back Black Vaccination Rates
Those bad sources spread three different types of bad information, Cárdenas said: misinformation, disinformation and malinformation.
Misinformation is inaccurate but not shared with malicious intent; disinformation is false and meant to deceive; malinformation is technically true but shared in a misleading way — by being taken out of context, for example.
Additionally, whenever someone tries to counter bad information, it might end up having the opposite effect. Sharing it can just bring more attention to it.
>>>Read: Social Media's Influence on the News: Don't Believe Everything You Read on the Internet
Social media users who "see information that seems off or emotionally charged" should just report it to the platform, not share it, Panditharatne said. If you're not sure whether to believe something, she suggested checking it against other trusted news sources or relevant officials.
She said it is really up to reporters to anticipate things that could confuse readers or viewers and provide appropriate context.
However, fake news comes from many places and covers many subjects: the 2020 election, the IRS, President Biden and immigration policy were examples shared by the panelists.
Cárdenas said thinking about immigration is not a priority issue for most voters, but a lot of misinformation and disinformation is focused on it to distract from problems such as the economy.
Fake news is also sometimes used to undermine faith in democracy and the electoral process. It even is utilized to make people think the government is a threat. Because so much of fake news is politically motivated, the briefing noted that it typically tends to favor the conservative side of things.
Tamoa Calzadilla, managing editor of Factchequeado, said politicians on both sides exaggerate about issues like inflation and employment. Factchequeado is a new fact-checking platform focused on Spanish-language media. It was launched in April and is a collaborative effort among small and large outlets in different countries.
"Political spin comes from both sides, but there is a difference between political spin and" misinformation or disinformation, EMS' Marrero said.
Both Democratic and Republican politicians have been incorrectly connected to the Chinese Communist Party on WeChat, a popular social media site among Chinese people, said Rong Xiaoqing, a reporter for Sing Tao Daily. Those conservative politicians are portrayed as RINOs: Republicans In Name Only.
Calzadilla said she has seen posts in Spanish with images that have been manipulated to link President Biden to Latin American dictators.
This EMS briefing about combating the spread of disinformation was targeted by someone who apparently took issue with its message. Both the video and chat on the Zoom call among participants were hacked. Some people reported seeing inappropriate visuals, though they did not appear on everyone's screens. A violent message directed at one of the panelists appeared in the chat box as if an EMS editor had written it. But she had not.