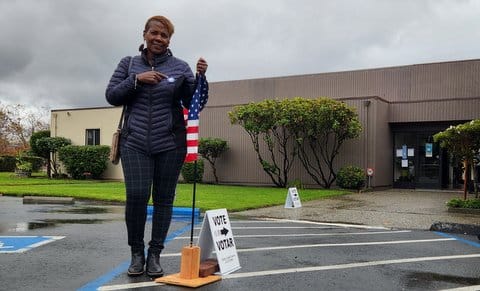 11 Nov

Initial Indications Point to Low Voter Turnout in Richmond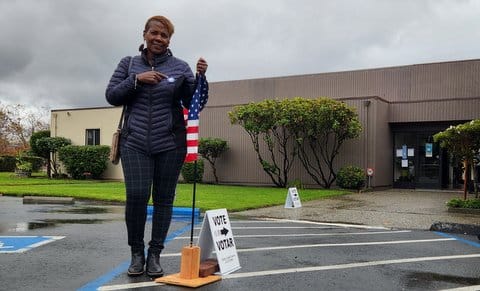 "Especially being a woman of color, it is crucial to vote," said Joyce Redd, one of roughly 19,000 Richmond residents who voted in the midterm election. (Denis Perez-Bravo / Richmond Pulse)
By Denis Perez-Bravo
Early results indicate that turnout was relatively low in Richmond in the just completed midterm election that included a race for a new mayor. But not all ballots had been tailed as of Friday. County election officials said there might be as many as 100k ballots across the county still to be counted.
The initial numbers show that slightly more than 19,000 people, or about 33% of registered Richmond voters, cast a ballot, according to Contra Costa County election data.
Joyce Redd was one of those voters. The 62-year-old Richmond resident considers voting a privilege and one that is especially important to her as a Black woman. She has voted regularly since she was 18. This year, she cast her ballot at Easter Hill United Methodist Church.
"Especially being a woman of color, it is critical to vote," Redd said.
CITY GOVERNMENT / HOMELESSNESS
Unofficial election results show the race to replace Tom Butt was very close. With all precincts reporting, Eduardo Martinez sits in first place with 37% of the vote, followed by Shawn Dunning (30%), Nat Bates (29%) and Mark Wassberg (4%).
In the City Council district races, Andrew Butt — the outgoing mayor's son — leads Cesar Zepeda by 51% to 49% for District 2. In District 3, Doria Robinson is in front with 38% of the vote, ahead of Corky Boozé (32%) and Oscar Garcia (30%). Soheila Bana bested Jamin Pursell in District 4, 68% to 32%.
Redd hopes that the City Council, including the new mayor, takes a better approach to solving homelessness.
"I've been here 22 years, and like most people, I am concerned about the homelessness," she said.
She believes having a home, food and safety are basic human rights that should be afforded to everyone. And she said seeing fellow human beings struggling to survive affects her negatively. Redd did not say who she voted for in the mayoral race but that she hopes whoever comes into office will look at homelessness with a progressive lens.
Willie Mallory, a white 84-year-old Richmond resident, dropped off his ballot at Easter Hill as well. He also declined to state who he voted for in the mayoral race. He said he had little hope the City Council and mayor would represent the real interests of the people in Richmond.
Mallory recalled a time when the council and Mayor Tom Butt disagreed over placing porta potties and hand washing stations at homeless encampments throughout the city. The internal bickering yielded no results, blocking aid to residents most in need, he said.
"These homeless people have a right to be somewhere on this earth," Mallory said.
He is not confident a new mayor will lead to solutions to homelessness in Richmond.
BALLOT MEASURES
In this election, as with many others she has participated in, Redd saw human rights at stake.
Redd said the Supreme Court reversal of Roe v. Wade is a sign that the basic human rights of the American people could be taken away at any moment.
She voted for Proposition 1, which would change the state constitution to specifically guarantee the right to get an abortion and use contraceptives.
The proposition passed with 65% of Californians voting yes, according to unofficial election results as of Thursday. Nearly 76% of Contra Costa County voters supported the measure.
Other California measures that are reported to have passed are: Proposition 28 (Public Schools Arts and Music Education Funding) and Proposition 31 (Prohibition on Sale of Certain Tobacco Products).
The ones that reportedly failed are: Proposition 26 (Sports Wagering On Tribal Lands), Proposition 27 (Online Sports Wagering Outside of Tribal Lands), Proposition 29 (Regulated Dialysis Clinics) and Proposition 30 (Tax To Fund ZEV/Wildlife Programs). ZEV stands for zero-emission vehicles.
Locally, Measure P — the rent control initiative in Richmond — passed 57% to 43%. Incumbents Demetrio Gonzalez-Hoy and Leslie Reckler handily won reelection for their seats on the West Contra Costa Board of Education. He beat Olivia Liou 71% to 29%, and she defeated Patricio Dujan 62% to 38%.
STATE OFFICIALS
On voting day at the Richmond Civic Center, morning showers did not deter the stream of voters that walked into the auditorium to cast or drop off their ballots.
Richmond resident Rosalyn Height, 71, said she voted for all Democratic nominees in state races.
"I think Democratic candidates are more for the people," she said.
Height, who is Black, said she doesn't know how these elected officials will change California or her life, but she is certain about one thing: "All I know is that the people have a better chance."
She also saw this as her chance to help support President Biden by electing Democratic candidates.
Unofficial results show Democratic candidates winning all statewide offices.
Gov. Gavin Newsom, Sen. Alex Padilla, Secretary of State Shirley Weber, state Controller Malia Cohen and Attorney General Rob Bonta all held onto their offices. Padilla, who was appointed by Newsom to take Kamala Harris' seat after she became vice president, won his races both to complete his current term and for the next full term. The votes make him the first Latino senator elected to represent California.
Additional reporting contributed by Danielle Parenteau-Decker