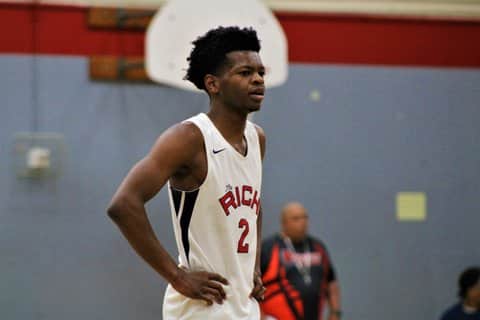 21 Nov

Richmond High Oilers Basketball Thrashed by 63 Points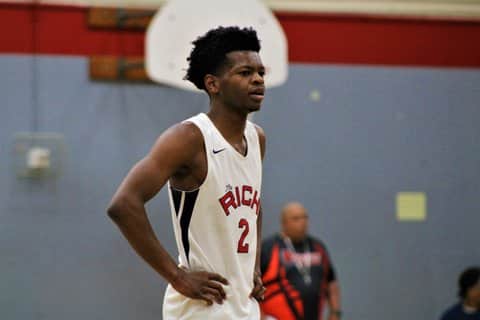 Richmond High's captain carried his team and never let up, regardless of the score. 
Story and photos by Joseph Porrello
Losing their second second straight game to begin the season, the Richmond High Oilers fell 97-34 to the Pinole Valley High Spartans on Saturday in Richmond. 
Playing against a noticeably larger Spartans team on which half the players are at least 6-foot-4, Richmond High's varsity squad had their work cut out for them from the jump. 
"It doesn't matter how big or tall you are," said Oilers head coach Ricky Jefferson. "We're going to play with you."
The Pinole Valley High team knifed through the Oilers defense like soft butter all afternoon and held a 26-point lead by the end of the first quarter that would prove insurmountable.
Even on most missed shots, the Spartans' size enabled them to grab offensive rebounds and second chance scoring opportunities.
The Richmond High offense did not fare much better than the defense, mustering only two successful field goals in the first quarter, foreshadowing its performance throughout the game.
Spartans defenders swarmed Oilers ball-handlers, causing turnovers on seemingly every possession, but the Richmond High team kept hustling.
"When our players are down 50 points and get the ball stolen from them, but they still get back aggressively on defense, that means a lot to me," said Jefferson. 
When the Oilers did not turn the ball over, settling for tough outside shots was mostly their only option due to lack of offensive flow and cohesiveness.
"It's not about how good you are," Jefferson said. "It's about team chemistry."
The Oilers' fate seemed decided early, but they played as if they weren't looking at the scoreboard.
Down 57-21 at halftime, the Oilers' deficit only continued to grow as they gained a mere 12 points in the entire second half.
Despite the statistical reality of the contest, Richmond High players did not get down on themselves or let their frustrations show. 
"It makes me proud that they showed courage and didn't give up or put their heads down," said Jefferson. "Going into this game, I wanted to play with a lot of character, and we did."
Spirits remained high for the Oilers, who seemed happy just to be on the court playing, despite the lopsided score.
The Oilers were not lacking in fortitude but couldn't make up for their shortage of offensive depth. Only four members of the Richmond roster were able to make it into the scoring column, with 70% of their points (24 of 34) coming from one player. 
Conversely, scoring was spread out among the Pinole Valley High team, with five players scoring in double figures and all 10 members of the roster making at least one basket.
Pacing Pinole Valley High with 22 points was freshman point guard and godson of Jefferson, Chriseanie Nealy.
Sophomore Spartans power forward Dominique Trotter contributed 15 points, and the three lone underclassmen in Pinole Valley High's varsity lineup were the team's high scorers.
Driving to the basket against the Oilers with ease, the Spartans never needed to deviate offensively. Despite having 97 points, they only took four shots from beyond the three-point arc.
"We need to be more hungry out there and talk with each other like we did in our first game," said Jefferson. 
Keeping the game much closer in its season opener Wednesday against Tennyson High School, Richmond High lost by only one possession, with a final score of 51-48. 
"I still feel like we're moving forward, not backward," said Jefferson. The Oilers' coach said he thought Pinole Valley High was a more athletic and disciplined opponent.
Chriseanie Nealy, No. 4 in blue, was the Spartans' primary ball handler and scorer on Saturday in Richmond. The freshman point guard's godfather is Oilers head coach Ricky Jefferson.
Hired Nov. 1, Jefferson is still developing a rapport with his players and learning their strengths.
"[The Spartans] know each other. They were practicing together all summer," said Jefferson. "I've only been with this team for a couple of weeks."
Richmond High basketball has seen a lot of coaching turnover in recent years. This is now the fifth year in a row the varsity team has a new head coach.
"I don't care about the score," Jefferson said. "I care about sportsmanship, respect and having fun."
Before finishing with an overall 11-8 record last year under Jeffrey Jaymot, Richmond High's last winning season came in 2006 — not far removed from the well-known years with coach Ken Carter at the helm.
Perhaps a third time will be the charm for the Oilers as they look to right the ship Tuesday against Summit Tamalpais (1-2) in Richmond.