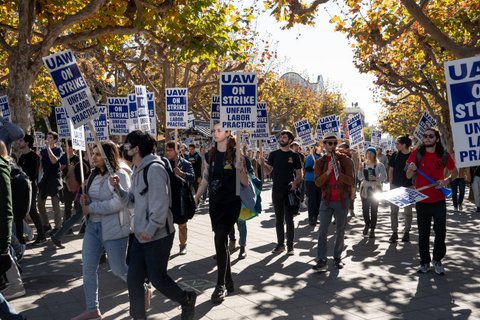 22 Nov

UC Academic Student-Workers Strike for Living Wages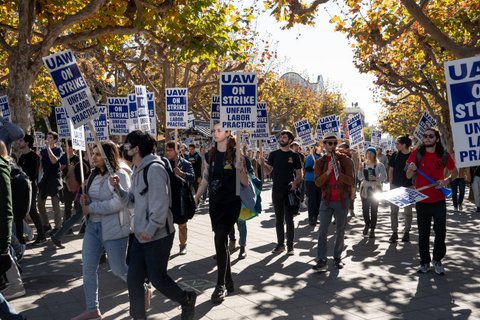 By Maria Fernanda Bernal and Danielle Parenteau-Decker | Photos by Jonathan Hale
The UC Berkeley campus has been flooded for days with blue and white picket signs that declare "UAW on strike" and the reason why: "unfair labor practice."
UAW is the United Auto Workers, the union that represents the approximately 48,000 academic student-workers across the University of California system who have walked off the job and on to the picket line. Now entering its second week, the strike started Nov. 14 and has disrupted class schedules, research and grading across all 10 campuses. It is reportedly the largest higher education strike in history. The student-workers are demanding wage increases and better benefits.
There are four separate bargaining units, each representing a different category of student-worker: postdoctoral scholars, academic researchers, academic student employees, and graduate student researchers. 
"We teach the classes, grade the papers, and perform the cutting-edge research that has earned UC its reputation as the best public university in the world," said a statement from Student Researchers United, a group of  students who work in research positions across the University of California. "In short, UC works because we do."
"We teach the classes, grade the papers, and perform the cutting-edge research that has earned UC its reputation as the best public university in the world … UC works because we do," said Student Researchers United in a statement.
The workers' demands vary by unit but include a minimum annual salary of $54,000 for graduate student workers and $70,000 for postdoctoral workers. They are also asking for free public transit passes and stipends of $2,000/month for childcare, among other benefits.
The UC's counterproposals vary by job category and by day, but the workers say they do not go far enough across the board.
Among the UC's recent offers are a minimum salary of $59,362 for postdoc workers and reimbursement for childcare set at $1,350 per quarter or $2,025 per semester, plus $1,350 for summer session, for academic student employees and graduate student researchers.
The workers say they need more because of the high cost-of-living throughout the state. Some campuses are located in cities where housing costs are especially high, including Los Angeles and San Francisco.
Indeed, one of the core demands of the union is lifting workers' rent burden.
The student-workers are calling for higher pay, in part, because of the high rents around UC campuses in places like the San Francisco Bay Area and Los Angeles.
Kenzo Esquivel, a fourth-year PhD candidate in the Department of Environmental Science Policy Management and elected head steward of a GSI reader and tutor union, was striking Nov. 18 for the fifth day. 
"I still pay upwards of 40% of my paycheck on rent and so that's still considered being rent-burdened, and a lot of our workers at UC are rent-burdened," Esquivel said. "So that's paying more than 30% of your monthly income on housing."
Esquivel says he recently received a letter that said his rent was going up. If the union wins, that would affect the places he could move to or not.
Student-workers living at Berkeley's University Village apartment complex pay up to 50% of their paycheck back to UC to live in student housing. Students who reside at University Village live with family, and some are single moms.
"Graduate students across the UC system live in some of the most expensive places in the country," Esquivel said. "And it's basically impossible to live comfortably unless you have a partner [or] unless you come from money and have generational wealth."
The striking student-workers' duties include teaching classes, grading tests and papers and tutoring other students.
As part of the ongoing strike, picketers are strategically located across departments and buildings on the UC Berkeley campus. Esquivel estimated that 4,000 to 5,000 people showed up on the first day of the strike.
Thousands of people, including striking workers and supporters, gathered Nov. 18 in front of the Campanile and marched past university President Dr. Michael V. Drake's home on Claremont Avenue. 
Aryln Moreno Luna arrived at the march with a group of fellow Latinx students. She is part of the union as a graduate student instructor and is a doctoral candidate in the critical studies of race, class, and gender program at UC Berkeley's School of Education. 
Luna said she arrived on campus at 11 a.m. to participate in the march and has marched every day starting Monday. 
"I think the faculty came out to the rally. So for me, that was like a big, major move on the faculty side. Even professors from my department also came there," Luna said. "So that was very supportive, [that it was] not just the students but also faculty. And also my students are here. Earlier, I ran into some of my students."
Some workers who live in student housing pay as much as half of their paychecks back to the university in rent.
Esquivel pointed to the "protected legal rights that we have in the United States to participate … [in] union activity."
"It is strictly illegal for the university to fire anyone over union activity," Esquivel said. "And so if that's the case, that would be in violation of labor law. So let's hope for the UC that they're not doing that."
The union is seeing some progress at the bargaining table, as the sides have come to a tentative agreement on some issues, but there is still a ways to go.
The strike is indefinite, though the union plans to pause for the holidays and continue on the week after break.
Esquivel said the progress on contracts varies, but student researchers and academic researchers have made some progress in negotiations with the university. 
"And so we're seeing some movement, not enough movement right now. On, especially, the key economic demand," Esquivel said. "We're hopeful that if we can keep this strike strong, we can continue to make progress at the bargaining table."
Additional reporting contributed by Malcolm Marshall