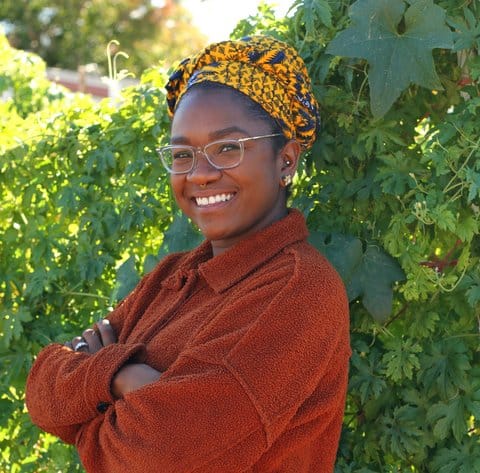 29 Nov

Thriving Garden in Bay Point Serves Community

Story, photos and video by Edgardo Cervano-Soto

Bay Point's Ambrose Community Garden is in its autumn transition stage.

Once bountiful tomato vines in the garden are shrinking and shriveling. Sunflower heads are drained of their golden colors. They droop, as seeds shake loose and fall to the ground. It's the end of harvest, and the beginning of the winter season for the Ambrose Community Garden.

At one of the garden boxes, Bay Point resident and gardener Jasmine Cisneros, prepares the ground. She spreads compost and lightly drizzles the surface. Cisneros discovered the garden during a walk on Willow Pass Road. She had just moved to Bay Point. The garden — then unruly with weeds — captured her and her child's attention. It reminded Cisneros of her childhood in the Mojave Desert town of Hesperia, California, where her mother planted watermelon, corn and cucumber.

"At 12, I was in shock that we could grow our own food out of sand," she remembers. "With that, my passion for gardening grew."

Empowered by her experience growing food with family, Cisneros signed up as a garden volunteer at the Ambrose Recreation Center. Over the course of five years, Cisneros and a band of volunteers have revitalized the garden. Cisneros coordinates volunteer work days the second Saturday of every month, where budding and experienced gardeners maintain the garden by pulling weeds, planting vegetables, pruning trees, and fortifying garden structures.

The garden regularly hosts free workshops focused on nutrition, fitness and mental wellness, as well as public classes by master gardeners guiding young green thumbs. Bay Point residents can rent a garden box and access to compost and water for $20 a year to grow what they desire. In addition, the garden donates some food to the Bay Point Senior Center. When the harvest is expansive, Bay Point residents can pick up free produce. It's a community space that is health- and healing-centered, Cisneros said.
Jasmine Cisneros, who leads efforts to revitalize the Ambrose community garden, says her "passion for gardening grew" out of seeing her mother grow watermelon, corn and cucumber.
During World War II, Bay Point's proximity to Suisun Bay and Port Chicago made it a base for storing ammunition. This wartime industry attracted thousands of workers, who often commuted from Richmond, Oakland and other parts of the East Bay. Eighty years later, Bay Point has retained a commuter identity in the face of the growing Bay Area housing displacement and wealth gap. Bay Point, in comparison with other Bay Area cities, stands out with its socioeconomic disparities in health and lack of access to healthy food and green spaces.
>>>Read: Q&A: Park Director Says There Are 'More Things to Be Done' in Bay Point
According to U.S. census data, Bay Point has about 24,000 residents. About 64% of Bay Point residents are Latinx, followed by nearly 30% who are white; 11%, African American; and 9%, Asian American.
The average household income is about $69,500, while the per capita income is roughly $23,000. Per capita income is the mean income for every person, adult or child, in a given population. Bay Point has one of the highest poverty rates in the Bay Area, with 13.5% of people living in poverty. The monthly gross rent, which includes utility costs, is $1,575. Less than 14% of residents 25 or older have at least a bachelor's degree.
This diverse, low-income community must navigate a web of difficult dynamics to get its needs met.
As a census-designated place, Bay Point has no city council, city manager or police department. Bay Point relies on Contra Costa County for public services. A municipal advisory committee selected by the Board of Supervisors represents the unincorporated community in county government.
This governing arrangement requires finesse and lobbying by residents seeking support, whether for project grants or finding healthy living services. The work at the Ambrose Community Garden is itself supported by county and private grants, and in partnerships with other community groups.
Cisneros' work at the garden zeroes in on food and health disparities evident in East Contra Costa. A 2013 report by Contra Costa County and Kaiser Permanente showed that over 30% of Bay Point, Antioch, and Pittsburg public school children were considered overweight or obese in 2010. The findings of the study helped kick off a decade of public and private initiatives to decrease obesity, particularly in Latinx adolescents in East Contra Costa County.
Volunteers work regularly to maintain the Ambrose Community Garden, pulling weeds, planting vegetables, pruning trees, and fortifying garden structures.
A 2019 assessment, which included a survey of open green and recreational spaces in Bay Point, found that only 59% of Bay Point residents lived within a quarter-mile of a park.  A 2021 analysis by ABC 7 (KGO) News declared many Bay Point neighborhoods food deserts, meaning at least one-third of the population lives more than a half-mile from the nearest grocery store.
"We live in a food desert here," Cisneros said. "There's only a few options for us to source our produce, so I thought this was a wonderful way to put the power of growing produce back into the community's hands."
The links between childhood obesity, food deserts and low incomes indicate a vulnerable community in need of systematic support. This intersection of needs led Cisneros to create the Little Sprouts Academy, a healthy eating and gardening curriculum for preschoolers in Bay Point. At Little Sprouts, Cisneros teaches children from the local Head Start program about colors and planting veggies and exposes them to fruits and vegetables from the garden.
>>>Read: Activists Try to Renew Black People's Connection to Land and Healthy Food
Pedro Hernandez, a father of two adolescents, says he appreciates the Ambrose Community Garden being a source of that green knowledge. Recently, Hernandez had just finished packing groceries from Mi Tierra market into his truck when he saw the garden open. He saw Cisneros and thanked her for the effort maintaining the community space. For Hernandez, as a parent and Pittsburg resident, the garden represents empowerment and education.
"It gives sovereignty over land. This will give people the knowledge to fish," he said. "For our communities, especially as people of color, it should be an emphasis to be self-sufficient."
Hernandez himself has become involved in sharing green knowledge. He runs an educational Instagram account called Green Thumbs Up Composting, sharing posts about composting and seasonal produce.
>>>Read: Threat of Nearby Development Looms Over North Richmond Farm
Cisneros believes the garden and its multiple services, workshops and events can help families change their perception on what fast food can be.
"Fast food can be a tomato off the vine or a cucumber salad. It's just a shift of mentality with the learning of green knowledge. In order to achieve that change, a culture of sharing community knowledge and engagement must occur, " she said. "A lot of people come in here saying that they don't have a green thumb, but what's been great to see from this garden is that it's green knowledge we can share with each other."
The Ambrose Community Garden is located at 3105 Willow Pass Road, Bay Point, CA 94565. The garden is open to volunteers Thursdays from 3 to 6 p.m. and every second Saturday of the month from 10 a.m. to noon. To stay up to date on the Ambrose Community Garden follow it on Instagram @ambrosecommunitygarden.  Additional questions can be sent to baypointgardens@gmail.com. All volunteers from or near Bay Point are welcome.