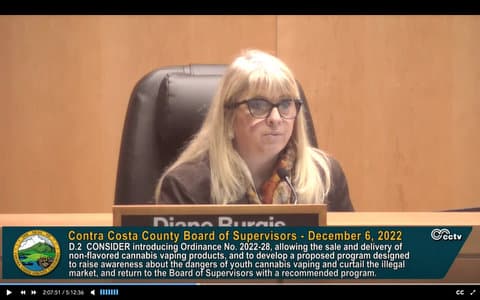 09 Dec

Supervisors Vote to Allow Cannabis Sales in Unincorporated Contra Costa County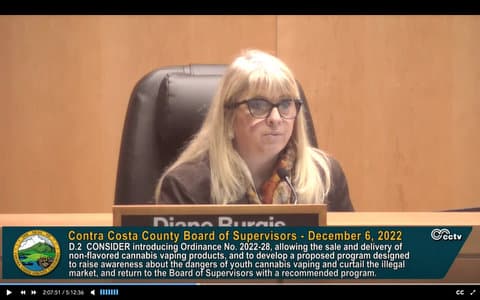 Supervisor Diane Burgis introduced a measure that would expand legal access to cannabis in Contra Costa County. It passed 3-2 on Tuesday. (Screenshot captured by Danielle Parenteau-Decker / Richmond Pulse)
By Samantha Kennedy
The Contra Costa County Board of Supervisors voted 3-2 Tuesday to allow non-flavored cannabis and vaping products to be delivered and sold in unincorporated areas.
Supervisors Candace Andersen and Frederick Glover voted against the ordinance.
Supervisors in favor of the ordinance said they want to improve access to safe products that benefit adults with disabilities, particularly older people.
"The most precise way of accessing the benefits of cannabis is through a vaping product," Supervisor Diane Burgis said. Burgis, who introduced the ordinance, said that improving the lives of residents who rely on cannabis and vaping products for relief is the goal, and residents in unincorporated areas should have access to the same thing other Californians do.
Since the legalization of recreational cannabis by Prop 64 in 2016, accessibility to the drug increased. In the first two years alone, more than 10 cannabis retailers obtained licenses in Contra Costa cities.
But, in unincorporated areas of the county, only four sites have been approved for retail purposes, and only one of those sites is in operation.
All retailers require customers to be 18-20 with a medical marijuana card or 21+ without one. Compliance with age restrictions aims to reduce youth drug use.
>>>Read: Pittsburg Teen Says Peers Vape to 'Escape' From Stress
County health officer Dr. Ori Tzvieli told the board that age restrictions don't necessarily keep cannabis from young people. Adults in a young person's life can buy cannabis products that can be passed on to them.
At the one cannabis retailer in operation, a Stiiizy in Pacheco, employees told the board that customers go through three "lines of defense" to ensure youth don't enter the dispensary. Employees are also trained to notice anything suspicious, like a young person waiting in a car, and have the right to turn any customer away.
When young people do consume cannabis, their developing brains are affected differently than an adult's. Consumption at a young age can also increase the risk of developing a dependence on cannabis.
The county has also recently seen an increase in cannabis-related emergency room visits, according to Tzvieli. Hallucinations and hyperemesis — severe vomiting brought on by overuse of cannabis — are some of the things that patients report. And long-term effects of vaping are unknown.
"We don't believe we need to go back to the old days of making cannabis illegal, leading to mass incarceration," Tzvieli said. "We do think there are health benefits for older people who use them, but it's a balance."
>>>Read: Curbing Youth Tobacco Sales a Social Justice Issue, Advocates Say
Glover said the board should continue to take a leadership position by keeping the ban on non-flavored cannabis vaping products, especially when they were asked to do so by many young people after cannabis became legal.
"It's important that we listen to our youth when they cry out and ask for this help," Glover said. He said unincorporated areas shouldn't just fall in line with cities allowing vaping because they also are looking for leadership.
The next Board of Supervisors meeting is scheduled for 9 a.m. Dec. 13.