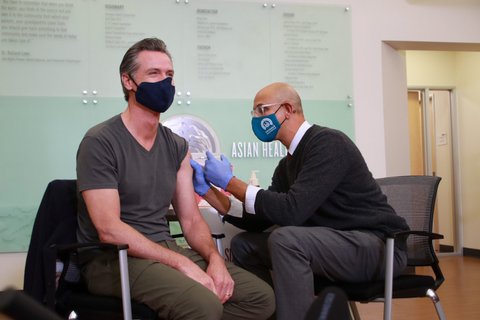 15 Dec

Here's How You Can Help Stop the Spread of COVID, Flu and RSV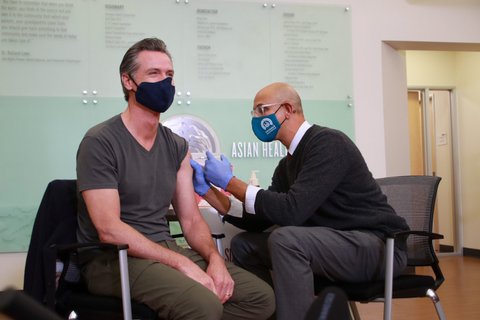 Wearing a mask and getting vaccinated or boosted — like Gov. Gavin Newsom, left, is here — are some of the best ways to protect yourself and others from respiratory viruses. Giving Newsom his shot is Dr. Mark Ghaly. (Courtesy of Gov. Newsom's office)
By Julia Métraux
Presents aren't the only thing being shared this year: A "tripledemic" of infectious respiratory diseases — COVID-19, the flu, and respiratory syncytial virus — are as well.
In a Dec. 15 press release, 12 Bay Area health officials recommended the following to stay safe against these infectious respiratory diseases:
Get vaccinated against the flu and COVID-19. Omicron boosters are available for everyone 6 months and older.
Stay home if you are sick, no matter which infectious disease you may have.
Wear a mask in indoor public places. KN94, KN95 and N95 masks are efficient in stopping the spread of infectious diseases.
Get tested before an indoor gathering or if you feel sick. If you test positive for COVID-19, seek treatment if needed.
Getting tests for COVID-19 will also soon be easier again. After pausing it in November, the White House announced Wednesday that it was resuming its program to send free COVID-19 tests to households that request them. Households can now order four free tests at covid.gov/tests.
"We feel confident that we are going to have enough tests to get through this next round, four per household, in the coming weeks," a White House official told reporters Wednesday.
According to the San Francisco Chronicle's Coronavirus Tracker, COVID-19 cases are increasing in the Bay Area. In the United States, over 1 million people have died from acute COVID-19 infections, and there have been nearly 100 million reported cases.
In addition to COVID, RSV has put a strain on children's hospitals in the Bay Area for months now, per reporting from KQED. SF Gate reported in late November that children's hospitals have had to put contingency plans in place due to high volumes of pediatric patients due to RSV, in addition to COVID-19 and the flu.
U.S. hospitals are also seeing their highest flu hospitalization rates in a decade. The only way to completely avoid complications with COVID-19, RSV and the flu is to not contract any of these infectious diseases in the first place.