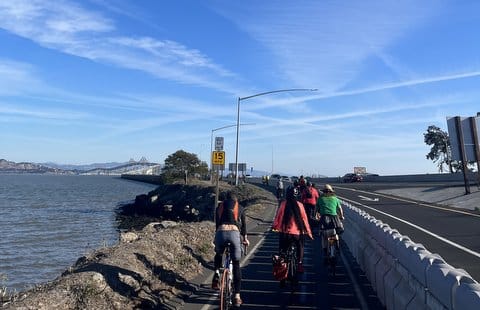 19 Dec

Rich City Rides to Loan Free E-Bikes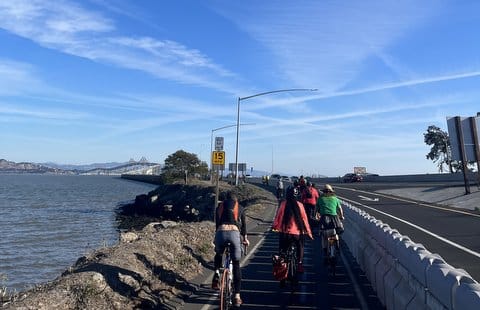 People biked across the Richmond-San Rafael Bridge on Nov. 20 in a Rich City Sunday Wellness Ride.
Story and photos by Nadia Lathan
Not all weight loss journeys turn into a decade-long pastime, but Maria Weatherborne's did. A simple five-kilometer ride in Frisco, Texas, 12 years ago unearthed a passion for cycling she didn't foresee. Thousands of miles ridden and a new home in Richmond later, Weatherborne is a well-known figure in the East Bay cycling community and spends much of her time volunteering for the nonprofit Rich City Rides.
On Nov. 20, she helped coordinate a bike ride across the Richmond-San Rafael Bridge, in which more than 100 cyclists participated. The ride was part of Rich City Rides' ongoing efforts to make cycling more accessible in Richmond, which will soon also include 40 e-bikes available for loan. And promoting cycling, in turn, will promote wellness, Weatherborne says.
"I found that cycling allows people to still be active," she said. "It's very therapeutic."
For the Los Angeles native, zooming down hills for hours at a time created a newfound confidence in her body image. The retiree has circled the Bay Area several times and endured the 545-mile AIDS Life Cycle charity ride from San Francisco to Los Angeles a total of three times. She considers the sport a form of self-care and credits it for her 100-pound weight loss.
Weatherborne's relationship with the sport is a familiar one and one backed by research. Numerous studies have shown that biking and walking improve physical and mental health. In addition to boosting the immune system and strengthening heart muscles, biking can also alleviate anxiety and depression.
These benefits are partly why, in 2012, Najari Smith founded Rich City Rides, which organizes community events and bike giveaways to promote healthy living in Richmond's historically underserved neighborhoods.
A recent $3 million grant from the California Strategic Growth Council is behind the nonprofit's latest push to get more locals on bikes. The award, which is part of the overarching Richmond Rising Project dedicated to creating green infrastructure in the city, will fund Rich City Rides' E-Bike Lending Library program at the bike hub in Unity Park. The nonprofit is working with the city to provide the bikes.
Eligible people may borrow one of the 40 bikes that will be available for up to seven days.
"They can ride it to work, take it home and bring it back at their leisure within a week," Smith said.
To borrow a bike, a person must provide some form of ID and proof that they are low-income and live in the project area, which completely covers the Coronado, Iron Triangle/Atchison Village and Santa Fe neighborhoods and partially covers the Richmond Village/Metro Square, Cortez/Stege and Marina Bay neighborhoods.
The rentals will not cost. "We want to have free loaner e-bikes for the people in the project area who most need them," Smith said.
Cycling is kind to the planet as well as the body. Unlike gas-powered vehicles, bikes release zero carbon emissions and don't pollute the air. It's a reason why "cycling cities" where nearly half of all trips are taken by bicycle like in Copenhagen, Denmark, have little pollution and traffic congestion, according to the academic journal Transport Reviews.
E-bikes, which are known to improve rider accessibility because they allow users to cycle with little or no physical exertion at all, are a great way to get more people riding. Those who may find traditional bikes difficult to ride can, too, reap the benefits of cycling.
"Electric bikes break down barriers and [are] a more inclusive bicycle," said John MacArthur, the sustainable program manager at Portland State University's Transportation Research and Education Center. "These are part of the reasons why someone decides to ride a bike."
Jason Woody, community development director of Rich City Rides, noticed this firsthand with the four e-bikes the organization already has. For longer trips like last month's bridge ride, the e-bikes have helped inexperienced or older riders make the full journey. The library will act as an extension of this "soft launch," according to Woody.
Demand for electric bikes and scooters skyrocketed during the pandemic when many looked to the outdoors for leisure, and several streets were closed to auto traffic to allow increased physical distancing. Their popularity has kept up since and continues to grow in places like Richmond where community outreach is vibrant.
Weatherborne, who dedicates much of her time to volunteering for Rich City Rides since her move to Richmond close to a year ago, wants to unlock the rider's high for others and believes a great way to do that is to make e-bikes handier.
"As long as we can promote that the program is there for them, is accessible, and easy to use, I think there will be more riders," she said. "It not only helps the riders but the whole community."
Heather Moore-Farley, a software engineer and mother of three, considers herself an intermediate cyclist and frequently enjoys the Rich City "Sunday Wellness Rides," including last month's to San Rafael. Since her car battery died 10 years ago, her family has solely relied on feet and pedals to get around town.
"We just wanted to see if we could get around without a car," said Moore-Farley, referring to when she and her partner decided not to replace their car. They bike to work and take public transportation when necessary.
She believes that e-bikes would help her early teenage children become interested in biking because of the hills in their neighborhood. The electric motor on most e-bikes powers each pedal stroke with an extra boost that is known as the pedal assist. This helps push the bike along lengthy distances and steep inclines with less physical energy.
"Being able to rent e-bikes is just a really great idea," Moore-Farley said. "I think a lot of people have preconceived notions of what e-bikes are like, and if they can rent one and see what it's like, that would be nice."
News of the E-Bike Lending Library comes amid plans to revive bikeshare services in Richmond after Bolt Mobility quietly closed for businesses over the summer and left several bikes inoperable in its absence. In August, the City Council contracted with Charleston Mobility to evaluate and relaunch the system.
Both proposals provide numerous transportation options for residents to look forward to, further implanting cycling within the greater Richmond community.
"It's wellness, truly," Weatherborne said of the activity. "Mind, body and soul. It gives me access to a community of people I'd never come across in daily life."