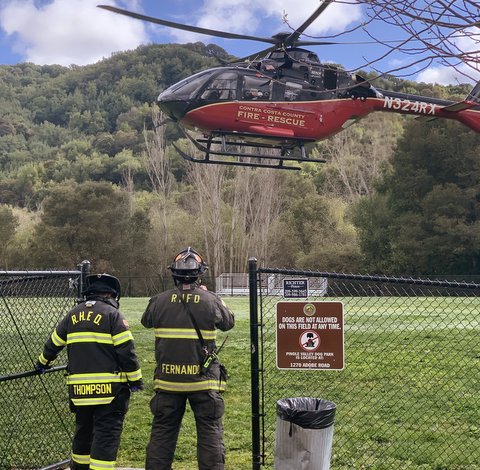 22 Dec

County Fire District Asks Residents to Call 911 Only in True Emergencies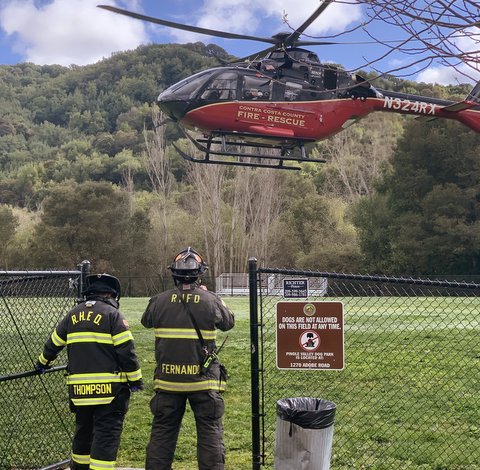 Contra Costa County Fire Protection District firefighters watch a REACH Air Medical Services helicopter at an emergency scene in Pinole. (Con Fire via Bay City News)
By Tony Hicks
Bay City News Foundation
Contra Costa County Fire Protection District officials say their resources are strained this holiday season, not only from the "big three" viruses going around — COVID-19, flu and RSV (respiratory syncytial virus) — but also by people calling for ambulance service for minor conditions.
The fire district is asking county residents to call 911 only in a true emergency.
"Obviously, the respiratory viruses are a triple whammy when it's usually bad out there this time of year anyway," said fire district spokesperson Steve Hill. "People think they're going to get in the emergency room faster when they arrive by ambulance, and unfortunately that's not true."
"We get a lot of calls for what are really just common cold symptoms," Hill said Thursday.
Contra Costa County has 60 ambulances available over any 24-hour period. Paramedics are already in short supply around the country, Hill said, thanks to new paramedics not being able to get their full training during the pandemic.
The county usually has a paramedic and two EMTs staffing an ambulance, but in some cases in November and December, it had to go with two EMTs in an ambulance, requiring a special dispensation from its governing body.
"We're urging residents to only call 911 in a true emergency," Hill said. "We're getting way more calls than we usually do during a historically busy time of year."
Hill said that since Halloween, calls for ambulances are up anywhere from 10% to 30% a day compared to 2021.
"We're getting 200-300 calls a day, which is a lot of transports for a 60-ambulance fleet," Hill said.
The entire emergency response system is under stress, from dispatchers to paramedics. Hill said this year is "really unprecedented."
Earlier this week, Contra Costa County Health Services sent out a statement saying, "Several hospitals in the community are reporting critically high level of patients occupying beds, with more than 1,200 inpatients reported throughout the county as of Friday. Hospital emergency departments are similarly impacted."
Health officials said people should only call 911 if involves: chest pain, difficulty breathing or a fast (120+ beats per minute) resting heartbeat; numbness or weakness in any part of the body, seizures, or difficulty speaking; fainting, unconsciousness, dizziness, sudden severe pain or headache, or confusion; sudden blindness or vision changes; heavy bleeding that will not stop with pressure or broken bones; choking, drowning or near drowning; severe burns; poisoning or drug overdose; allergic reactions, especially if there is difficulty breathing; or someone making a credible threat to harm themselves or someone else.
"There are other good reasons to call 911 as well," CCH said in a statement. "But to reduce strain on the county's health care system, CCH asks anyone considering whether to seek emergency care if a 911 call is the best way to get the services they need, or if contacting an advice nurse or urgent care might be more appropriate.
"When many people seek care through 911 at the same time, it reduces the number of emergency ambulances in circulation, ready to respond when someone in the county needs lifesaving care," the county said.
Hill said if there's any question whether to call an ambulance, people should evaluate whether they're having noncritical symptoms and whether they should first call their primary physician, call an advice nurse, or go to an urgent care facility.
"We don't ever want to discourage someone from calling 911 in an emergency," Hill said. "There are a lot of options before that. An emergency room isn't really a pleasant place this time of year."
Copyright © 2022 Bay City News, Inc. All rights reserved. Republication, rebroadcast or redistribution without the express written consent of Bay City News, Inc. is prohibited. Bay City News is a 24/7 news service covering the greater Bay Area.