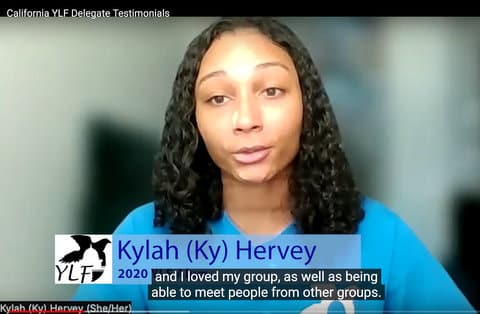 26 Dec

Applications Open for Disabled Students Leadership Forum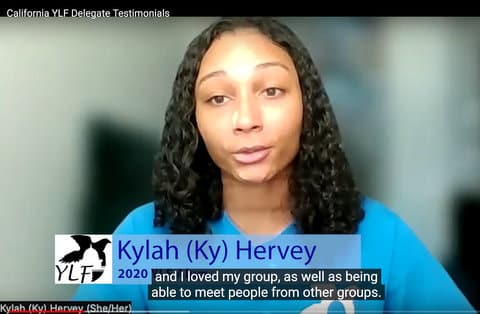 "It really gives you a community," said Youth Leadership Forum participant Kylah Hervey. (Screenshot captured by Danielle Parenteau-Decker / Richmond Pulse)
By Julia Métraux
Inaccessibility and biased beliefs some people have about what disabled people are able to accomplish keep some members of the disability community out of leadership opportunities. But the state of California is trying to change that.
The state Department of Rehabilitation tries to create more opportunities for disabled youth with the California Youth Leadership Forum for Students with Disabilities. The 2023 program is scheduled to run virtually from July 13 to 15 and in person from July 17 to 19 at CSU Sacramento. All expenses will be covered while the forum is in Sacramento.
"Young people with disabilities need to learn that they are part of a powerful worldwide disability rights movement and be empowered to learn and practice leadership skills," said a spokesperson from Disability Rights Education & Defense Fund in a press release. "The good news is that there are programs that offer these opportunities across the country and even the globe."
California residents who are high school sophomores, juniors and seniors during the 2022-2023 school year are eligible to apply. According to the Department of Rehabilitation, areas of focus will include post-secondary education, work experience, careers and self-advocacy.
Before applying, applicants and their families can also watch testimonies from past participants on YouTube. Many participants said they were able to make connections and form bonds with other disabled youths.
"After the week was over, you still kept in contact with your group members," said Kylah Hervey, a past participant and current CSU Sacramento student, said in the video. "It really gives you a community."
Leanne Libas, who graduated from Cal State Fullerton in 2020, said this program led her to develop skills that helped her through college.
"You're going to gain a lot of necessary skills that will apply not only to your college but also to [the] life of work," Libas said. "You're going to have those skills with you for the rest of your life."
While the in-person portion of the forum is currently mandatory, DOR's site said that "YLF planning partners continue to track health trends and safety guidance within California."
The forum is offered annually The deadline to apply for the July 2023 program is Dec. 30.
Application materials and an information guide are available on the California Department of Rehabilitation's website. The application and info are also available in Spanish. If people have any questions on the application process, they can call the California Committee on Employment of People with Disabilities at (855) 894-3436 or email them at ylf@dor.ca.gov.