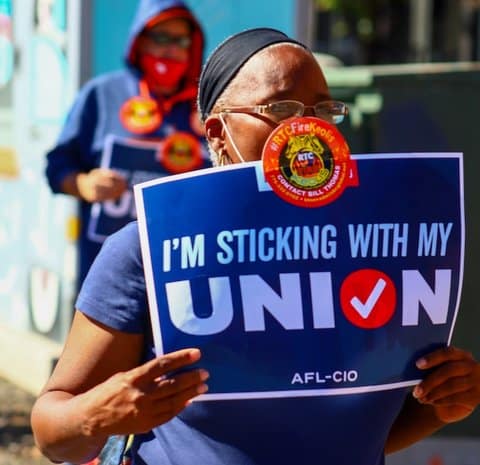 29 Dec

The Issues This Year Felt Neverending, But I Still Have Hope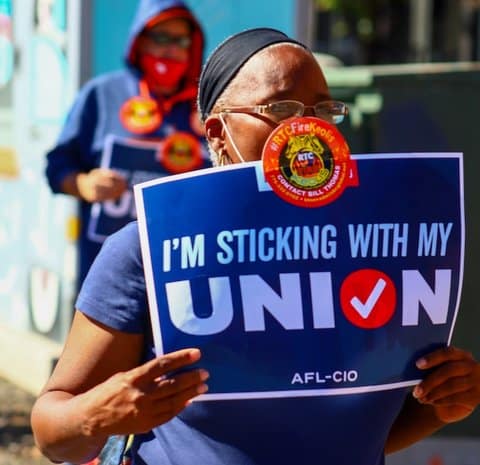 2022 had more than its share of problems, but increased unionization was one of the bright spots. (Photo by Manny Becerra on Unsplash)
Commentary, Keisa Reynolds
What a year. Let's talk about the happy news first: Just before the holidays, WNBA star Brittney Griner was freed from Russia after spending nearly 300 days in custody. Her freedom is a reason for celebration.
We got some tunes: In July, Beyoncé released her seventh studio album, a balm that is helping us crawl to the finish line. We were lucky to get SZA's long-awaited album, which is in its second week at the top of the charts. Rihanna did not deliver an album, but she contributed two songs to the  "Black Panther: Wakanda Forever" soundtrack. Plus, she had the cutest baby with A$AP Rocky.
But whenever possible, let's stay home to enjoy the music.
COVID-19 has become "a new normal" that continues to jeopardize the lives of millions. Over the summer, mask mandates were lifted despite a steady rise in cases. We are ending the year with a triple pandemic that also includes influenza and RSV and what feels like no end in sight with public health crises. The pandemic has revealed limitations and failures of the healthcare system, as well as the housing market and labor force.
>>>Read: Corporations Are Using Inflation to Pad Profits, Economist Says
Inflation highlights ongoing economic disparities in our country regardless of the impact on everyone. One person's $20 does not go as far as another's, and to make it worse, there are people who believe that they worked harder for their money. But the narrative is shifting, with a big thanks to Gen Z. This year, thousands of workers found strength in coming together and formed or revitalized unions at their workplaces. Unions have the highest approval rate since 1965, according to Gallup, and there was a considerable rise in labor organizing across industries, including coffee shops and tech companies.
My son is 3 years old now, and he notices everything. We've already started to discuss mental health, gender identity and race. His instinct is often to care for others. He'll ask if he could buy a treat or gift for someone, call them to talk about their day, or just give a warm hug to better their mood. He pays attention in a way that sometimes disappears as people grow older.
>>>Read: Putting 2019 In Perspective As a New Parent
There is a heaviness looming. I am slowly realizing that our task is to ensure that it does not become a burden. Instead, we will turn it into a reminder of abundance: The load remains light when well distributed. We can't forget to care about each other.
In June, LGBTQIA+ communities celebrated the 50th anniversary of Pride. What should've been a joyous year was clouded by anti-LGBTQ legislation, 86% of which target trans youth and are negatively affecting their mental health. This year, such legislation was introduced in 23 states and signed into law by 13 states. Attempts to erase us are clear as day with Florida's Don't Say Gay legislation, which has restricted LGBTQ-related discussions in schools.
This year also had a high number of physical attacks on LGBTQIA+ communities. At least 32 transgender people were killed, of whom most were people of color and 81% were trans women. In November, there was a mass shooting at a LGBTQ+ nightclub  in Colorado Springs that took the lives of five people and injured more than 25 others. There are regular threats of violence against drag events. Six of the threats became a reality in California this year, and one incident happened at a storytelling event for children.
It feels reductive to say that we have regressed because reality has shown that the fight was far from over. These threats are impacting the safety, dignity and liberation of others — and they cannot continue.
I haven't mentioned reproductive freedom, immigration, climate change, the prison industrial complex or historic international protests, because admittedly, I am having a hard time catching up. There have been many victories and in some instances, even more barriers. It's starting to feel like people are being spread thin emotionally, mentally and politically.
>>>Read: Pandemic Burnout: It's OK To Not Be OK
However, my child reminds me that there is no limit to one's compassion and empathy. No one has to overwhelm themselves, but folks like me might feel that they've been slacking on finding ways to remain engaged. For a while, it was self-preservation. Lately, it's been feeling like avoidance. The neverending list of issues is exhausting, but there are always a variety of ways to be engaged at the levels at which we are able. It only matters that we show up.
The social media landscape is shifting with the rise of Elon Musk's leadership of Twitter and shadowbanning that occurs on Instagram. It is already difficult to beat algorithms and have productive conversations. While there are many alternatives gaining traction, it seems that it will take awhile before there is a viable option. In the meantime, it is crucial that people continue to educate themselves about issues, and sometimes that will require more than watching a three-minute video. More than ever, it is important to read, ask questions and share knowledge within our circles and networks.
>>>Read: Disabled Twitter Users Face Potential Loss of Community
Communities have come together in beautiful ways this year. People will continue to show up by electing the right people into office, participating in mutual aid projects to support their neighbors, providing political education and continuing to ask how they can support organizing efforts.
I have many hopes for 2023, and the biggest is that we continue to work together in big and small ways. Another is that we continue to break silences and amplify what needs to be said.