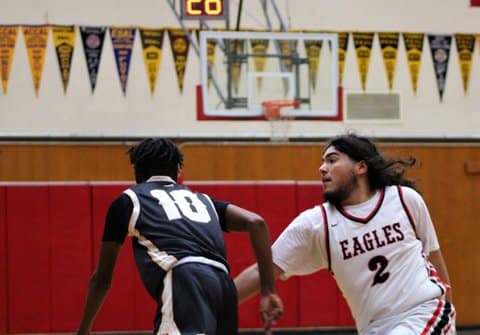 17 Jan

Bid to Conquer League Leader Comes Up Short for Kennedy High Basketball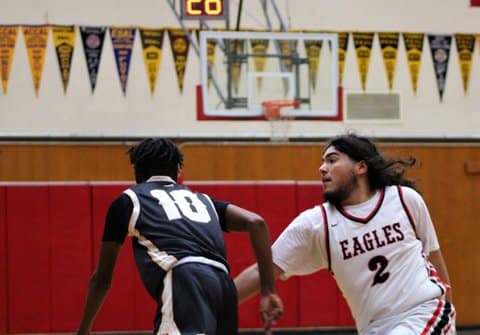 Kennedy Eagles junior guard Danico Canal, right, tries to stay in front of Bethel High Jaguars junior guard Hassan Howard on Friday in Richmond.
Story and photos by Joseph Porrello
Kennedy High's boys' varsity basketball team gave the Bethel High Jaguars of Vallejo all they could handle Friday night in Richmond but ultimately fell by a final score of 64-55. 
The Eagles' defensive tenacity caused turnovers that turned into numerous easy transition layups early on, propelling them to a 23-0 lead. 
Bethel High came in with an overall record of 13-2, sits in first place of the Tri-County-Stone Division (5-0), and has only lost one road game this season. So the lopsided start to Friday's game was unexpected to say the least.
"We threw a haymaker in the beginning, but [the Jaguars] got back up," said Kennedy High head coach Brandon Edwards. "That's why they're the top team in the league." 
The Eagles would not surrender a point to Bethel High until the Jaguars made a foul shot with a minute and a half remaining in the first quarter, but it didn't take long for Bethel to shake its lethargy and go on a hot streak of its own.
Behind a swift and fiery 20-2 scoring stretch from Bethel High, the Kennedy High advantage quickly shrunk to just five points early in the second quarter. The Jaguars would take their first lead of the game shortly thereafter and never relinquish it, taking a five-point cushion into halftime.
"I knew they were going to go on a run at some point," Edwards said. "That's basketball." 
Bethel High flipped the script on the Eagles by utilizing the same feistiness on defense that Kennedy implemented to build its first quarter margin, resulting in easy buckets on offense for the Jaguars. 
"We can definitely be better with protecting the ball," said Edwards. "Limiting turnovers is priority No. 1."
Scoring between the two teams slowed down and evened out in the second half as they settled in, with neither team gaining a double-digit lead at any point. 
Down 48-40 at the end of the third quarter, the Eagles were still trying to verbally lift each other up after squandering such a sizable initial edge.
"They played together as a team and didn't start pointing fingers when things got tight," said Edwards.
Kennedy High gained some spirit and vigor in the final frame by making two shots while being fouled in three offensive possessions, the second of which significantly enlivened the home fans in the bleachers as it cut the Eagles' deficit to just two points with five minutes left in the game.
Eagles sophomore forward Richard Barajas, right in white, hits the deck after making a shot while being fouled by a Jaguars defender on Friday in Richmond.
"That energy and that tenacity is what we've been lacking all year, but we finally showed it," said Edwards. 
The intensity and vitality the Eagles displayed throughout the contest almost immediately dissipated after they cut the margin to one possession, as they made only one shot in the last five minutes.
Fatigue may have factored into the decline in execution over the course of the match for Kennedy High.
"We battled and competed until the very end, but we got a bit tired in the fourth," said Edwards. "I'd like us to get in shape and stay in shape."
The Eagles are not the only team Bethel High has tired out recently, as the Jaguars are now on a five-game winning streak and have won 10 of their last 11 games behind a varsity squad with only three seniors. 
Junior Bethel High forward Dwight Stricklen was noticeably the tallest player on the floor at 6 foot 6 and finished with a double-double consisting of 10 rebounds and 10 points to go along with three blocked shots.
Jaguars junior forward Dwight Stricklen, holding the ball, stands at the foul line looking to help his team increase their lead on Friday in Richmond.
Jaguars sophomore guard and leading scorer on the season Christian Truisclair chipped in 19 points, while his teammate, junior guard Hassan Howard, led the scoring with 21 points and added six steals
Kennedy High's varsity boys' team is also uncommonly youthful, with three sophomores in the starting lineup and five altogether.
Sophomore Eagles guard Tyler Martin has the highest scoring average on the team this season and led the team's scoring with 20 points.
Another Kennedy High sophomore guard, Jayson Scarbrough, was the team's next highest scorer with 12 points. Scarbrough's 10 points in the first quarter played a large role in the Eagles mounting such a substantial gap on the scoreboard and were the most scored in any quarter by a player from either team. 
The ups and downs of Friday's game for the Eagles reflect their inconsistent season thus far. They entered the contest with a two-game winning stretch that came on the heels of five consecutive losses. 
"We're young as a team, so mental mistakes are to be expected," said Edwards. "We'll get better."
Eagles sophomore guard Jayson Scarbrough, left, runs the point on offense and takes on a Jaguars defender Friday in Richmond.
Following a win against their cross-city rival Richmond High on Tuesday, Kennedy will try to keep its spirits high despite Friday's loss by focusing on what they executed well. 
"We played really hard defense, so that's effectively something we can build on moving forward," said Edwards. 
The Eagles' overall record now sits at 9-8, while their 2-3 record in TCSL games has them in fifth place in league standings. 
For their next game, Kennedy High's squad will travel to Hercules High School on Tuesday to take on the Titans, one of only two teams below the Eagles in the TCSL rankings. Following the matchup with the Titans, Kennedy will end its regular season by playing three games in a row at home followed by three straight games on the road. 
In his second year at the helm, Edwards is attempting to guide the Eagles to just the second overall winning record they would have had in the last five years. 
"We certainly want to make the playoffs and hopefully the league championship game," said Edwards. 
Part of the reason for the team's struggles in recent years has been its instability in coaching. The Eagles have not had a head coach for more than two years over the last 14 seasons, but perhaps Edwards will end that dubious and detrimental trend.