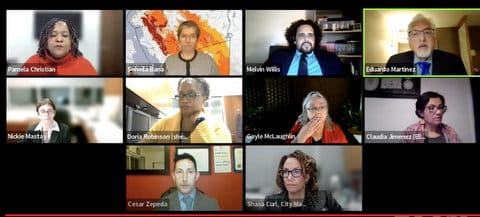 18 Jan

Richmond Looks to Move Mental Health Crisis Response Away From Police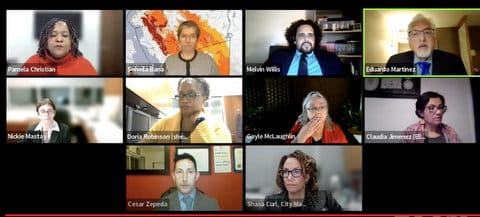 (Screenshot captured by Julia Métraux / Richmond Pulse)
By Julia Métraux
The city of Richmond is trying to find new ways to help residents experiencing a mental health crisis.
Deborah Small, the chair of Richmond's Reimagining Public Safety Community Task Force, told City Council on Tuesday about the work the task force is undertaking. That includes working to create a citywide response, outside of police, to people with acute severe mental health symptoms.
"Instead of sending police as first responders, we would send trained personnel, who would be able to intervene and help people respond who were in a mental health crisis," Small said.
>>>Read: Police Adapting to Changing Expectations, Says Acting Richmond Chief
Some research suggests that sending mental health responders instead of police leads to less criminalization of people experiencing mental health issues. For example, a June 2022 research article found that in a pilot program in Denver, mental health responders were less likely to regard people struggling with mental illness and substance abuse as criminals.
The public safety task force received funding of a million dollars a year and a half ago to establish a mental health crisis program.
"The plan is for the crisis center to be run by the city," Small said. "The program is just now in its infancy stage. We're working with a consulting group to develop a program model."
Council member Soheila Bana asked if the City Council would "have a say in the protocol." Mayor Eduardo Martinez said, in situations like this, the council members would give guidance to the city manager on next steps.
"The city manager should embody the values and the intent [and] the direction of the City Council," he said.
The city hired consultants from Urban Strategies around six months ago to develop a crisis program for the city. It could have a plan for Richmond later this spring. Urban Strategies is a not-for-profit organization based in Oakland that focuses on community planning and development. However, the city would not automatically implement its suggestions without guidance from City Council.
"Once that happens, the City Council can provide further guidance," Richmond City Manager Shasa Curl said about receiving a plan from Urban Strategies. "There's also a countywide effort that's happening concurrently, and we wanted to be very thoughtful about the expenditure of public resources."
Council member Doria Robinson asked if there was a timeframe for when this program should come into fruition.
"I think open timeframes really make it difficult for there to be trust within the community," Robinson said.
Curl said the City Council could give guidance on suggested timelines for this project and others.
"Another way for the council to be clear that in the scopes of work, or consultants, there should be a timeline and scopes of work and what the deliverables are," Curl said.
Small also told council members that the task force is also looking to fill its four current vacancies.
"If there are people in the community that you think would be appropriate and willing to work on the task…we have four vacancies to fill," she said.
Electing New Vice Mayor
Gayle McLaughlin was unanimously elected vice mayor for 2023 by her fellow members of the City Council.
"I'll continue to put my heart and soul into this role as I have in two previous roles," McLaughlin said "Thank you for your confidence."
In Richmond, vice mayors serve one-year terms. McLaughlin was previously the mayor of Richmond from January 2007 to January 2015.