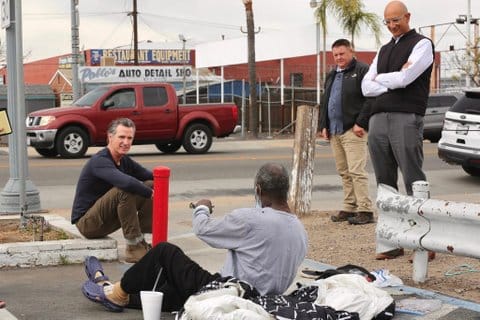 19 Jan

Advocates Say CARE Court Could Hurt Those It's Meant to Help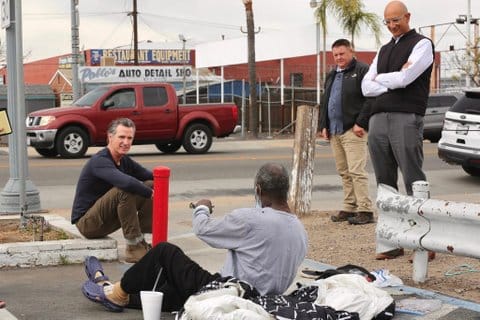 Gov. Gavin Newsom, left, participated in a ride-along with homeless outreach and crisis response teams in Fresno on March 17, 2022. Standing at right with arms folded is state Health and Human Services Secretary Dr. Mark Ghaly. The other men are unidentified. (Photo courtesy of the state of California)
By Kathleen Quinn
Gov. Gavin Newsom called the new CARE Court system a "paradigm shift" in the way people with mental health disabilities are treated by the legal system and a solution for those who are chronically homeless. But the legislation creating the system — signed into law Sept. 14 — is deeply unpopular with the community it intends to assist.
The name of the CARE Court comes from the Community Assistance, Recovery and Empowerment Act. The act creates an avenue for family members, as well as first responders, to refer people considered "gravely disabled" to a new court system neither criminal nor civil. The court creates a CARE plan that may include housing, mental health services, substance abuse programs and other requirements as prescribed by a judge. Failure to complete the program may result in conservatorship. But it is not a criminal process.
>>>Read: Contra Costa Unveils New Crisis Initiative for Behavioral Emergencies
All state senators and all but two state Assembly members supported the bill, which was co-sponsored by Sens. Tom Umberg and Susan Eggman, both Democrats. Meanwhile, the American Civil Liberties Union, Disability Rights California, and houseless advocacy groups opposed the bill as it worked its way through the Legislature in April.
"We had fundamental problems with the framework, and that framework did not change through the legislative process," said Andy Imparato, executive officer of Disability Rights California.
The law is set to be implemented by October 2023 in seven counties, with the rest of the state's counties to follow by December 2024. San Francisco County will be one of the counties to implement the program first.
Melanie Kushnir-Pappalardo, the director of San Francisco's collaborative courts said its CARE Court will sit somewhere in between their existing behavioral health court and a probate court.
All diversion courts in San Francisco County allow a person with a criminal charge to petition the judge for diversion.
"[In diversion courts] you can tell a judge you would like them to consider taking your case out of the criminal courts and diverting it — sending you to get the right level of treatment, or whatever," Kushnir-Pappalardo said. "It's solely up to the judge."
The CARE Court system does not require a criminal charge. The referral process only requires that you meet the mental health criteria and are presumed unable to take care of yourself on your own.
"Behavioral issues or public health issues are not legal issues," Kushnir-Pappalardo said. "Now, that said, by the time it makes it to the courts, the other systems have failed."
Ginger Lerner-Wren is the presiding judge of the mental health court in Broward County, Florida, as well as a former public guardian. Her court was the first mental health diversion court in the nation. In March, Lerner-Wren reached out to Disability Rights California because she worried that the California framework could be a model for other states.
The bill makes CARE Court proceedings confidential, preventing access to the public. Though diversion courts require an agreement not to publish identifying information, they are still open to the public to observe upon completion of a non-disclosure agreement.
Unlike a traditional probate court, it does not require a conservatorship to be in place, though failure to meet the CARE plan that is developed can lead to conservatorship.
"Generally, when things are open to the public, it makes it harder for folks to be railroaded or to have their rights violated," Imparato said. "If everything happens behind closed doors in the interest of protecting privacy for individuals, yeah, there's a serious concern that that can lead to abuse."
Blaine Corren, of the Judicial Council of California, said the council would provide training materials to counties but declined to say what legal mechanism exempts the CARE Courts from California's sunshine laws that determine public access to meetings in the state.
Eggman said the courts are not public to ensure privacy. "You think there should be an audience of people watching somebody be evaluated for a psychotic disorder?" the senator asked.
Though the diagnosis to qualify for CARE Court is limited, the number of people who can refer is much broader.
"The difference in this law is that almost anybody can report you, which worries me," Kushnir-Pappalardo said "I think of asylums and husbands getting sick of their wives, so they drop them off and say that they're crazy and they lock them up for the rest of their lives."
When asked whether an annoyed neighbor could refer a person to the CARE Court, a spokesman for the California's Department of Health and Human Services said this is not possible in the framework. They referred to the criteria, which includes: roommates, family, friends, first responders, public guardians and mental health workers.
Ruth, a houseless woman in an encampment in the Studio City neighborhood of Los Angeles, said she's worried about the new law. She chose not to provide her last name because she is a survivor of domestic violence and concerned about retaliation.
"I'm concerned about conservatorship," Ruth said. "There's no volunteer services available, so it's not like we can ask for any sort of help with meds or mental health without 5150-ing ourselves."
A 5150 is an involuntary mandatory hold under the Lanterman-Petris Short Act, which allows first responders to detain people who are deemed to be a harm to themselves or others.
A starter fund of $63 million has been allocated by the state to help counties set up the courts. According to the California Department of Health and Human Services, the program would be prioritized for funds previously allocated to end homelessness and $1.5 billion in funds through Behavioral Health Bridge Housing.
Eggman said that not everyone who would be referred to the program is homeless. There is a clear intersection between those who are "gravely disabled" and those who are chronically houseless.
Newsom said the state is allocating an additional $1.4 billion dollars to increase the mental health and human services workforce.
CARE plans can include potential "stabilizing medication" prescribed with or without housing arrangements in place. The state is barred by law from forcing people to take medications outside of a Lanterman-Petris-Short involuntary hold or conservatorship.
"We're still worried that we're forcing people to go to a court-ordered system and there is a threat of conservatorship," Imparato said. "Even if it's conservatorship light, you're still taking away people's rights"
Imparato said he imagines the number of people referred to the program is a severe undercount since referrals to the CARE Court system happen for many reasons.
"I think it's going to be dramatically more than [7,000 to 12,000] people, and the courts are going to be doing triage, trying to figure out 'OK, is this person a good candidate for CARE Court? How do we decide whether they have schizophrenia, or they were having a bad reaction to a drug?' There are so many ways this is going to be difficult to implement."
In California, homelessness disproportionally affects people of color according to the California Budget and Policy Center. Studies over the past 32 years have consistently shown Black men, in particular, are overdiagnosed for schizophrenia.
Disability Rights California advocates for a Housing First model and harm reduction.
"I do believe that if we offered housing and services to people who are unhoused with schizophrenia and psychosis, and we did it in a holistic, evidence-based way, with Housing First principles, it would work for a lot of folks and it wouldn't traumatize them," said Imparato. "To this day, I don't understand why we didn't try that first."
In a press conference, Newsom said he was glad the bill was not "watered down" and expressed frustration about opposition to the law.
"Problem-solving courts have really great potential, but they also have great limitations," Lerner-Wren said. "I think it's important to note they are not a panacea for really investing in the capacity of the systems of care, or the capacity of housing, or the capacity of behavioral health and substance abuse treatment."
Eggman said the bill was introduced in response to more people "falling off the edge" and the number of people on the streets with chronic mental illness increasing dramatically.
"I certainly don't have a crystal ball and we're starting off with seven counties," Eggman said. "With the implementation, we have a lot of checks along the way if we need to adjust anything."
For people like Ruth, the new law is just another way to traumatize people living on the streets.
"It's not supposed to be easy to put somebody who hasn't committed a crime and put them in restraints and give them forced medications," Ruth said. "And making it easier… I don't think that's the way we should be going. I think it should be harder than anything."
For the record: An earlier version of this story misspelled the last name of the director of San Francisco's collaborative courts. It is Kushnir-Pappalardo.