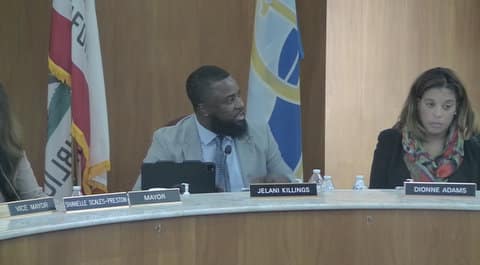 20 Jan

Pittsburg Takes Steps to Help Kids Get Safely to School, Raises Human Trafficking Awareness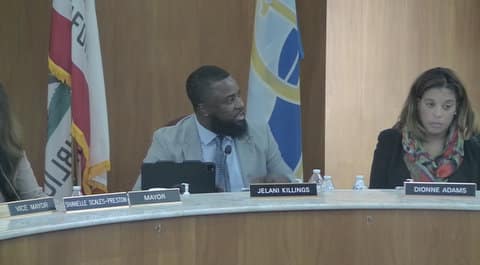 "This is always a highlight whenever we're seeing grant dollars being activated and flowing into the community," Pittsburg City Council member Jelani Killings said Tuesday. (Screenshot captured by Julia Métraux / Richmond Pulse)
By Julia Métraux
Pittsburg City Council recognized January as Human Trafficking Awareness Month at its meeting Tuesday.
"Whereas human trafficking is a form of interpersonal violence in which force, fraud or coercion is used to control victims," council member Jelani Killings said, reading from the city's proclamation, "for the purpose of commercial, sexual and labor exploitation that occurs in many industries and affects individuals of all genders, ages and backgrounds."
Pittsburg has previously taken measures to confront human trafficking. In February 2022, the Police Department joined a statewide task force focused on arresting people accused of human trafficking. The city also recognized January as Human Trafficking Awareness Month in 2022.
Police Sgt. Kyle Baker accepted the proclamation from the City Council.
"The truth is that human trafficking is in every city and every county and every state in this country," he said. "Our agency has made it a priority to be one of the forefront police departments in this county in combating human trafficking."
In June 2021, Pittsburg Police arrested four people on suspicion of human trafficking, two of whom were charged with felony human trafficking, according to CBS Bay Area.
Local organizations and nonprofits, like Community Violence Solutions and the East County Family Justice Center, also support survivors of human trafficking. People who are being trafficked can also call the National Human Trafficking Hotline at 1-888-373-7888 for support.
Safer Routes to School
Rectangular Rapid Flashing Beacons will be placed near five school locations in Pittsburg: Pittsburg High School, Heights Elementary School on Seeno Street, Heights Elementary School on Riverview Drive, St. Peter Martyr School, and Highlands Elementary School.
"This will improve the safety of students walk[ing] into school," said city of Pittsburg associate engineer Stephen Cardiel. "The RRFBs are solar-powered, which makes installation faster and easier with minimal traffic disruptions."
According to a June 2018 report from the U.S. Department of Transportation, RRFBs "can result in motorist yielding rates as high as 98 percent at marked crosswalks." In other words, drivers are more likely to stop for pedestrians. However, compliance can vary by city. DoT also recommends that communities are made aware of the purpose of RRFBs when they are installed.
The five locations of the RRFBs were decided after audits done by Contra Costa Health Services.
"The city of Pittsburg hosted Safe Routes to School workshops with parents, and walking audits were led by Contra Costa Health Services to help us select locations that need improving," Cardiel said.
These locations, according to Cardiel, are uncontrolled crosswalks, "which is a type of crosswalk that is not located at stop signs or traffic signals within 900 feet of a school."
Council member Killings commended city staff for using grants to help fund projects that serve the community.
"This is always a highlight whenever we're seeing grant dollars being activated and flowing into the community," Killings said. "So definitely want to commend staff. This is really a strength that we have here."
The Pittsburg City Council voted unanimously to approve the RRFB project.