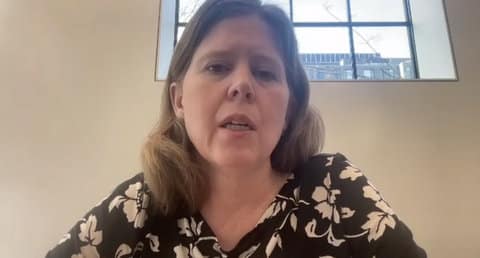 24 Jan

Pro-Immigrant Policy Unlikely in Near Future, Experts Say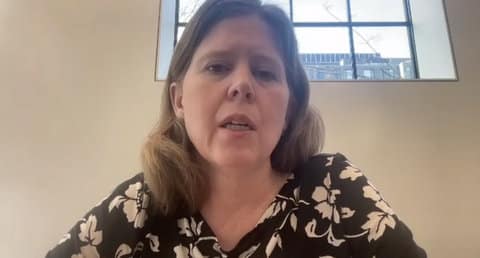 Kerri Talbot of the Immigration Hub said Temporary Protected Status was one area of immigration policy where the Biden "administration has done a really good job." (Screenshot captured by Julia Métraux / Richmond Pulse)
By Julia Métraux
With a Republican-majority U.S. House of Representatives and a conservative U.S. Supreme Court, immigration rights advocates say immediate positive changes to immigration policy seem unlikely.
"House Republicans do plan to push forward anti-immigrant legislation in the next couple of weeks in the house," said Kerri Talbot, deputy director for the Immigration Hub, at a Jan. 13 Ethnic Media Services briefing on immigration issues.
She expressed doubts the legislation would pass the Democrat-majority Senate. "They're just inhumane policies related to the border and asylum."
In addition to refugee and asylum processes, another issue that remains under attack is Deferred Action for Childhood Arrivals, which was created during the Obama administration. At the briefing, experts raised concerns about DACA being ruled on by the Supreme Court.
>>>Read: SCOTUS Ruling Gives DACA Recipients a Night of Restful Sleep
"The Supreme Court may likely take this case forward," said Ariel G. Ruiz Soto, a policy analyst at the Migration Policy Institute. "What's most important in this scenario would be that migrants or immigrants would lose status from one day to the next."
The status of DACA has nearly continuously been under attack since its creation. According to U.S. Citizenship and Immigration Services, in October 2022, "the U.S. Court of Appeals for the Fifth Circuit affirmed a July 2021 decision of the U.S. District Court for the Southern District of Texas declaring the 2012 DACA policy unlawful."
There are strict criteria to be a DACA recipient, also known as a Dreamer. This includes being under the age of 16 when arriving in the United States, having a high school diploma or equivalent and not having a criminal history, according to Ruiz Soto.
DACA provides many benefits for Dreamers. "These benefits include new and formal employment opportunities, accessing loans and banking options that they will not otherwise be able to," Ruiz Soto said.
Edward Kissam, co-trustee at the Werner-Kohnstamm Family Fund, criticized the Biden administration for continuing policies created by political advisor Stephen Miller during the Trump administration, particularly Title 42. Kissam described Miller as a "well-known anti-immigrant figure for many years." Title 42 essentially stopped migrants from being able to cross the United States border to seek asylum, with the claims that migrants would contribute to a rise in COVID-19 cases.
>>>Read: Biden's 'Aggressive' Immigration Reform Reverses Many Trump Policies, But Not All
"The facts about coronavirus at the border didn't jive with the data and realities on the ground, particularly since there were already hotspots in the U.S. that were much more powerful and overwhelming," Kissam said.
Kissam said Title 42 is "conceptually corrupt and scientifically inaccurate."
"Public health experts agree that the key element in defending the country against the pandemic is increasing vaccination rates — a strategy … the same anti-immigrant actors are seeking to undermine," he said.
The North American Leaders' Summit, which took place Jan. 9 and 10, revealed some immigration policy plans from the Biden administration.
"They also said that they're rolling out an asylum ban, which would ban individuals who transited through third countries," Talbot said. "Those elements, we deeply oppose and hope they will walk those back."
Despite many immigration-related setbacks, Talbot said one area that the Biden administration has done well with is the expansion of people from which countries are eligible for temporary protected status, including Sudan, recently.
"TPS is definitely an area where the administration has done a really good job extending protections to people who are not able to return to their home countries," she said.
People from Afghanistan, Burma, Cameroon, El Salvador, Ethiopia, Haiti, Honduras, Nepal, Nicaragua, Somalia, South Sudan, Sudan, Ukraine, Venezuela or Yemen are able to file for TPS.