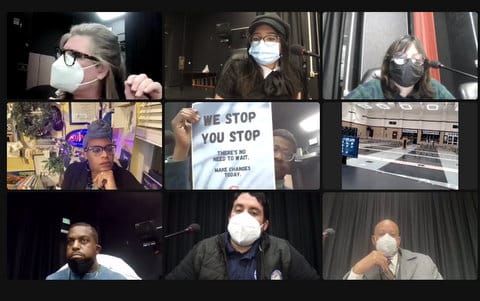 03 Feb

School Board Recognizes Black History Month, Asked to Put Stop to Slur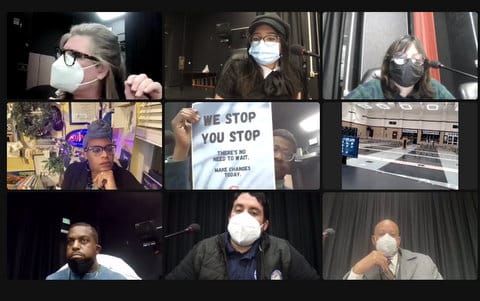 (Screenshot captured by Julia Métraux / Richmond Pulse)
By Julia Métraux
The West Contra Costa Board of Education unanimously passed a resolution Wednesday recognizing February 2023 as African American History Month at a meeting in which several Black trustees raised concerns that the district is not doing enough to confront anti-Black racism.
"I also think it's important, equally important, that we recognize Black present, not just history," trustee Mister Phillips said.
In late January, a video surfaced of a confrontation between a non-Black student and a Black substitute teacher at Richmond High School, where the student allegedly called the substitute the n-word. The video showed the substitute throwing the student to the floor, and he was fired as a result. The incident led students at several schools around the district to organize against the usage of the n-word.
Markeith Anderson, a Richmond High junior and Black Student Union member who organized a protest against the usage of the n-word at his school, asked the school board to help stop the usage of the n-word being targeted at Black individuals in the district.
"Could you help me get to other schools throughout this district, to stop the n-word, so nothing like this will happen again?" Anderson said during public comment.
Following Anderson's comments, Richmond High School Black Student Union advisor Kiraa Easter said less than 100 students at the school are Black, and they have to hear the n-word used "like a comma" by white and non-Black students of color.
"We already know when the young person is not feeling safe emotionally or physically on campus or in school, they're not able to learn, and that's what we see at Richmond High," Easter said.
While that word may get thrown around casually by some, it can have very serious consequences for Black people's health and well-being.
"The n-word has been weaponized in such a way as to inflict the most psychological damage against Black people possible," writes University of Michigan psychology professor Dr. Kevin Cokley in Psychology Today. "It is incredibly painful and serves as a constant reminder to Black people that no matter how much racial progress we have in this country, no matter how successful we are and how much education we have, the n-word will always serve as the trump card to try and put us in our place."
Phillips said he was approached before the meeting by Black parents and students to ask the board to allow Black members of the WCCUSD community to share their experience as well as create a policy concerning the usage of the n-word.
"What the parents and BSU members, students, asked was to be able to come and address the board regarding the treatment that they are receiving at their individual campuses, including by staff," said Phillips, who held up a poster created by BSU students with the message "We Stop, You Stop. There's No Need to Wait. Make Changes Today."
Board President Demetrio Gonzalez-Hoy said trustees Phillips, Otheree Christian and clerk Jamela Smith-Folds had requested a board policy which would address stopping the usage of the n-word in WCCUSD schools.
"We'll figure it out when it's coming to the board," he said, encouraging trustees to share this information with families that approach them.
Smith-Folds said there would be changes to how the district honors African American History Month. For example, "we will have the Pan African flag flying at all of our sites during the month of February," she said, noting this may be the first time the district put this its resolution.
"Little things mean a lot to people who have been neglected, denied and marginalized for their entire existence in this country," she said. "So if you're a site that has not put up the banner on your fence outside, please do that."
The next regular Board of Education meeting is scheduled for Feb. 15.