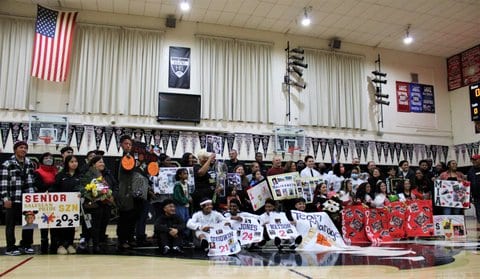 06 Feb

Salesian College Preparatory High School Again Undefeated in Tri-County-Rock League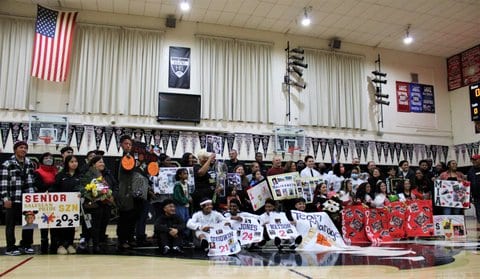 Salesian High School staff, coaches, cheerleaders, family and  friends helped honor the varsity boys' basketball team's three seniors Friday in Richmond.
Story and photos by Joseph Porrello
Playing in their final regular season game, the Salesian College Preparatory High Pride varsity boys' basketball team gave themselves a pre-playoff confidence boost by beating the De Anza High Dons handily Friday night in Richmond.
In a lopsided victory, Salesian again held its opponent under 40 points, as it did in its previous three games, beating the Dons 77-32 on Friday.
Yet again finishing undefeated in Tri-County-Rock League play highlighted the senior night victory for the Pride. Salesian High has now swept its league schedule five of the last six seasons with a combined record of 50 wins and only one loss. 
"We wanted to honor our seniors because they put a lot of time and energy into this program," said Pride head coach Bill Mellis. 
Before play began, the three seniors on Salesian High's roster were individually introduced over the gymnasium speakers as they walked out with family and hugged coaches and teammates. 
Each of the Pride's fourth-year players started the game and got into the scoring column. Forward Emerson Jones led the game with 12 points, and forwards Evin Watson and Evin Goodwin both notched six.
Pride senior guard Evin Goodwin and his family embrace the Salesian High coaching staff as part of the pregame senior night festivities Friday in Richmond.
"This game was just great from start to finish," said Jones. "I'm honestly just happy to have such awesome teammates and coaches around me."
Each team had only one double-digit scorer, but 14 of the 15 players on the Pride's roster netted points, compared with just six members of the De Anza squad. 
"This group really does a good job of moving and sharing the ball," said Mellis. 
Using a barrage of three-pointers on offense and double teams on defense, Salesian jumped out to a comfortable early lead. The Pride held a 16-point advantage at the end of the first quarter and did not let up thereafter. 
The Dons were held scoreless for the entire second frame and went into the locker room at halftime down 47-7.
It was more of the same for De Anza High, which has now lost 14 of its last 15 games and has not won for a month. The Dons conclude the season winless (0-10) in league play, finishing in last place in the TCRL, as well as winless (0-9) in road games. 
Dons guard and lone freshman Amani Otis came in averaging 15.2 points per game and leading the team in scoring on the season, but only made one shot Friday. De Anza High sophomore forward Malakai Wise paced the Dons with 11 points, and sophomore guard Jacari Madison chipped in with eight points. 
The Pride ended the first quarter with 24 unanswered points, then scored five more before the Dons got a basket in the second.
With an insurmountable lead in the third quarter, Salesian High took its foot off of the gas while carrying out tradition. When the Pride's team manager is in their fourth year of high school, they get to log some minutes on the court for senior night and hopefully make it into the stat sheet. For the first time, Salesian High had two team managers that were both seniors. Both got to play the majority of the second half due to the Pride's lofty edge. 
"That was the best part of the game," said Jones. "We were all waiting for them to check in."
Team manager Ethan Ramos registered three points, and his counterpart Jacob Diaz racked up seven points, breaking the previous team manager scoring record of six points from over a decade ago. The crowd was at its loudest any time the managers possessed the ball and erupted when they made baskets.
"It was really fun to see how excited the players and crowd were," said Milles. "That makes it all worth it."
The Salesian High gymnasium has a max capacity of 500, but there were likely even more than that in attendance. Family members of players could be seen stuck in the cold outside because there was nowhere left for fans to sit inside. The bleachers were packed shoulder to shoulder, and both the stage behind one hoop and the balcony behind the other hoop were filled with students. 
"The crowd going crazy and giving the (referees) a little trouble was awesome," said Jones.
Pride senior forward Emerson Jones dives on the floor for a loose ball after poking it free from a Dons player Friday in Richmond.
By the fourth quarter, the clock was running continuously through stoppages to keep the score from getting out of hand. 
Even with the fast-paced final frame the game as a whole lasted significantly longer than usual and lacked momentum because of an abnormal amount of foul calls: 13 on the Pride and 21 on the Dons. When all was finally said and done, fans piled onto the court to mingle with players and celebrate the victory.
"I'm just looking around at everyone taking pictures with each other. This is awesome," said Mellis.
Salesian High's throttling of De Anza High was not caused by a lack of effort on the Dons' part but possibly a lack of size. The Pride only have one player under 6 foot 2, whereas De Anza High has only three players over 6 foot 3. 
It was the second meeting of the season between the two teams, with Salesian winning the first matchup by a 33-point margin Jan. 18. 
The Pride have won five consecutive games and 11 of their last 12 and are ranked No. 49 out of all 1,467 varsity boys high school basketball teams in California. The Dons, on the other hand, are ranked No. 823. 
The success for Salesian High is nothing new. Over the last 20 years, its lone losing record in TCRL play came in 2013, and it has not had one overall losing record in that same time span. The Pride's dominance year after year is partly due to their continuity in leadership, with Mellis and athletic director Chad Nightingale, also the football coach, both having been at Salesian High since 1998. 
"It's a special place," said Mellis. "I have great support from our administration."
This season, Mellis reached 600 wins in his career as coach of the Pride. 
On Thursday, the Salesian High head coach will attempt to steer his team to yet another triumph when a yet-to-be-determined TCRL opponent comes to Richmond for a first-round playoff game. If Salesian High is victorious, it would also host the ensuing TCRL Championship scheduled for Saturday as it would possess the No. 1 seed in the division. 
Whichever team travels to Richmond, they will have their work cut out for them attempting to hand the Pride their first loss at home this season and first in over a year — the last defeat coming by only one point.
"I think we're going to go far in the playoffs," said Jones. "We're just getting started."