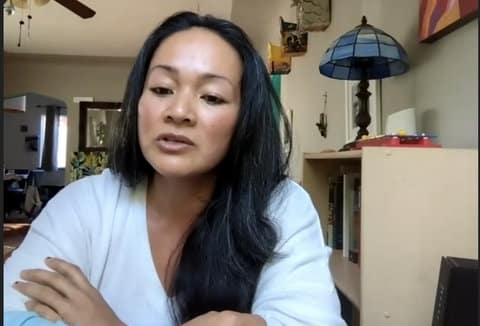 07 Feb

Current Events Worsen Long-standing Trauma for Many Asian Elders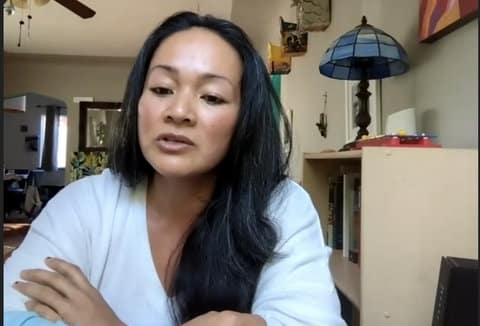 Laura Som, who came to the U.S. as a refugee of the Cambodian genocide, says she grew up watching her elders struggle with the "aftermath of wars, extreme violence and neglect." (Screenshot captured by Julia Métraux / Richmond Pulse)
By Julia Métraux
Before coming to the United States, many immigrant Asian American elders survived traumas such as genocide and famine, which led to their families leaving their home countries. In addition to the mental health effects of rising hate crimes against Asian Americans, Helen Zia, an Asian American journalist and author, said some Asian American elders have experienced a resurgence of trauma from their childhood that they may have even hidden from their families.
"When Monterey Park and Half Moon Bay happened, automatically, people just recoiled," said Zia, referring to two recent California shootings where Asian American elders were killed. "It triggered all of that fear. All of that isolation."
At an Ethnic Media Briefing on Feb. 3, people who support Asian American and Pacific Islander elders spoke about challenges they face in accessing mental health care, such as culturally competent therapy and finding a therapist who speaks their language. The shooters in the two recent California shootings themselves were AAPI elders, which was shocking for many Asian American communities across the United States. These shootings come in conjunction with an increase in hate crimes against Asian Americans during the COVID-19 pandemic.
>>>Read: Racism and Violence Against AAPI People 'Is Nothing New'
Laura Som, founder and director of the MAYE Center, has seen mental health struggles in her Cambodian community for most of her life. Som was a refugee to the United States at the age of 10. Her family left Cambodia because of genocide.
"I grew up in America witnessing my elders in my community's mental health deterioration from the aftermath of wars, extreme violence and neglect by the mainstream community," Som said. "Some of the symptoms of these traumas are hatred, violence, rage and depression."
>>>Read: They Lost Their Homes to War. Now, Richmond Laotians Fear Being Pushed Out Again.
This is something that Dr. Brian Sevilla, medical director of the Asian Pacific Counseling and Treatment Centers, Los Angeles has also seen. He said some of his patients have expressed fear that they will be targets of genocide again.
"One Cambodian woman I worked with was convinced that the Khmer Rouge had come here to launch another revolution," Sevilla said.
Instead of solely placing blame on the Monterey Park and Half Moon Bay shooters, Som encouraged people to investigate what factors lead to an increase of shootings and other acts of violence, and then address them.
"This is how we built our resiliency against trauma and break the chain of traumas for generations to come," Som said.
All experts who spoke at the briefing said they could not specifically say if mental health intervention could have prevented these particular shootings.
After the Half Moon Bay shooting, another issue that received media attention was the ages of some of the victims. Zhishen Liu and Qizhong Cheng were both doing intensive field labor past the age of 65 before they were killed.
Rita Medina, deputy director of state policy and advocacy at the Coalition for Humane Immigrant Rights Los Angeles, said it is not unusual for undocumented immigrants to work past expected retirement ages in the United States.
"They don't have access to social security benefits of retirement in a real formalized way, and so they have to continue to work," she said.
In comparison with other states, California has done some work in creating a safety net for undocumented immigrants. For example, advocates are pushing for food benefits to be expanded to undocumented immigrants who are 55 and older in the state.
"That was a commitment that the governor made in this past budget. That's now been delayed until 2027," Medina said.
There is limited research on the specific effects of social isolation on aging Asian Americans, according to a December 2020 meta-analysis published in the Innovation in Aging journal. However, in general, older adults facing social isolation are at a higher risk of physical and mental health issues, as well as cognitive decline.
For the time being, groups and organizations like MAYE Center, Yellow Chair Collective and Asian Pacific Counseling and Treatment Centers, Los Angeles are trying to support aging Asian Americans who may be accessing mental health support for the first time.
And it takes a community to lift up elders to get them the support they need. "For those who are grieving, we have coordinated with other Asian community organizations to provide immediate emotional support," Sevilla said.