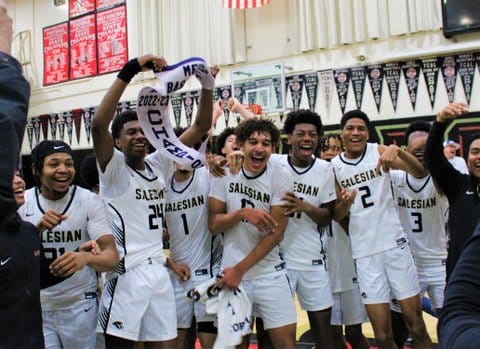 15 Feb

Salesian High Pride Win Tri-County-Rock League Boys' Basketball Championship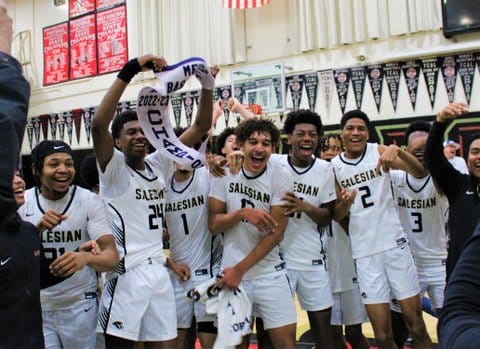 Salesian High teammates celebrate their championship win over Pinole Valley on Saturday in Richmond.
Story and photos by Joseph Porrello
The Salesian College Preparatory High School varsity boys beat Pinole Valley High's Spartans 67-53 on Saturday in Richmond, earning the Pride the title of Tri-County-Rock League champions. 
The Spartans ended the regular season second to Salesian in the TCRL standings despite having a better overall record. Pinole Valley finished 24-4 compared with the Pride's 20-7 clip. 
"It's a really satisfying win," said Pride head coach Bill Mellis. "We beat a really good team tonight." 
The Spartans finished 7-2 on the road, both losses coming at the hands of Salesian High, which kept its unbeaten home record intact at 6-0. Pinole Valley High's only three losses against a league opponent this season all came courtesy of the Pride as well, who remained undefeated (12-0) in league play. 
The Spartans came into the game fresh on the heels of five straight wins and 10 over their last 11 games. Pinole Valley High came out with a flurry of made baskets, taking a 12-2 lead and pushing the Pride to call a timeout only three minutes into the game. 
"I have to hand it to [Pinole Valley High]. They came out in the first quarter and wanted it more," said Mellis. "They were going at us at the point of contact and for whatever reason, we couldn't guard the ball."
The Pride entered Saturday winners of six consecutive and 13 of their last 14 but were not firing on all cylinders to start.
Spartan, left, and Pride players help their teammates up after an airborne collision Saturday in Richmond.
After scoring six points and facing a seven-point deficit by the end of the opening frame, Salesian turned things around in the second quarter. 
The Pride took their first lead of the game two minutes before halftime partly due to their aggressiveness on offense, resulting in free throws. 
"They kind of punched us in the mouth a little bit, so we had to pick it up," said Mellis.
The Pride's eight out of 10 makes at the free throw line in the second would be the most made or attempted by either team in any quarter. Salesian junior forward Deundre Perteete made more than half of the successful attempts and led his team with 13 points.
Spartans junior forward Zion Wilburn, No. 24 in blue, brings up the ball against Pride junior forward Deundre Perteete, center at right, on Saturday in Richmond.
Pride senior forward Evin Goodwin also aided the second quarter comeback by hitting a pair of three-pointers. 
Goodwin and junior guards Aaron Claytor and Amani Johnson all finished with 12 points for Salesian High, continuing the season's trend of evenly distributed team scoring.
Every starter on the Pride scored, along with three bench players who combined for 16 points. Conversely, only two non-starter scored for the Spartans, combining for eight points.
Johnson netted 10 of his dozen points in the third quarter — the highest scoring quarter of the game by an individual — propelling the Pride to a double-digit lead that they would not relinquish.
Salesian's 24 points in the third were the most scored by either squad in any quarter, giving the team a 50-34 lead heading into the final frame. 
"Down the stretch we settled in and got going, and I think [Pinole Valley] got a bit tired," said Mellis. "We picked up [full-court defensively] and forced them to work harder."
By the time the Pride jumped out to a 20 point lead with five minutes left, the home side of the stuffed bleachers was roaring in support, the noise reverberating throughout the compact gym. 
Tickets were sold out ahead of time, and attendees crammed themselves anywhere they could fit in the gymnasium to watch the championship game. 
After the final whistle blew following a hard-fought contest, Salesian High's team received its TCRL championship banner to add to the many sports banners on the walls around the court. 
"Things are just going really well right now, so we want to keep the ball rolling and not venture off our path," said Mellis. "Hopefully, we have a special thing going for us."
Despite their loss Saturday, the Spartans may have something special in the works too. Pinole Valley High has only one senior that regularly plays on its roster, so it will not lose a lot of talent next season.
Guard Kaleb Allison, the lone Spartans senior who did play Saturday, led his squad with 13 points. 
Pinole Valley High junior forward Zion Wilburn was the only other Spartan in double digits, putting up 11. Wilburn is Pinole Valley High's tallest player at 6 foot 6 and leads the team this season in points per game (14.8), rebounds per game (4.6), and blocks per game (0.9).
Pride senior forward Emerson Jones, left, had 10 points off the bench and had the task of guarding Spartans junior forward Zion Wilburn on Saturday in Richmond.
Since Spartans head coach Danny Rynnings took over the team five years ago, Pinole Valley has not had a losing record in league play. The team has gone from No. 863 to No. 70 in the California State rankings in just four seasons under Rynnings. 
"We're all super close with [the Spartans'] coaching staff," said Mellis. "I think they're doing a great job."
The Spartans had three different head coaches in four seasons before Rynnings, who were next set to face Kennedy High on Feb. 14 for the first round of the North Coast Section Varsity Boys' Basketball Championships- Division 3. 
Mellis will lead the Pride in round one of the North Coast Section Open Division on Thursday at 7 p.m. Salesian High will aim to protect its untarnished home slate in Richmond against the San Ramon Valley High Wolves of Danville, who hold an overall record of 23-6.