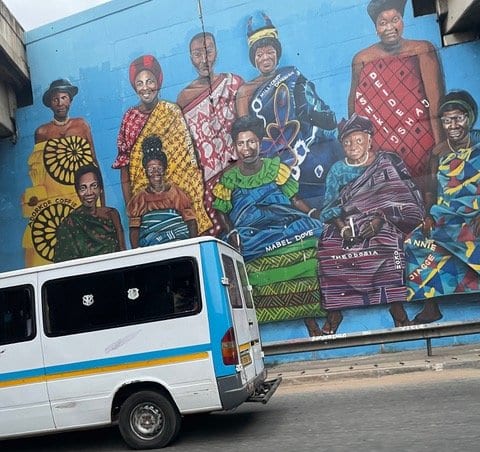 20 Feb

I Didn't Want to Move to Ghana. Now, I Can't Wait to Go Back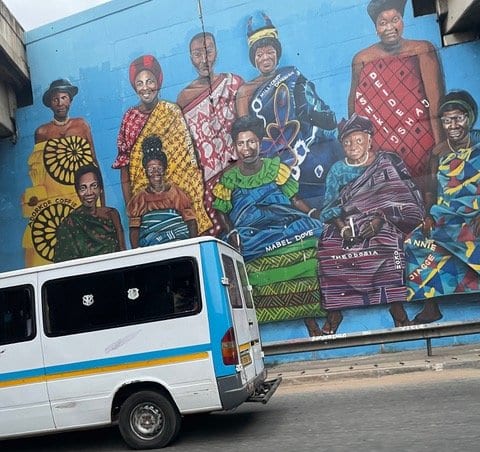 Bright and bold street art reflects Ghana's vibrant culture.
Story and photos by Isaiah Jackson
When my family and I moved to Ghana, I really didn't want to go — at first.
I had very mixed feelings about it because I didn't want to leave Antioch and my friends.
But my mom and my five siblings wanted to go around the world and discover another country. They wanted to start a new life. We had been through a lot as a family, and my mom felt that it was time for a new start. She was right, and in time, I grew to adore this African nation.
When we arrived in Ghana's capital city, Accra, the Ghanaians looked at us in amazement because we were American. They weren't used to Americans coming to Ghana to live and not just visit. Our journey struck the Ghanaians as brave, yet strange that we'd want to leave "America the great." But people very soon started accepting us as fellow locals and treated us well.
Most anyway. Some were not really kind, perhaps because they were jealous, assuming we were rich Americans who didn't have to struggle. But we didn't worry about those who were less welcoming because so many of the people loved us.
When we came out of the airport upon arrival, we got into a car and went to an Airbnb. A man and woman met us there. He was pretty sociable, and she was nice. After that night, we started looking for our own home. It took a week for us to find one we liked. It was a three-bedroom apartment.
Once settled in, we got a cat and dog. Maybe three weeks after we moved, a stray kitten followed us to our doorstep and just sat there looking at us. He was so young when he came to us, so we took care of him. We originally thought he was a girl and named him Bella, only to find out Bella was a boy. That was the funniest discovery ever. That's how Bella became Bellis.
Exactly one year after moving to Ghana, we found a beautiful six-bedroom house with its own compound. There was a store attached to the wall of our compound for us to do business out of. There were huge fruit trees in the backyard. We had a basketball hoop as well to give us a taste of American sports. That was important for me. I made friends with some of my neighbors. We would play basketball all the time. I think they were happy to have an American boy for a best friend.
Ghana was hot — very hot. The first thing I noticed stepping outside was the ferocious heat. I hadn't ever felt that much heat. But once your body adjusts to the weather, you become spoiled. There is no such thing as a cold day in Ghana. It's warm even when it rains.
My family and I explored Ghana eating at different family-owned restaurants, as well as commercially owned places. Some of the food was so good. In Ghana, anywhere you can find people cooking on the side of the streets anywhere, selling very affordably priced local foods, like banku and tilapia or okro soup and fufu.
We also went to various malls. I didn't know that Ghana even had malls. Whenever my family and I went exploring, we would see so much cool stuff. We would see cows being herded by their owners. The cows were tall and skinny. They were bigger in height than Cali cows, for sure. Fun fact: The cows in Ghana have humps on their backs. Every day, we would see a bunch of animals, including dogs, goats and sheep, walking freely across the streets. This was in very populated and built up cities too.
After awhile, I started to realize that it wasn't bad living in Ghana. I met new friends while there. I even had a beautiful girlfriend, who was also from California but had moved with her family to Ghana to begin a new life journey.
Every morning waking up in Ghana, the air outside would smell like food because people would cook on the side of the roads beginning at 6 in the morning. There would be people in the street walking among the cars in traffic, with a basket on their head, selling snacks, drinks, car chargers, clothes, shoes, etc. You name it, someone somewhere in traffic was selling it, right off the top of their head, while listening to music. They would dance, vibe and have a great time with the commuters and with each other.
In Ghana, the money is very different than in America. It's not green dollars or silver/copper coins. It's bright and different colors, called cedis and pesawas. Ghana's money value is also different. For example, 50 U.S. dollars is worth 600 Ghanaian cedis, as of Feb. 20.
We lived there for 17 months of mostly unlimited fun. It made me realize that Ghana is a healthy place and people are living free and having fun.
First, we were only going to stay for a year. Then, we didn't want to leave. We could have stayed for years. But we ended up having to abruptly move back to California to handle some personal business back in the Bay. But I will never forget my life-changing experience of living in Ghana.
I can't wait to visit in the future.