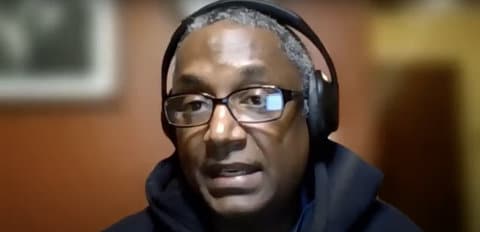 22 Feb

Richmond Takes Another Step Forward With Public Bank East Bay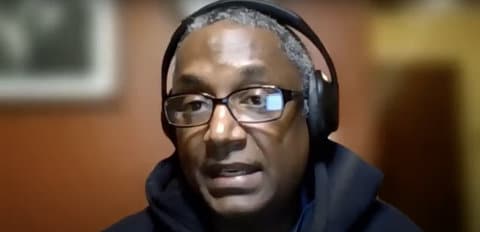 Small business owner and Public Bank East Bay board member George Quaye spoke during Tuesday's Richmond City Council meeting. (Screenshot captured by Julia Métraux / Richmond Pulse)
By Julia Métraux
The city of Richmond is continuing to move forward with its involvement with Public Bank East Bay, alongside the cities of Berkeley and Oakland, as well as a new partner, Alameda County.
"The next step is authorizing our city manager and city attorney or their designees to meet with their counterparts in Oakland and Berkeley [and] their city manager and attorneys," said Vice Mayor Gayle McLaughlin, who represents Richmond on Public Bank East Bay's board, at Tuesday's City Council meeting.
The Public Bank East Bay is on track to open in 2024 or 2025. According to its website, the purpose of a bank like this one is to "divest from Wall Street and reinvest its profits back into the community." Its initial loans will support affordable housing developments, small businesses, finance renovations of existing buildings and help cities and counties refinance their municipal debt. The Richmond City Council accepted the results of a viability study for the bank in 2022.
The resolution was originally part of the consent calendar but was pulled by McLaughlin due to a presentation being available. As there are different parties involved in the creation of this bank — three cities and one county — all would have to agree on a business plan for the bank to move forward.
"After the city managers and city attorneys or their designees come up with their negotiated terms of agreement, they will bring the business plan back to the respective city councils to approve the business plan," McLaughlin said.
George Quaye, a small business owner who serves on the board of Public Bank East Bay, gave a presentation about the progress of planning for the bank and answered questions from council members.
"It'll be a mission-driven loan policy based on the values of racial equity, environmental regeneration and democracy," Quaye said.
He also said that the financial success of the bank likely would not be immediate, and "the plan as it stands is to reach profitability in three years."
Council member Cesar Zepeda, who said he does not "know how banks work," asked what is in place to make sure that Richmond's investment — $750,000 — is protected.
Quaye said that there will be a process for applying for loans that is similar to other banking institutions.
"You'll approach your local banking institution, apply for a program…and if your risk profile meets the standards, you will be lent the money," Quaye said.
The East Bay is not alone in putting plans together for a public bank. For instance, San Francisco is in the planning stages of creating a public bank too. There is one public statewide bank in the United States, and that is the Bank of North Dakota, which was founded over a century ago in 1919.
McLaughlin moved the resolution followed by council member Melvin Willis. Mayor Eduardo Martinez said he would have seconded it, but Willis "beat [him] to it and that's OK."
"The reason I was going to second it is because I want the public to know that the mayor's office is 100% behind this item," Martinez said. "I believe it's a good financial decision."
Richmond City Council voted unanimously to approve City Manager Shasa Curl and City Attorney Dave Aleshire to start discussing plans for the bank with the other parties: Oakland, Berkeley and now Alameda County. The Oakland City Council passed a similar resolution at the end of 2022.
Richmond City Council is next scheduled to meet Feb. 28.